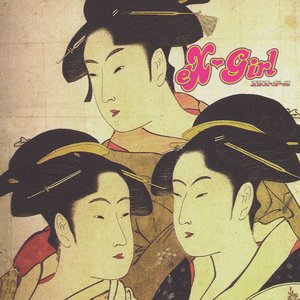 eX-Girl is a Japanese female noise rock trio. Claiming to hail from the planet Kero Kero. They are described as psychedelic, space rock, jazz fusion, jagged alternating vocal harmonies, sugary synthesiser pop, punk, prog, epic/atmospheric, noise-rock, wavering 3 part a capella, borderline operatic vocals, often in the space of a single song. Live performances are known to include home-made costume during the show, synchronised robot dancing and frog-related items. Enthusiastic supporters include Mike Patton and Jello Biafra : eX-Girl are a beautiful example of information overload. Jagged 3 part vocal harmonies, adventurous arrangements, and songs that hook you like the
Read Full Bio
eX-Girl is a Japanese female noise rock trio. Claiming to hail from the planet Kero Kero. They are described as psychedelic, space rock, jazz fusion, jagged alternating vocal harmonies, sugary synthesiser pop, punk, prog, epic/atmospheric, noise-rock, wavering 3 part a capella, borderline operatic vocals, often in the space of a single song.
Live performances are known to include home-made costume during the show, synchronised robot dancing and frog-related items. Enthusiastic supporters include Mike Patton and Jello Biafra :

eX-Girl are a beautiful example of information overload. Jagged 3 part vocal harmonies, adventurous arrangements, and songs that hook you like the sucker that you are. Take all of these treats, wrap it in an ultra-bright technicolor live show with surreal homemade costumes, and you've got the sensation of being strapped in on an out-of-control carnival ride that will leave you standing in line waiting for another turn.
—Mike Patton
Genre not found
Artist not found
Album not found
Search results not found
Song not found
Zero Gravity
eX-Girl Lyrics
We have lyrics for 'Zero Gravity' by these artists:



9mm Parabellum Bullet 身体をリズムにゆだねて 鼓動を感じる かかとを弾ませ踊れば こころが高鳴る ぼやけた青 飛び交うライン 夢から目覚める…
beFour I start the engine of my rocket Turn the key to…
Borgeous Feat Lights Sometimes, the sky is heavy It's coming down on me Sometim…
Borgeous feat. Lights Sometimes the sky is heavy It's coming down on me…
Borgeous/Lights Sometimes, the sky is heavy It's coming down on me Sometimes…
Catamenia In Zero Gravity Once balanced, once stable Now broken an…
Clawjob GREG: Locking up the zero gravity lab, shutting down …
David Archuleta Tell me what you did to me Just there beneath my…
Echoman within a heartbeat you change reality in the blink of…
IM5 You're the sun, girl, oh Shine your light into my world,…
Kerli Feels like coming home After traveling a million miles I a…
Mnemic Light I can see, turn it out in me Wasted time…
Nikki Webster Racing at the speed of sound I can barely touch…
Nulbarich A second from the past Stars are dancing in the universe ね…
of Verona Time's standing still While I wait For your return You, l…
Perfume あぁ ほら そっか 頭でシンキングしてても 解決しないことは 山ほどあるから 身を任せて 心地良いサラウンドに…
Shyboy With the future up You're on the horizon Fading forward In t…
Skyline When the beats go wild You feel the trouble inside You are…
T.I.M. This is the song for you This is the song with…
Tangerine Dream Jean-Michel Jarre Had to look up when I saw you, Almost instant struck…
Wolfheart Profound is the grief Fathomless and downhearted is the sile…
You And What Army You know what it is Number one is what they call…

The lyrics can frequently be found in the comments below, by filtering for lyric videos or browsing the comments in the different videos below.