I am the one, the only one
The strength that's buried deep within
The only thing to pull you through
The blackened cloud that clings to you
I am the one, the hidden one
I lie here waiting patiently
Given the chance, I'll overthrow
The sinking feeling you've come to know
I am the one phenomenon
The inner force beyond the known
The blinding sun for shadows cast
I am the drive and will to last
One time… one time and place collide
One dream… one dream to realize
One sound… one sound to fill the skies
One strength… one strength will now defy
One point… one point defines our lives
One sight… one sight to visualize
One self… one self, unique inside
One life… one life to set things right
Contributed by Emma J. Suggest a correction in the comments below.
To comment on specific lyrics,
highlight them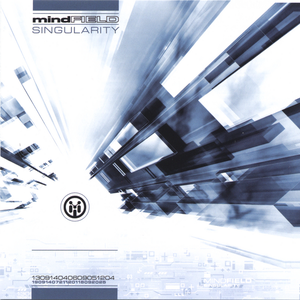 There are more than one artist that are called Mindfield:
1) Gabriel Shaw and friends
2) An Australian Hip-Hop group from Adelaide, South Australia.
3) An obscure German metal band that self-released two albums in 2000 and 2003 and disappeared forever.
4) Mindfield is a Psychedelic Trance project created by Mark Allen, Simon Carman, John Ford, Chrisbo Smith.
5) Metal group from Poland (Mindfield Polska)

1) mindFIELD is:
• Gabriel Shaw - all lead vocals, instruments, and programming.
Read Full Bio
There are more than one artist that are called Mindfield:
1) Gabriel Shaw and friends
2) An Australian Hip-Hop group from Adelaide, South Australia.
3) An obscure German metal band that self-released two albums in 2000 and 2003 and disappeared forever.
4) Mindfield is a Psychedelic Trance project created by Mark Allen, Simon Carman, John Ford, Chrisbo Smith.
5) Metal group from Poland (Mindfield Polska)

1) mindFIELD is:
• Gabriel Shaw - all lead vocals, instruments, and programming.
• Régan Miller - live synths, samplers, and vocoder.
• Stacia Tucker - live synths
The Story So Far...
Gabriel Shaw of mindFIELD has always found inspiration in pioneers from diverse ends of the musical spectrum, from ambient to hip-hop,from Depeche Mode to The Pixies. He has used this eclectic love of music to create for his own band a sound that is as emotionally driven and ever-evolving as that which first incited his passion for composition.
mindFIELD, with its infectious beats and fluid soundscapes, has often been compared to artists such as Delerium and Orbital. It is the strong bass lines and skillful hooks, however, which distinguish him as an electronic act whose awareness of sound and sense of arrangement extends beyond the dancefloor. mindFIELD has had an overwhelming response on college radio stations and in local venues and remained in the top ten on MP3.com's electronic music chart for a month. Gabriel has been hired by Apple Macintosh to perform at their computer shows and has collaborated with members of Fear Factory and Killing Joke, adding his distinctive components to their solo projects. He also plays live percussion for Metropolis Records artists Mono Chrome and live guitar for Invisible Records artists Chemlab.
"Singularity", the latest CD release from mindFIELD has met with significant acclaim from fellow musicians, DJs and fans alike. The album's first single, "1:1.618", has found its way onto computer hard drives all over the world as a free download from mindFIELD.org and brought a flood of emails pouring in for more. "Singularity" is a collection of tracks that would be as perfectly suited for the DJ decks of an exclusive cocktail lounge as they would on a crowded dancefloor.
mindFIELD features keyboardists Régan Miller and Infrastructure's Stacia Tucker, whose live support help give the group a powerful stage presence. All three band members have been involved in the Boston electronic music scene for years.

2) Mindfield formed as a group in mid 2003, although their roots stem back as far as 1994. The crew consists of Bdeps (Producer/MC), TooBiz (MC) and Mark 1 (MC/DJ).

Bdeps incredible work on the beats and breaks sees him as highly in demand producer, Biz unique voice and flow has him in constant request for guest verses and Mark 1's lyrical and turntable capability saw him place second by just 2 votes for Ozhiphop.com's 2004 Upcoming Artist of the Year and take silver for Solo Album of the Year with his debut.

Mindfield are an incredibly focussed and hardworking group, having four releases of great quality and acclaim in such a short time. The releases include the Bdeps solo EP "Progression", the highly regarded "Audiosyncracies" solo LP from Mark 1, "Biz & Bdeps" the groups' first 12" vinyl release and "This Way Up" a 7" vinyl single.

These albums although very well received in their own right, are just a taste of what the group will bring all together on their debut LP "This Way Up".

"We put in the effort and time to do this right, endless nights in the Crackhouse 'til we got our stuff tight/ Earned respect for our live shows and getting heads hype, wrecking mics, with the quality control like J5….." - 'This Way Up'

Mindfield are not only prolific in the lab. They are also one of Adelaide's foremost live acts, having over 60 shows under their combined belts.
They played the Channel V stage at the Adelaide leg of the 2006 Big Day Out and have shared the stage with the likes of Blackalicious, Q Bert, Lyrics Born, Guru of Gangstarr, Lyrical Commission and the Hilltop Hoods. With their big reputation for an awesome performance, these guys are no strangers to the live scene, and crowds come prepared for the roof to be lifted off.

Mindfields' talent, work ethic and electrifying live show has them on the verge of big things. Their debut release "This Way Up" is coming soon and is set to put them at the forefront of the national hiphop scene.

As Mark 1 states on the albums title track, "we've faced every hurdle, persevered and overcome, now it's done, This Way Up, the whole scene is over run….."


3)

4)

5)
Genre not found
Artist not found
Album not found
Search results not found
Song not found