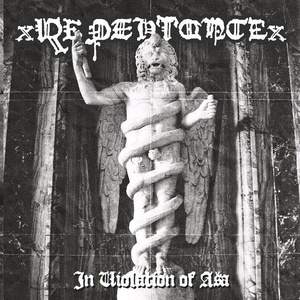 xRepentancex was a British vegan straight edge metalcore band from South East England. Formed in 2013, the band consisted of vocalist John Olley, guitarists Patrick Hassan & Robb Edge, bassist Andy Crawley and drummer Oliver ''Oli'' McVean. The band released their debut single, In Violation of Aša in 2013, followed by their debut full-length, The Sickness of Eden in 2015, before splitting up in 2016.

http://xrepentancex.bandcamp.com/
Genre not found
Artist not found
Album not found
Search results not found
Song not found
We have lyrics for 'War of Attrition' by these artists:



Crying Every close we define Saves a hidden good vibe Too nervous to…
e-dubble When the reaper come to join ya Can you keep that…
God Forbid Bring it on In the absence. I will introduce my wrath,…
Massacra Far away, bloodstained banners of death Iron, leather, aroun…
Vice Squad Brand new soldier, naive martyr Far from home, in the sun,…



We have lyrics for these tracks by xRepentancex:



Children of Cain This is your life; So far in the margins led Grasping for…
Dominion's End The iron fist of violence The masters whip and cage The tast…
Knowing The pressure to scream these words weighs heavy on my…
Repentance You see the world through closed eyes Sown shut with ignoran…
Sleep Paralysis And as the sunlight beckons, a darkness creeps back in. A…
The Price of Progression Tied to the stake of progress Red flames of heresy Charred s…
Through Eyes Unclouded Death's strangle hold of suffocation As the calf is ripped f…

The lyrics can frequently be found in the comments below or by filtering for lyric videos.