he long days piled into weeks before you'd speak, as the storm crawled to meet the shoreline. and it began to rain at once!
i tried (i tried, i tried, i tried) to keep the awful things at bay from you.
but it was on the air and useless,
i might as well have tried to prove the words i fought to purchase would comfort you.
like, "there was nothing more that we could do."
or that i still loved you (when nothing could be further from the truth).
will your hand fall out of mine?
your shame lives on its own, trying to reach the depths down where it belongs.
will it find rest in your bones?
aching and pulling muscles to act out against you!
so stay your pity now.
if it reaches the heart, we all pull out.
and let the beat slow down.
(there's nothing that we can do you for now)
are you sorry or are you just scared?
there will be no false comfort here.
oh, i ought to tell you the truth! i did not come to plea for you.
where was your heart when your words led the truth anywhere else from you?
you're not sorry, you are just scared.
i have not come to calm your fears.
i am sorry i hid what you are.
but everyone else but me already knew! already knew!
and would not come to plea for you.
where was your heart when they never appeared?
anyone else would care.
but you would not shoulder the weight you should bear.
i will not shed a single tear.
Contributed by Camilla I. Suggest a correction in the comments below.
To comment on specific lyrics,
highlight them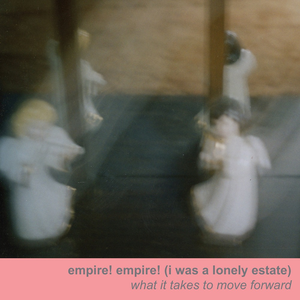 I Am a Snail, and You Are a Pace I Cannot Match
Empire! Empire! (I Was a Lonely Estate) was an American emo band from Michigan. It was formed in 2006 originally as a solo project of band member Keith Latinen. The band's music is most often described as emotional indie rock reminiscent of '90s Midwest emo sound.
The band's first release was in 2007 with an EP titled When The Sea Became A Giant. The band released a full-length album, What It Takes To Move Forward, in 2009. The band is signed to Count Your Lucky Stars Records and has released albums on a number of other labels
Read Full Bio
Empire! Empire! (I Was a Lonely Estate) was an American emo band from Michigan. It was formed in 2006 originally as a solo project of band member Keith Latinen. The band's music is most often described as emotional indie rock reminiscent of '90s Midwest emo sound.
The band's first release was in 2007 with an EP titled When The Sea Became A Giant. The band released a full-length album, What It Takes To Move Forward, in 2009. The band is signed to Count Your Lucky Stars Records and has released albums on a number of other labels, such as strictly no capital letters (UK), Topshelf Records, Stiff Slack (Japan), and Hobbledehoy Record Co (Australia). The band released their second album You Will Eventually Be Forgotten on August 19, 2014. On February 16, 2016, the band announced their final tour before their breakup on their official Facebook page.[2]

Bandcamp

Social media: facebook / twitter /

Labels: count your lucky stars / strictly no capital letters / stiff slack / keep it together / topshelf
Genre not found
Artist not found
Album not found
Search results not found
Song not found