Don't fall in love, don't fall in love, don't fall
Don't fall in love, don't fall in love, don't fall
I thought we once agreed to stand up tall
Don't break my heart, don't break my heart in two
Don't break my heart, i'll stay away from you
I'll stay away from you, don't break my heart
Listen to your brother, he's sure smart
Listen to the one who knows the art
What did you become away from me?
What are you awaiting endlessly?
Now when you're so sick you're soon to die
(There's) nothing left for you to lose but time
Oh your heart is on the floor
Tainted blood an open sore
You'd better call off uk tour
Oh your heart is on the floor
Tainted blood ask for more
You'd better walk right out that door
You, the constantly ignored
Find a path you can afford
Should have found it way before
Believe, believe, believe
I'm scared but used to be
Convinced by history
Listen to your brother, he's sure smart
Listen to the one who knows the art
Writer(s): Isak Gunnar Klasson

Contributed by Grace W. Suggest a correction in the comments below.
To comment on specific lyrics,
highlight them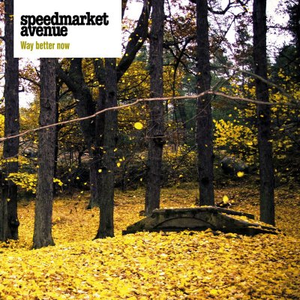 Speedmarket Avenue is a young band from Stockholm.

The bandmembers:
Johan Angantyr
Sibille Attar
Thomas Holm
Jesper Klein
Tom Wikström
Isak Klasson

SHORT ABOUT THE NEW RECORD: They named it Way Better Now, it's produced by Jari Haapalainen and relased by famous Elefant Records. Also on vinyl.

Release dates so far:
April 23rd, Sweden
May 5th, UK & Spain
May 23rd, Germany
Later this spring, Ireland & France
Way Better Now (7" single) is out two weeks before the album in each country.

More info at speedmarketavenue.com.
Genre not found
Artist not found
Album not found
Search results not found
Song not found