We used to love until the love turned bad
When the night burned with the best you ever had
Then the door breaks down and like "f*ck, this is a raid"
There's a debt of heavy weight on me that's never getting paid
We are the renegades
And for me it's hard with a magical fear in me
It went through the heart and made a magical tear in me
That's how we're.
We're never getting paid
Writer(s): WRITER UNKNOWN, MERRIFIELD JONATHAN JOSEPH

Contributed by Aubrey T. Suggest a correction in the comments below.
To comment on specific lyrics,
highlight them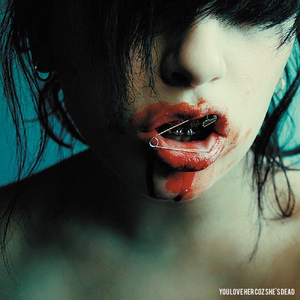 You Love Her Coz She's Dead (now referred to as YOU LOVE HER) are an electronic music duo formed in 2007 in Brighton, England. The duo consists of Jay 'Rocky' Dead (producer) and Poppy Dead (vocalist). From 2007 to April 2012, the vocalist of the band was Elle Dead. Their music has been compared to bands such as Digitalism, Crystal Castles, The Prodigy, and occasionally Daft Punk.

The band signed to French label Kitsuné in 2008, releasing "Wizards"
Read Full Bio
You Love Her Coz She's Dead (now referred to as YOU LOVE HER) are an electronic music duo formed in 2007 in Brighton, England. The duo consists of Jay 'Rocky' Dead (producer) and Poppy Dead (vocalist). From 2007 to April 2012, the vocalist of the band was Elle Dead. Their music has been compared to bands such as Digitalism, Crystal Castles, The Prodigy, and occasionally Daft Punk.

The band signed to French label Kitsuné in 2008, releasing "Wizards" on the Gildas & Masaya - Paris compilation in May 2008 and "Superheroes" on Kitsuné Maison Compilation 6 in October 2008. They released their debut EP Inner City Angst EP a month later, as well as various remixes, through the same label.

You Love Her Coz She's Dead appeared playing "Superheroes" on the third series of the television series Skins, following in the footsteps of previously featured artists Crystal Castles and Foals.

The band released their long awaited debut album You Love Her Coz She's Dead on August 29, 2011 via Glasstone Records. It was also released in Japan with bonus tracks on June 20, 2012 via Flake Records.

In April 2012 the band released a statement via Facebook that Elle would be leaving the duo. Jay decided to continue YLHCSD and look for a new vocalist. In July, Poppy Dead joined as the new vocalist.

Official site: https://www.facebook.com/youlovehercozshesdead
Genre not found
Artist not found
Album not found
Search results not found
Song not found