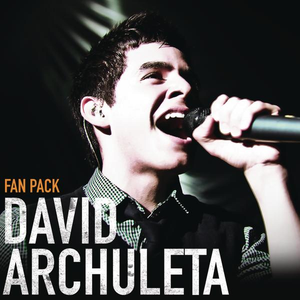 David James Archuleta (born December 28, 1990 in Miami, Florida) is an American…
Read Full Bio ↴
David James Archuleta (born December 28, 1990 in Miami, Florida) is an American pop/R&B singer. On May 21, 2008, he became the runner-up on the seventh season of American Idol receiving 44 percent of over 97 million votes. Archuleta's first single "Crush" was released on August 1 2008, which debuted on Billboard in the No. 2 spot and stayed strong on the iTunes charts for both the song and music video as No. 1.

Early life
David Archuleta was born to Jeff Archuleta and Lupe Marie, a salsa singer and dancer from Honduras. Archuleta has four siblings. Archuleta's family moved to the Salt Lake Valley, to the city of Sandy, Utah, when Archuleta was six. He was raised in Murray, Utah after moving there when he was 6 years old.

Archuleta started singing at age six, inspired by a Les Misérables video. "That musical is what started all of this," he said. He started performing publicly at age 10 when he participated in the Utah Talent Competition singing "I Will Always Love You" by Dolly Parton; he received a standing ovation and won the Child Division.

Archuleta was inspired by watching both Tamyra Gray and Kelly Clarkson to "see what performing and really getting into a song was like" during the beginning weeks of the premiere season of American Idol. He later made his television debut, at eleven years old, singing "And I Am Telling You I'm Not Going" on a Jenny Jones show for future Latino stars alongside season one finalist A.J. Gil. Through A.J. Gil he was able to meet and sing for Gray who had sung the song on American Idol as well as Clarkson (that year's winner) and Justin Guarini (the runner up).

Musical influences
Archuleta's mother is from Honduras, and much of the music he listened to as a child was Latin-influenced including watching his mom sing at events with her sisters. She also "was big on dancing" according to Archuleta, and would "make" him dance to traditional music with his older sister. He also listened to jazz music, he said, from his father's collection as well as gospel, pop, rock and "soulful music." In a later interview, he revealed that his father was a jazz musician. Archuleta also said he enjoys Broadway musicals.

On his American Idol "Fast Facts" page, Archuleta cites his musical influences as Natalie Cole, Stevie Wonder, Kirk Franklin and Bryan Adams. When asked to list his top pop artists, he cited Natasha Bedingfield, Natalie Cole, Celine Dion, Mariah Carey, Michael Jackson, Stevie Wonder, Bryan Adams, Kirk Franklin, and Robbie Williams. Like Elliot Yamin and another singer he admires, John Mayer, Archuleta tries to infuse his pop selections with a soulful vibe.

Star Search
In 2003, at age 12, Archuleta sang on several episodes of the television show Star Search. He ended up as the Junior Vocal Champion on Star Search 2. On one episode, he sang against then-11-year-old Alexandréa Lushington, who also became a "top 20" semi-finalist on American Idol alongside Archuleta. Around the second year of being on Star Search he started focusing on the lyrics, "I didn't even pay attention to the lyrics when I was 12, 13".

Archuleta's competing on Star Search led to appearances on The Jenny Jones Show and CBS' The Early Show, and meeting the finalists from American Idol's first season, for whom he performed a spontaneous a cappella rendition of "And I Am Telling You I'm Not Going" from Dreamgirls, and received enthusiastic praise from Season 1 winner Kelly Clarkson. The year after Star Search he found out he had partial vocal paralysis but declined risky surgery and has said he feels he is almost fully recovered. He limited his singing for specific occasions like Stadium of Fire, the Independence Day celebration at Brigham Young University Stadium.

American Idol
Archuleta won his ticket to the Hollywood final auditions (with a performance of John Mayer's "Waiting on the World to Change") with the help of idol judge, Randy Jackson, who sang the background "waiting" in the song. (at the San Diego tryouts held at Qualcomm Stadium July 30 and July 31, 2007) He was 16 during the Hollywood auditions (where he sang Bryan Adams' "Heaven" and Gnarls Barkley's "Crazy" to unanimous praise) and because he was not yet 18, had to attend school while a part of American Idol's seventh season. His parents were there because he was a minor. Archuleta also took advantage of the decision to allow contestants to play musical instruments when he accompanied himself on piano for his performances of "Another Day in Paradise" and "Angels."

A Los Angeles Times article speculated why Archuleta avoided singing the first verse of "Imagine": because "of his religion (Mormonism), he's unlikely to espouse the song's agnostic ideal . . . with the line about 'no religion too.'" Archuleta did, however, sing the entire song on Good Things Utah when he was 13. During his first performance of Imagine on American Idol, when asked by judge Randy Jackson why he didn't sing the first verse, Archuleta said the third verse was his favorite because it has "a great message."

In the finale he sang "Don't Let the Sun Go Down on Me," "In This Moment" and "Imagine." Judge Simon Cowell declared that Archuleta won the evening and even David Cook, who ultimately won, thought Archuleta would win: "I have to concede it, the kid came out all three songs and nailed it," said Cook. In the final tally, Archuleta received 44 percent of the votes. During the finale show, both Archuleta and fellow finalist Cook appeared in separate but nearly identical commercials for the game franchise Guitar Hero, mimicking a Tom Cruise scene from Risky Business.
Genre not found
Artist not found
Album not found
Search results not found
Song not found