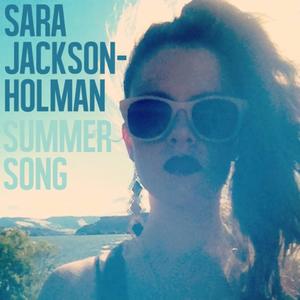 Sara Jackson-Holman, a Portland Oregon native, was raised in the quiet town of Bend, Oregon. Her voice smoky and warm, she sings of the things that fill her head: dreams, the sea and sky and trees, belonging and loneliness and love, longing and forgetting and remembering.

Her songs are haunted by the unexpected fusion of the classically influenced piano, wistful strings, strange harmonies, and pop bent.

She fell in love with music at exactly the moment her seven-year-old fingers touched the keys of her family's tired and old spinet piano
Read Full Bio
Sara Jackson-Holman, a Portland Oregon native, was raised in the quiet town of Bend, Oregon. Her voice smoky and warm, she sings of the things that fill her head: dreams, the sea and sky and trees, belonging and loneliness and love, longing and forgetting and remembering.

Her songs are haunted by the unexpected fusion of the classically influenced piano, wistful strings, strange harmonies, and pop bent.

She fell in love with music at exactly the moment her seven-year-old fingers touched the keys of her family's tired and old spinet piano, and was inspired by composers such as Chopin, Scarlatti, Beethoven, Soler, Schumann, and Bach, and their passion and ability to connect with their audience generation after generation. Performing at countless recitals and competitions, she became a fine classical pianist. From an early age, Jackson-Holman was also in love with reading, beautiful words, good literature, metaphors, and poetry. And ever since she could speak, she loved to sing. In the March of 2008, she began to reconcile her love of piano, poetry, singing, and pop music, and became fascinated with this medium of communication that so happily married her favorite passions.
Genre not found
Artist not found
Album not found
Search results not found
Song not found
We have lyrics for 'summer song' by these artists:



Apes in the Orange Grove Come on out from where you are Now the sun is…
Atmosphere Slug: [Verse 1] She came back to visit, she says 'Cause in…
Atmosphere ft. heiruspecs & mr dibbs She came back to visit, she says 'Cause in some ways,…
Baby Lemonade Every summer Sky is ocean blue Every summer makes Me thin…
Blue County At a red stop light in some sleepy town An old…
Carbon Leaf Soak the sun Cinnamon What went wrong Summer Song Splinter s…
Chad & Jeremy Trees swayin' in the summer breeze Showin' off their silver…
Dave Brubeck Love, to me, is like a summer day Silent 'cause, there's…
Dave Brubeck feat. Louis Armstrong Love, to me, is like a summer day Silent 'cause, there's…
David M. Bailey It hasn't rained for many weeks but the roses, they…
Doughboys I waste more time Wastin' my mind Waiting in line I'm was…
E! Mercury is rising still Turn the fan on high I won't step…
Equatronic summer's just gone and the last green fades into red Sund…
Fiddler's Green I hang around and watch the sky And high above some…
Forever the Sickest Kids I can tell you I'm ready but I'm not, I can…
G.B.A. I'm home alone tonight. Full moon illuminates my room, and…
Gracenote feat. Autotelic & December Avenue Eto na ang summer Eto na ang summer Ang init, 'di mapakali …
Grey Does Matter Who knew I wouldn't get to swim at all? …
Harry Secombe Summertime and the livin' is easy Fish are jumpin' and the…
Humble Pie I know I don't I don't believe In old promises Just want …
James Down the chute and out the door I know that I've…
James Yorkston Summer song If I promise to settle down With you forever…
Joe Satriani [Instrumental]…
Jump 5 (chorus) It's a cool break, you know I can't wait Everyday…
Leddra Chapman Hide and seek in the garden, Behind the trees I'll be…
Louis Armstrong Love, to me, is like a summer day Silent 'cause, there's…
Lucero The clouds in the summer sky Don't do shit for the…
M.O.T.U.S It hasn't rained for many weeks but the roses, they…
My Diet Pill Walking in the street In the pouring sun Smelling city air…
Peter Hammill Summer song in the autumn, for you didn't catch the colour…
Po'Dunk There is nothing like the Smell of a summer breeze Nothing…
Quiet Hollers The old man took the keys away again He always says…
R.e.v.o Mercury is rising still Turn the fan on high I won't step…
Rich Ortiz Here we are again, the summers closing in... Lets you feel…
Robert Mitchum The tender grass of spring time Rose to grain with summer's…
Roy Orbison Our summer song lingers on in my memory Since you've…
Saint Etienne And then you will And then you won't And then you do An…
Silent Sanctuary Magkatabi tayo sa duyan Sa ilalim ng buwan Buhangin sa ating…
Slade Everybody needs a by the sea affair Where you get the…
Tammany Hall NYC Summer's always burning on the beach beside my brothers, S…
The Anywheres Long Island sun It wakes me up, Sneaks from the east into…
The End Times Spasm Band It's a blistering, bubbling day No degree of relief from th…
The Forecast It's giving way To tired to sleep The ground beneath me sh…
Topi Jerami Hey there, it's good to see you again With the sunshine…
Turn She put her hands over her face So I couldn't see The…
Tuuli Hey Yeah Yeah Hey Yeah Yeah Yeah Yeah You never listen t…
Wavorly Spread the blanket on top, and I'll turn off the…
YACHT Summer came up and sang a song When summer came up,…
YUI 太陽が味方する 日に焼けた君が 手をふるから 期待してんだ 約束の季節に 飛び込む 人魚みたいに 校舎のすみに 日ま…



We have lyrics for these tracks by Sara Jackson-Holman:



Break My Heart Go ahead and break my heart you had me from the…
Can't Take My Love Can't take my love from me Not if I'm dragged across…
Cardiology Sound of my heartbeat Touch of your soul upon my ear I…
Cartography Copper fields and half-dreampt dreams The wanderer you've ma…
Cellophane Sun soaked, high hopes Wear them as my winter coat To keep…
Come Back to Me I watched you fall into our life I saw you swim…
Come By Fire Come by fire, come by rain Come by boat or come…
Empty Arms Take it slow, reel it in, let it go and repeat Empty…
For Albert Passing time, retracing lines I drew a thousand times before…
Freight Train Grief is a freight train No, what's a little pain When you…
Into the Blue If only if only I coulda been yours Been your rapport…
My Biggest Mistake Oh my heart why must you torment me? Break my crown,…
Red Ink These walls encroach upon me, silently aproach me Done every…
When You Dream Fill your head with the ocean Fill your head with the…

The lyrics can frequently be found in the comments below, by filtering for lyric videos or browsing the comments in the different videos below.