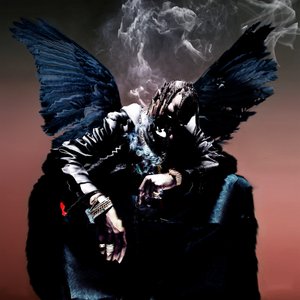 Birds In The Trap Sing McKnight
Birds in the Trap Sing McKnight is the second studio album by American rapper Travis Scott. It was released on September 2, 2016, through Grand Hustle Records and distributed by Epic Records. It exclusively premiered through Travis Scott and Chase B's radio show Wav Radio on Beats 1 and Apple Music. The album features guest appearances from André 3000, Blac Youngsta, Kid Cudi, Nav, 21 Savage, Kendrick Lamar, Bryson Tiller, Young Thug, Quavo, K. Forest, and The Weeknd. Production was handled by Scott and a number of other record producers including Nav, Vinylz, Mike Dean, Cardo, Frank Dukes, and Allen
Read Full Bio
Birds in the Trap Sing McKnight is the second studio album by American rapper Travis Scott. It was released on September 2, 2016, through Grand Hustle Records and distributed by Epic Records. It exclusively premiered through Travis Scott and Chase B's radio show Wav Radio on Beats 1 and Apple Music. The album features guest appearances from André 3000, Blac Youngsta, Kid Cudi, Nav, 21 Savage, Kendrick Lamar, Bryson Tiller, Young Thug, Quavo, K. Forest, and The Weeknd. Production was handled by Scott and a number of other record producers including Nav, Vinylz, Mike Dean, Cardo, Frank Dukes, and Allen Ritter, among others.

Birds in the Trap Sing McKnight was supported by three singles: "Wonderful", "Pick Up the Phone", and "Goosebumps". The album received generally positive reviews from critics, debuting at number one on the US Billboard 200, earning 88,000 album units in the first week.

On January 4, 2016, Scott announced on his Snapchat account that he would be revealing the title for his new album at the time. While going on the road, Scott had been tweeting on what the title is to the album on Twitter. He first removed all of his tweets, and announced the title to the album on the Anti World Tour. In an interview with Billboard, Scott explained the meaning of his album title: "My next album, Birds in the Trap Sing McKnight is basically about all my friends and growing up here . I'm not saying that it's a trap, we not in the fucking projects, but it's like a social trap. It's a social connection trap from what you want to do and how you want to express yourself. I feel like everyone just gets constricted by their parents or just life."

On March 30, 2016, Scott and Young Thug announced that they will be releasing their song in "the next few days". In April 2016, while Scott was performing in Houston, Texas, he previewed a snippet of the track. At the Paris Nightclub in Chicago, Illinois, Scott played the full version of the song, called "Pick Up the Phone". The duet track between Scott and Young Thug, featuring Quavo. On May 18, 2016, Scott performed a surprise show in Atlanta and confirmed the imminent release for the album, stating "I'm dropping my new album in a couple of fucking days." He went on to reveal that the album will feature "some of my favorite fucking artists."

On June 2, 2016, Scott took that song down, after posting it on his official SoundCloud page, stating that "This song was supposed to go to iTunes, but labels are making this more complicated than it actually need to be this was gonna be my single, but now I'm giving a way for the kids. P.S. They might take this down cause they don't want kids to eat."

On July 26, 2016, in a show in the Ford Amphitheater at Coney Island, Scott announced the release date for Birds in the Trap Sing McKnight, however, the album missed its release dates due to "technical difficulties" twice. After a free event named the Wav Party in Los Angeles, his music video for "90210" was showcased, while his music video for "Pick Up the Phone" has been released on Travis Scott's Vevo account on YouTube. Scott also revealed that Kid Cudi and Kendrick Lamar would appear on his album, with the production that would be provided by Cashmere Cat. On August 25, 2016, Mike Dean announced that the album was delayed again, due to the incompletion with the album's mixing. On August 31, 2016, Scott announced that he finally finished his album on his Instagram.
Genre not found
Artist not found
Album not found
Search results not found
Song not found