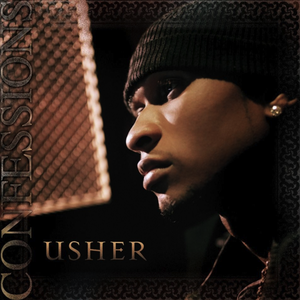 Confessions is the fourth studio album by American R&B and pop singer-songwriter Usher, released March 23, 2004 on Arista Records. Recording sessions for the album took place from 2003 to 2004 and featured production by Jermaine Dupri, Jimmy Jam and Terry Lewis, and Lil Jon. Confessions showcases the vocals of Usher as a crooner. A R&B-centered album, it also encompasses musical genres such as hip hop and crunk. The album's themes generated controversy about Usher's personal relationship; however, the album's primary producer Jermaine Dupri claimed the record reflects his personal story. Confessions was an instant commercial success in the United
Read Full Bio
Confessions is the fourth studio album by American R&B and pop singer-songwriter Usher, released March 23, 2004 on Arista Records. Recording sessions for the album took place from 2003 to 2004 and featured production by Jermaine Dupri, Jimmy Jam and Terry Lewis, and Lil Jon. Confessions showcases the vocals of Usher as a crooner. A R&B-centered album, it also encompasses musical genres such as hip hop and crunk. The album's themes generated controversy about Usher's personal relationship; however, the album's primary producer Jermaine Dupri claimed the record reflects his personal story.

Confessions was an instant commercial success in the United States, selling 1.1 million copies in its debut, the most copies ever sold in a week by an R&B recording artist. The album's continued success was bolstered by its four chart-topping singles. As a strategy to boost its sales amid threats of bootlegging, a special edition of the album was issued featuring the hit single "My Boo". Although it received criticism for its lyrical quality, Confessions received generally positive reviews and earned Usher several awards. In 2005, the album won a Grammy Award for Best Contemporary R&B Album. The success of the album put Usher in the mainstream, becoming the biggest artist of 2004. Confessions has sold over 10 million copies in the United States, and has been certified diamond in sales by the Recording Industry Association of America (RIAA). The album has gone platinum and gold in over twenty other countries, and has sold nearly 20 million copies worldwide.

Usher did not think of collaborating with many new record producers to handle Confessions. With the production started in 2003, he opted to continue creating music with Jermaine Dupri, who produced his last two albums, My Way (1997) and 8701 (2001). In spite of his vision, Usher contacted a few new producers as well: "With this album I choose some new producers who I figured would definitely allow me to really articulate myself in a different way ... Every album you gotta grow. You gotta look for something different." Dupri also invited his frequent collaborator Bryan-Michael Cox. The album features productions by Jimmy Jam and Terry Lewis, The Neptunes, Just Blaze, R. Kelly, and Usher's brother James Lackey.

With forty recorded songs, Usher felt the album had already been completed. Initially, he submitted the album to his record label, Arista. He and the company's then-president, L.A. Reid, listened to the record; however, they thought something was missing in it: "You know what, there's like one or two more records that we just gotta get." Usher was displeased with the decision: He felt returning to the studio was the hardest part and needed to re-motivated himself. He went on recording a few more tracks with help from fellow Atlantians Lil Jon and Ludacris. Eventually, the team was able to produce songs like "Red Light" and "Yeah!". He also recorded songs with P. Diddy and The Neptunes during one of those sessions but were not released.

One of Usher's first steps in making Confessions was deciding to reveal "his own little secrets". Friend and former A&R rep Kawan "KP" Prather thought that it would let the public know Usher personally: "The music has never been the question, but people tend to buy into the artist. The more they know about you, the more they feel like they're there with you." Primarily because of its personal content, Usher said that this is his chance to be real. He named the album Confessions because he felt it is his most personal record to date: "All of us have our Pandora's boxes or skeletons in our closets. I let a few of them out, you know. I've got a lot to say. I've got a lot of things and stuff built in me that I just want to let go of." He wrote more songs than he contributed to his previous album.

Several of the songs in the album were conceptually based from a situation. For instance, "Burn" was built around a situation where Usher's two-year relationship with Rozonda "Chilli" Thomas of American R&B-hip hop girl group TLC was about to end. Dupri and Cox were talking and felt that there is a song in it, and started writing. Same through with the supposedly title track "Confessions Part II"; they were conversing about an impregnated a mistress, and its concept was written down. Usher was recording "Confessions Part II" on a July 2003 session in New York City, United States. With Usher singing the song's lyrics, the theme of cheating inspired him and Dupri; both decided to produce two parts: "Confessions Part I" and "Confessions Part II (the former is heard at the beginning of the video for the latter).

Confessions is dominantly in the R&B genre. Usher commented that he chose to work with collaborators who know "... how to interpret R&B from a jazz standpoint, an old school throwback standpoint, a new school point, a traditional classic standpoint ..." With producers and him set to produce such album, however, other types of genres including hip hop are incorporated. While he wanted to do R&B, Usher also wanted his fans to experience hip hop and at the same time R&B: "I try to think outside the box." When Lil Jon came in the scene, crunk was introduced to the R&B-centered album, specifically on the song "Yeah!". Usher said, "'Yeah!' could be called the first consciously styled "crunk R&B" record." The album also houses various slow jams.

It also introduces a new style for Usher, focusing on his voice and technique. Andre "Dre" Harris and Vidal Davis listened to 8701 and felt that "Usher really needs to sing hard and let people know his vocal ability". With efforts focused on the record to demonstrate his vocal ability to listeners, songs such as "Superstar" and "Follow Me" exhibited Usher in a type of "crooner mode". The ballad-oriented "Burn" also showcases his vocal aptitude.

With sales of more than eight million in 2004, Confessions is named in the United States the most-shipped album of the year. Along with the success of the American singer Norah Jones's second album, Feels like Home (2004), as well as breakthroughs albums by many new and old artists, it was seen as a sign that US record sales were slowly recovering after three straight years of decline due to competing DVDs and video games and the prevalent music piracy. By the end of 2004, the industry had sold 667 million albums, an increase of about 1.6 percent, as recorded by Nielsen SoundScan. Compared with sales records in 2003, the figures showed eight percent increase.

The public speculated that 2004 was the year of Usher. The success of the album put Usher in the mainstream, becoming the biggest artist of 2004. Others also said that Usher might be the successor of Michael Jackson. The success of the album had also facilitated Usher to branch out to non-musical ventures. He has opened a restaurant, starred in a film, launched his record label and recruited artists, and has done philanthropic activities like his efforts in helping 2005 Hurricane Katrina victims. Usher was not the only person who benefited from the album's significant critical and commercial success. Bryan-Michael Cox, who co-wrote and co-produced "Burn", earned credibility in the music industry for his role in the album. Cox had been producing records for several notable American artists, including Alicia Keys, B2K, Mariah Carey and Destiny's Child, among others, but he considered "Burn" as his crowning moment, which earned him two Grammy Award nominations. With 2004 deemed to be his introduction to a larger, more mainstream audience, Cox stated in an interview for MTV that many people were starting to recount what he had done.
Genre not found
Artist not found
Album not found
Search results not found
Song not found
Intro
Usher Lyrics
I've walked alone and felt as if no one cared
All the days so dark and dim
But it's like the rays of the sun somehow came down (down)
To shine when you are around
And I always thought that I'd never find that one
To make me feel (feel) forever young
But if I had one wish
My life to share would be with you and no one else
If I had open arms, would you have a heart to spare?
If ever you want me near
I'll be there to run and say, I'm here
Giving you someone that understands
And a love that will never end
I can be all that you need and more
Lyrics © BMG Rights Management, Songtrust Ave
Written by: Bryan Michael Paul Cox, Jermaine Dupri Mauldin, Usher Raymond

Lyrics Licensed & Provided by LyricFind
To comment on specific lyrics,
highlight them