I'm sorry, but I don't want to be an emperor
That's not my business
I don't want to rule or conquer anyone
I should like to help everyone, if possible
Jew, Gentile, black man, white
We all want to help one another
Human beings are like that
We want to live by each other's happiness
Not by each other's misery
We don't want to hate and despise one another
In this world there is room for everyone
And the good earth is rich and can provide for everyone
The way of life can be free and beautiful, but we have lost the way
Greed has poisoned man's souls, has barricaded the world with hate,
Has goose-stepped us into misery and bloodshed
We have developed speed, but we have shut ourselves in
Machinery that gives abundance has left us in want
Our knowledge has made us cynical
Our cleverness, hard and unkind
We think too much and feel too little
More than machinery we need humanity
More than cleverness we need kindness and gentleness
Without these qualities, life will be violent and all will be lost
The aeroplane and the radio have brought us closer together
The very nature of these inventions cries out for the goodness in men
Cries out for universal brotherhood for the unity of us all
Even now my voice is reaching millions throughout the world
Millions of despairing men, women, and little children -
Victims of a system that makes men torture and imprison innocent people
To those who can hear me, I say do not despair
The misery that is now upon us is but the passing of greed
The bitterness of men who fear the way of human progress
The hate of men will pass, and dictators die,
And the power they took from the people will return to the people
And so long as men die, liberty will never perish
Soldiers!
Don't give yourselves to brutes
Men who despise you, enslave you
Who regiment your lives, tell you what to do
What to think and what to feel!
Who drill you, diet you
Treat you like cattle, use you as cannon fodder
Don't give yourselves to these unnatural men
Machine men with machine minds and machine hearts!
You are not machines!
You are not cattle!
You are men!
You have the love of humanity in your hearts!
You don't hate!
Only the unloved hate, the unloved and the unnatural
Soldiers! Don't fight for slavery! Fight for liberty!
In the 17th chapter of St Luke it is written:
"The Kingdom of God is within man"
Not one man nor a group of men, but in all men! In you!
You, the people have the power, the power to create machines
The power to create happiness!
You, the people, have the power to make this life free and beautiful
To make this life a wonderful adventure
Then, in the name of democracy
Let us use that power, let us all unite!
Lyrics © WORDS & MUSIC A DIV OF BIG DEAL MUSIC LLC
Written by: Y CHAPLIN CHAR, JAMES DANIEL ILLINGWORTH, MAX DONALD MACKINNON, JONATHAN VINCENT NOTLEY

Lyrics Licensed & Provided by LyricFind
To comment on specific lyrics,
highlight them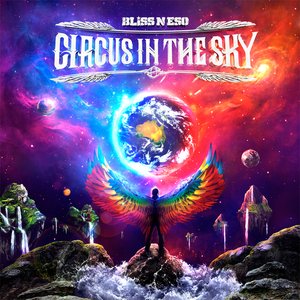 Bliss n Eso are an ARIA award winning Australian hip hop group based in Sydney, Australia and were originally known as Bliss n' Esoterikizm. They formed in 2000.

From an early stage in their career, Bliss N Eso primarily built their fan base from their compelling and energetic live performances. An exhilarating blend of fluid rhymes and banging beats teamed with beat boxing, impromptu freestyling and seamless turntablism make their live shows a brand in their own right, and has seen the group hailed as one of the best live acts in the country.
Read Full Bio
Bliss n Eso are an ARIA award winning Australian hip hop group based in Sydney, Australia and were originally known as Bliss n' Esoterikizm. They formed in 2000.

From an early stage in their career, Bliss N Eso primarily built their fan base from their compelling and energetic live performances. An exhilarating blend of fluid rhymes and banging beats teamed with beat boxing, impromptu freestyling and seamless turntablism make their live shows a brand in their own right, and has seen the group hailed as one of the best live acts in the country. After four years of touring with consistently powerful performances, Bliss N Eso settled down in 2004 to record their first full length album Flowers In The Pavement. A virtual brainstorm on record, the emerging artists compiled track after track of wild expression through vibrant lyrics and production. The debut album met an overwhelming response from audiences and critics Australia wide.

In late 2006, Bliss N Eso's second album, Day of the Dog, was released and became the first Australian hip-hop release to debut in ARIA's top 50. It also earned Bliss N Eso an ARIA nomination for Best Urban Release in 2006 with sales exceeding all benchmarks for a local hip-hop release. In 2007 Bliss N Eso travelled to North America, playing sold out shows in the North-West of the US and Canada including a stand out performance at the Whistler 2007 Telus World Ski and Snowboard Festival. Upon their return, the lads embarked on the unforgettable Make Poverty History Zero Seven road trip tour and ventured on an epic journey in June 2007 with MTV and the Oaktree Foundation to some of the poorest regions in South Africa to complete the track and shoot the video clip for their next album's first single, Bullet and a Target. 2008 saw Bliss N Eso take things to a whole new level with the release of their third LP, Flying Colours.

The album, which received near perfect reviews in countless media, broke all kinds of records for an Australian hip-hop act thanks to four monster singles in the form of Bullet and a Target, Woodstock 2008, The Sea is Rising and Eye of the Storm. After a top 10 ARIA debut, the album became the highest selling local hiphop album of the year and with their third nomination in as many years, Bliss N Eso took out the ARIA Award for 2008's Best Urban Release. The official album tour sold out every one of its 24 legs including an unforgettable homecoming show at Sydney's Enmore Theatre in front of 2,500 lucky ticket holders. After ten phenomenal years, these three troublemakers from Sydney's suburbs are officially in unchartered territory – which is exactly where they like to be.

Bliss N Eso has just released their latest album called running on air. Debuting at the end of july featuring there latest hit down by the river (link below for their new film clip) . there album is on its way of becoming a great succsess like all their previouse albums.

http://www.youtube.com/watch?v=A2YDdGXvfPM
Genre not found
Artist not found
Album not found
Search results not found
Song not found