Versace on the Floor
Bruno Mars Lyrics
Jump to: Overall Meaning | Line by Line Meaning
Let's take our time tonight, girl
Above us all the stars are watchin'
There's no place I'd rather be in this world
Your eyes are where I'm lost in
Underneath the chandelier
We're dancin' all alone
There's no reason to hide
What we're feelin' inside
Right now
So baby let's just turn down the lights
And close the door
Ooh I love that dress
But you won't need it anymore
No you won't need it no more
Let's just kiss 'til we're naked, baby
Versace on the floor
Ooh take it off for me, for me, for me, for me now, girl
Versace on the floor
Ooh take it off for me, for me, for me, for me now, girl, mmm
I unzip the back to watch it fall
While I kiss your neck and shoulders
No don't be afraid to show it all
I'll be right here ready to hold you
Girl you know you're perfect from
Your head down to your heels
Don't be confused by my smile
'Cause I ain't ever been more for real, for real
So just turn down the lights (down the lights)
And close the door (close the door)
Ooh I love that dress
But you won't need it anymore
No you won't need it no more
Let's just kiss 'til we're naked, baby
Versace on the floor
Ooh take it off for me, for me, for me, for me now, girl
Versace on the floor
Ooh take it off for me, for me, for me, for me now, girl
Dance
(It's warmin' up) can you feel it?
(It's warmin' up) can you feel it?
(It's warmin' up) can you feel it, baby?
(It's warmin' up)
Oh, seems like you're ready for more, more, more
Let's just kiss 'til we're naked
Ooh, Versace on the floor, hey baby
Take it off for me, for me, for me, for me now, girl
Versace on the floor
Oh take it off for me, for me, for me, for me now, girl
Versace on the floor
Floor
Floor
Overall Meaning
In "Versace on the Floor," Bruno Mars describes an intimate moment with his partner, where it's just the two of them dancing under a chandelier. He wants to take their time with no rush, in a place where he loves to be with the girl, and she makes him feel lost in her eyes. Despite being alone, the girl still wears a stunning dress from Versace, which Mars loves but insists she doesn't need anymore. With the lights down and door closed, he unzips the girl's back to let the dress fall, and as he kisses her neck and shoulders, he encourages her not to be afraid to express herself. He finally tells her that he loves her, not just because of her appearance but from the inside out, and takes things to the next level.

Line by Line Meaning
Let's take our time tonight, girl
Let us not rush things, my love
Above us all the stars are watchin'
We are under the sky full of stars, with the universe as our witness
There's no place I'd rather be in this world
Being with you is the ultimate happiness for me
Your eyes are where I'm lost in
I am deeply captivated by the beauty of your eyes
Underneath the chandelier
We are enjoying this moment under the lavish chandelier
We're dancin' all alone
It is just the two of us together, lost in each other's company and enjoying intimacy
There's no reason to hide
We do not need to suppress our feelings or hide from the world
What we're feelin' inside
We should cherish the feelings that we have for each other
Right now
Let us live in the moment and enjoy the present
So baby let's just turn down the lights
Let us make this moment more intimate by dimming the lights
And close the door
Let us shut the world out and create a boundary between us and the outside world
Ooh I love that dress
I am deeply enchanted by your dress and your beauty
But you won't need it anymore
Let us take your dress off and enjoy each other's nakedness
No you won't need it no more
We should forget about everything else and focus on our intimacy
Let's just kiss 'til we're naked, baby
Let us spend this moment by kissing each other passionately and undressing
Versace on the floor
I do not care for the clothes or the brand, I only care about being with you
Ooh take it off for me, for me, for me, for me now, girl
Please take off your clothes for me and let us enjoy each other's body
I unzip the back to watch it fall
I am excited to see you undress and I am eagerly waiting for your dress to fall on the floor
While I kiss your neck and shoulders
I am expressing my love for you by kissing you passionately on your neck and shoulder
No don't be afraid to show it all
Do not be ashamed of your nakedness; you are perfect the way you are
I'll be right here ready to hold you
I will be there to hold you and cherish every moment with you
Girl you know you're perfect from
You are perfect from head to toe, and I am lucky to be with you
Your head down to your heels
Your beauty is not just limited to your face, it extends down to your heels
Don't be confused by my smile
Do not misinterpret my smile as anything but genuine love and affection for you
'Cause I ain't ever been more for real, for real
I am not playing around, this is the most genuine I have ever been about my feelings for you
(It's warmin' up) can you feel it?
The atmosphere is heating up, can you feel the passion between us?
Oh, seems like you're ready for more, more, more
It looks like you are ready for more physical intimacy, and I am here for it
Dance
Let us dance together in this moment of pure bliss and intimacy
Floor
Let us get down to the floor and continue our passionate and intimate moments
Lyrics © Universal Music Publishing Group, Warner Chappell Music, Inc.
Written by: Christopher Brody Brown, James Edward Fauntleroy II, Peter Gene Hernandez, Philip Martin Lawrence II

Lyrics Licensed & Provided by LyricFind
To comment on or correct specific content,
highlight it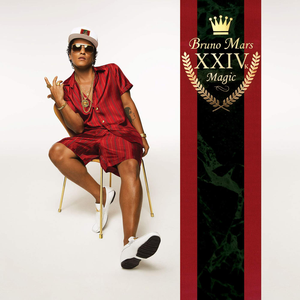 "Versace On The Floor" is a slow-paced track about his connection with a woman, whose Versace dress rests on the floor while they enjoy each other's company.

This song was released with the pre-order of 24K Magic. "Versace On The Floor" is the third single released from the album, following the title track "24K Magic" and "Chunky".
Genre not found
Artist not found
Album not found
Search results not found
Song not found