Hangover
Cales Lyrics
Everything is broken
Chaos in my mind
Booze is a bitch
And my passion for life is dangerous
I have a feeling
That I do everything the other way round
The inner demon broke silence
And you broke into tears
If I push too much
I won't make any difference
Feelings of guilt ...
It seems so absurd and futile
I don't really know what else I should do
I better move on
Why can't things be as they used to be?
Everyone is so grumpy tonight
Hey f**ker, something's gonna happen tomorrow
And you may understand the meaning of your dull life
It's freezing cold outside
I'm staggering down the street
Beaten up and lonely
My will conforming to the instinct of war
And limbs want to destroy
Blackout caused by a fall
Broken face, body bruised
An emotional fit taking turns
With burst of laughter
I'd like to cry but I don't know how to
The only solution is sleep
Then I'll board up window
And be your cute little boy
Contributed by Harper N. Suggest a correction in the comments below.
To comment on specific lyrics,
highlight them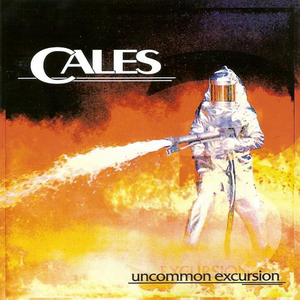 Cales is an originaly pagan doom metal founded by guitarist Petr 'Blackie' Hošek from legendary Czech band Root around the year 1993. First song First Key was released at that time also. Two years later, first long-playing album Bonds of Togetherness was out, showing band in a very good pagan metal form.

In year 1998 together with album of his another band Entrails was released a promo of Cales-Mystery of Lost Equilibrium.

In 2001 The Pass In Time saw the light of day.
Read Full Bio
Cales is an originaly pagan doom metal founded by guitarist Petr 'Blackie' Hošek from legendary Czech band Root around the year 1993. First song First Key was released at that time also. Two years later, first long-playing album Bonds of Togetherness was out, showing band in a very good pagan metal form.

In year 1998 together with album of his another band Entrails was released a promo of Cales-Mystery of Lost Equilibrium.

In 2001 The Pass In Time saw the light of day. At that time Skuny became the bands new singer, because original singer J.S. De Sed decided to spend all his time on his own band Dark Gamballe.

Around 2003, Cales changed their style to a more hard rock sound, leaving the trails of their pagan past behind for now. The album Uncommon Excursion is a mix of modern hard rock with a typically Blackie sounding guitar and good work by singer Skuny (also in Sad Harmony) and drummer R. 'Evil' Kostelnak (also in Root).

In 2007, the instrumental album called Savage Blood returned to the pagan past of the project.

http://www.cales.mysteria.cz
Genre not found
Artist not found
Album not found
Search results not found
Song not found