The Cool clear night
stillness before the light
the blues moves thru
resurrective beyond to you
the song sleep inside you
till you call it out - oooh…
the babe cries
an the soldier prepares to die
the world spins by
there's a stars cross the evening sky
feeling small mountains
when you call them out - ooh...
Chat ……
music solo's
the cool clear night
stillness before the light
the blues move thru
resurrective beyond to you
the song sleeps inside you
till you call it out
pa ta ta tata...
Contributed by Brody R. Suggest a correction in the comments below.
To comment on specific lyrics,
highlight them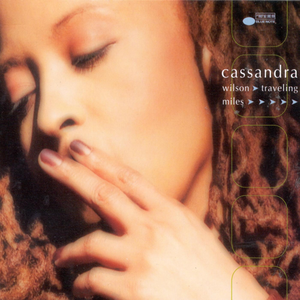 Cassandra Wilson (born 4th December 1955) is a U.S. jazz vocalist and two-time Grammy Award winner from Jackson, Mississippi. Two of her albums, Blue Skies (1988) and New Moon Daughter (1996), have topped the US jazz charts, and the latter also won her a Grammy for Best Jazz Vocal Performance in 1997. More recently, Wilson's album Loverly (2008) also won the Grammy for Best Jazz Vocal Album at the 51st Grammy Awards in 2009.

Wilson's repertoire includes both jazz and blues standards and renditions of pop and rock songs.
Read Full Bio
Cassandra Wilson (born 4th December 1955) is a U.S. jazz vocalist and two-time Grammy Award winner from Jackson, Mississippi. Two of her albums, Blue Skies (1988) and New Moon Daughter (1996), have topped the US jazz charts, and the latter also won her a Grammy for Best Jazz Vocal Performance in 1997. More recently, Wilson's album Loverly (2008) also won the Grammy for Best Jazz Vocal Album at the 51st Grammy Awards in 2009.

Wilson's repertoire includes both jazz and blues standards and renditions of pop and rock songs. Her contralto voice has been described as bluesy and sultry, and the style of her music ranges from swing to funk to bossa nova. Many of the songs she covers are by artists who usually record in other genres.

Wilson counts the late Miles Davis as one of her greatest influences. In 1989 she performed as the opening act for Davis at the JVC Jazz Festival in Chicago. In 1999 she produced Traveling Miles as a tribute to Davis. The album developed from a series of jazz concerts that she performed at Lincoln Center in November 1997 in Davis's honor and includes three selections based on Davis's own compositions, in which Wilson adapted the original themes.

A Brief Discography
Point of View (1986, JMT)
Days Aweigh (1987, JMT)
Blue Skies (1988, JMT)
Jumpworld (1989, JMT)
She Who Weeps (1990, JMT)
Live (1991, JMT)
After the Beginning Again (1992, JMT)
Dance to the Drums Again (1992, DIW/Columbia)
Blue Light 'til Dawn (1993, Blue Note)
New Moon Daughter (1995, Blue Note)
Rendezvous (with Jacky Terrasson) (1998, Blue Note)
Traveling Miles (1999, Blue Note)
Belly of the Sun (2002, Blue Note)
Glamoured (2003, Blue Note)
Thunderbird (2006, Blue Note)
Loverly (2008, Blue Note)
Silver Pony (2010, Blue Note)
Another Country (2012, eOne)

Official website: www.cassandrawilson.com
Genre not found
Artist not found
Album not found
Search results not found
Song not found