Oh, I been hurting lately
I'm down on all my luck
Sometimes there's no one there by your side
I don't deserve this baby
But I know that I can't give up
Tough times I just take them in stride
Mmm, I'm almost there, only one more step
Left, right, left, right, left
I'm moving on, I got no regrets
Left, right, left, right, left
I said times are changing, tell me how can I keep up
Every time that I turn around there's a wall
But I'm climbing daily, until I see the top
And I get up right after every fall
When you're brokenhearted
And you're lost without me
Yeah, you gotta walk alone, yeah it's true
Flash every smile 'cause I've been lost for miles
I know you've felt this way before too
We're almost there baby one more step
Whoa, left, right, left, right, left
We're moving on, we got no regrets
Whoa, left, right, left, right, left
Whoa, left, right, left, right, left
Whoa, left, right, left, right, left
Whoa, we're almost there only one more step
Whoa, left, right, left, right, left
Mmm, I know it looks like it's too far
But it's nothing compared to how far we've come
Walking down this boulevard
When the darkest times come right before the sun
We're almost there baby one more step
Whoa, left, right, left, right, left
We're moving forward and there's no regrets
Whoa, left, right, left, right, left
Whoa, left, right, left, right, left
Whoa, left, right, left, right, left
We're almost there only one more step
Whoa, left, right, left, right, left
Whoa, left, right, left, right, left
Whoa, left, right, left, right, left
Whoa, we're almost there only one more step
Whoa, left, right, left, right, left
Lyrics © BMG Rights Management, Sony/ATV Music Publishing LLC, Kobalt Music Publishing Ltd.
Written by: Geoffrey Earley, Justin Franks, Marc Griffin, Paris Jones, Charles Puth

Lyrics Licensed & Provided by LyricFind
To comment on specific lyrics,
highlight them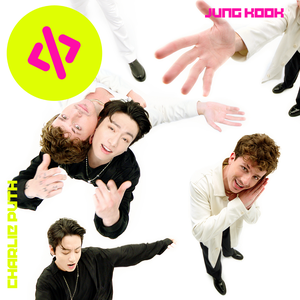 Left and Right (feat. Jung Kook of BTS)
"Left and Right" is a song by Charlie Puth featuring Jung Kook of BTS, released through Atlantic Records on June 24, 2022, as the third single from Puth's third studio album, Charlie.

A catchy, upbeat pop song, the lyrics of "Left and Right" focus on memories of a past love and how consumed by thoughts of that former relationship one can become. An accompanying music video released the same day as the song, shows Puth and Jungkook visiting a therapist's office for help with their lovesickness.
Genre not found
Artist not found
Album not found
Search results not found
Song not found