Pretty Girl
Clairo Lyrics
Polaroid of you dancin' in my room
I want to remember, I think it was about noon
It's getting harder to understand, to understand
How you felt in my hands, in my hands
And I could be a pretty girl
I'll wear a skirt for you
And I could be a pretty girl
Shut up when you want me to
And I could be a pretty girl
Won't ever make you blue
And I could be a pretty girl
I'll lose myself in you
I was so blinded by you, now I cry
Just thinkin' 'bout the fool that I was, I was such a fool
I'm alone now but it's better for me
I don't need all your negativity
And I could be a pretty girl
I'll wear a skirt for you
And I could be a pretty girl
Shut up when you want me to
And I could be a pretty girl
I'll never make you blue
And I could be a pretty girl
I'll lose myself in you
Lyrics © DistroKid, Kobalt Music Publishing Ltd.
Written by: Claire E. Cottrill

Lyrics Licensed & Provided by LyricFind
To comment on specific lyrics,
highlight them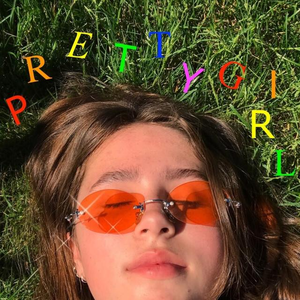 "Pretty Girl" is about a relationship Clairo had where she felt she needed to be the perfect girl for another person. Whether that was wearing makeup, doing her hair, wearing things they liked, or even changing the way she spoke. Eventually, things were broken off, and she's better off. According to Pitchfork, "Pretty Girl" is a song about changing for a relationship and losing yourself along the way.

The song was originally recorded on GarageBand for a cassette compilation that was limited to 250 copies.
Read Full Bio
"Pretty Girl" is about a relationship Clairo had where she felt she needed to be the perfect girl for another person. Whether that was wearing makeup, doing her hair, wearing things they liked, or even changing the way she spoke. Eventually, things were broken off, and she's better off. According to Pitchfork, "Pretty Girl" is a song about changing for a relationship and losing yourself along the way.

The song was originally recorded on GarageBand for a cassette compilation that was limited to 250 copies.

"I'm still not entirely sure how "Pretty Girl" blew up the way it did. It wasn't really meant to. The song was originally meant for a compilation tape for a magazine called The Le Sigh, and I made the video in about 30 minutes. I only expected about 5,000 views at most! Getting a million views on a video I made is still hard for me to wrap my head around. Most of my friends back home still have no idea that any of this has happened." - via Pigeons & Planes

"the reason I made this music video was to actually help myself. on the day i made this, my hair was greasy, my skin was bad, i had nothing to wear, and i didn't want to leave bed. i had just woken up in this video and you can definitely tell (lol) i felt really ugly but realized that it's perfectly okay to feel that way/have those types of days.
the song is about a relationship i had where i felt I needed to be the perfect girl for another person.. whether that's wearing makeup, doing my hair, wearing things they like, or even changing the way i speak/WHEN i speak.

so, i felt that the only way i could make this video was to have a lot of fun looking disgusting and not caring at all ! it's okay to have flaws and it's okay to embrace them and it's okay to be silly and stupid. you all might already know this, but i'm happy that i know this now"

– Clairo via YouTube
Genre not found
Artist not found
Album not found
Search results not found
Song not found