(traditional ballad circa 1400)
The wind doth howl today m'love
And a winter's worth of rain
I never had but one true love
In cold grave she was lain
Oh I adored my sweetest love
As any young man may
So I'll sit and weep upon her grave
For twelve-month and a day
One true love is eternity for two
Three four nevermore
Will I see my love true
The twelve-month and a day foregone
The dead began to speak
"Oh who sits weeping on my grave
And will not let me sleep?"
"'Tis I, m'love, upon thy grave
Who will not let you sleep
For I crave one kiss of your lips
And that is all I seek"
"You crave one kiss of my cold lips
But I am one year gone
If you have one kiss of my lips
Your time will not be long
Let me remind thee, dearest one
A patient heart to keep
For we professed eternal love
That lives though I may sleep"
There down in yonder garden grove
Love, where we once did walk
The finest flower that ever was seen
Has withered to a stalk
The stalk is withered dry, my love
Though our hearts shan't decay
So make yourself content, my love
Till god calls you away"
Contributed by Isabella P. Suggest a correction in the comments below.
To comment on specific lyrics,
highlight them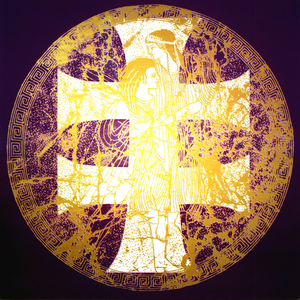 Faith and the Muse, formed in 1993, are vocalist and songwriter Monica Richards (formerly of Strange Boutique and the mid-80s Washington DC punk band Madhouse) and William Faith (formerly of Christian Death and Shadow Project). The duo draws from a wide array of styles: gothic rock, ethereal, Celtic, post-punk, and even jazz. Neo-pagan and Celtic mythology influences much of their lyrical content. While their sound varies greatly from song to song, their music is always highly emotional and spiritual, with a cathartic and epic character.
Read Full Bio
Faith and the Muse, formed in 1993, are vocalist and songwriter Monica Richards (formerly of Strange Boutique and the mid-80s Washington DC punk band Madhouse) and William Faith (formerly of Christian Death and Shadow Project). The duo draws from a wide array of styles: gothic rock, ethereal, Celtic, post-punk, and even jazz. Neo-pagan and Celtic mythology influences much of their lyrical content. While their sound varies greatly from song to song, their music is always highly emotional and spiritual, with a cathartic and epic character.

Their debut album "Elyria" was released in 1993 and was followed by "Annwyn, Beneath The Waves" in 1996, in part a concept album based around the four elements. 1999 saw the release of their third album, "Evidence of Heaven". In 2001, "Vera Causa" a 2 CD set featuring a live permormance and various rarities was released. "The Burning Season" followed in 2004, and featured a more rock oriented formula. They continued to explore the boundaries of Gothic Rock with their 2009 album, :ankoku butoh: , an album which saw them delve into far-east Asian aesthetics.

Faith and the Muse currently live in Los Angeles, California, USA. Their website is http://www.mercyground.com
Genre not found
Artist not found
Album not found
Search results not found
Song not found