Four Letter Word
Gossip Lyrics
Oooh
Oooh, oooh, ooh, ooh, oooh
Put my best foot forward
Trying to ignore the events of the day
Pacing back and forth
Slowly going nowhere
Running in place
And it looks like it's gonna rain again
Ohhh another four letter word
Never gonna be the same again
Ohhh another four letter word
Oooh
Oooh, oooh, ooh, ooh, oooh
Oooh, oooh, ooh, ooh, oooh
Staring out my window
Look down at the street below
Children at play
Round and round and round it goes
Where it stops no one knows
Their faces seem to say
That it looks like it's gonna rain again
Ohhh another four letter word
Never gonna fall in love again
Ohhh another four letter word
Love is a four letter word
That should never be heard
Love is a four letter word
A four letter word
Yeah
L is for leaving
O is for on time
V is for the voices warning me I'll lose my mind
E is for the ending
The unhappy ending of the four letter word
And it looks like it's gonna rain again
Ohhh another four letter word
I never want to see your face again
Ohhh another four letter word
Oooh
Oooh, oooh, ooh, ooh, oooh
Oooh, oooh, ooh, ooh, oooh
Yeah
Never gonna fall in love again
Never wanna to see your face again
Never gonna fall in love again
I never wanna see your face again
Lyrics © BMG Rights Management
Written by: HANNAH BLILIE, MARY BETH PATTERSON, NATHAN HOWDESHELL

Lyrics Licensed & Provided by LyricFind
To comment on specific lyrics,
highlight them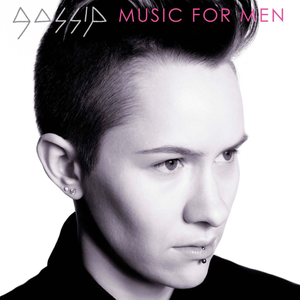 There are at least three artists with this name
1. An American indie rock band
2. A Japanese visual kei band (Gossip)
3. Another Japanese Visual-kei band, typeset as Gossip-ゴシップ-

An American indie rock trio from Portland, OR, originally formed in Arkansas and formally known as The Gossip. The genre-bending DIY post-punk rock trio bring a new level of lyrical power and musical sophistication to their ever-evolving, always-electrifying sound and sensibility on Music For Men, the indie group's first major label studio album.
Read Full Bio
There are at least three artists with this name
1. An American indie rock band
2. A Japanese visual kei band (Gossip)
3. Another Japanese Visual-kei band, typeset as Gossip-ゴシップ-

An American indie rock trio from Portland, OR, originally formed in Arkansas and formally known as The Gossip. The genre-bending DIY post-punk rock trio bring a new level of lyrical power and musical sophistication to their ever-evolving, always-electrifying sound and sensibility on Music For Men, the indie group's first major label studio album.

According to Gossip guitarist and music creator Brace Paine, the idea of calling the band's new album Music For Men comes straight from Beth Ditto, the Gossip's iconoclastic lead singer and charismatic front-person. "It's like a feminist joke," Brace offers by way of wry explanation.

And while the Gossip incorporate a deft sense of cultural irony into Music For Men, there's nothing confusing about the post-punk trio's musical approach: direct and visceral, pulsing with a raw and unapologetic animal energy, drummer Hannah Blilie's propulsive rhythms interlocking with Brace's heart-pounding riffs and Beth's aggressive and cathartic vocals.

One of the year's most highly-anticipated event releases, Music For Men, the Gossip's new musical manifesto, marks the group's first full-length studio collection since their signature anthem-of-empowerment, "Standing In The Way of Control," broke-out big in 2006. Music For Men is the first new music from the group since the release of its major label debut, Live In Liverpool.

On-board to make sure the Gossip got the studio sound they were looking for was producer Rick Rubin, who the helped the band find its own distinct groove in every track. "He is a true mystic," Brace observes "All we talked about was John Cage. He's only cares about music, speakers and sound systems. He's really amazing to work with. I'd say 'make the bass sound like PiL' and he'd know what I was talking about, he got all the references. He would let me do whatever I wanted to do. Such awesome energy."

Brace admits that the band's experience cutting Music For Men at Shangri-La Studios in Malibu marked "the first time we ever had access to a studio like that. I can see if you let a musician loose in this big studio to just ride all this stuff, I can see why somebody would just come up with this huge thing. Having restraint was so important. I hate the over-production sound."

"We wrote a lot of this album in the studio," Brace continues, again referring to Shangri-La. "The Band built it in 1976 and Bob Dylan's old tour bus was in the back. It was empty so I turned it into my own little studio with my computer with GarageBand and my guitars and stuff. I loaded up all my gear into Bob Dylan's 70s tour bus and that's where I wrote. Beth would come in and I would play her demos. All the vocal lines are hers, the lyrics are hers. I do the sounds and she sings over it. She'd come in the Bob Dylan bus and we did a lot of demoing on our own during the day because it was more comfortable. She'd come in and sing into GarageBand. I'd write some things to her vocals. 'Dimestore Diamond' was actually her humming the song and I started playing bass to it."

While "Dimestore Diamond" lays the escapades of a punk-rock Second Hand Rose across a deep funk bassline and crackling rhythmic static, "Men In Love" fires up the ultimate dance-floor groove, as sweaty as it is transcendent. "Heavy Cross," the album's first single, finds Beth first cooing, then belting a confrontational challenge to the status quo of a cruel world.

Other new songs on Gossip's "Music For Men" include "8th Wonder," "Love Long Distance," "Pop Goes The World," "Vertical Rhythm," "For Keeps," "2012," "Love and Let Love," "Four Letter Word," and "Spare Me From The Mold."

"She's got a serious set of lungs. She's a great singer. I'm always blown away by what she does," say Brace admiringly of his bandmate. "Everything she did was on the first or second take."

When it came to the overall sound and vibe of Music For Men, "We kept it really simple. There's usually not more than two things going on at once on the record. It just started out with bass lines and then I'd put a guitar over it or synth. I thought a lot about how it's gonna sound live. We're a live band so much. We have a fourth member, a bassist, on-stage. I play keyboards at the same time as guitar."

The journey from "Standing in the Way of Control" to Music For Men has been a wild ride for the Gossip. "We have been out on the road a lot," says Hannah. "The shows are great, every tour gets bigger, and the shows are more and more fun. We're really good friends and we're having a great time."

Brace and Beth have been friends since Brace was 15 and each of them was formulating a cosmopolitan world-view encompassing far more than their lives in small farming towns on the outskirts of Searcy, Arkansas. A punk mixtape made its way from Brace to Beth (via a mutual friend, Kathy Mendonca, who'd later become the first drummer for the Gossip) and the seeds of a long-standing friendship and musical union were planted.

"I ended up hanging out with her quite a lot," Brace, a budding local indie music entrepreneur. "I put out a tape of her band Little Miss Muffet." It wasn't long before Beth, Brace and Kathy moved to Olympia, Washington where "We lived in a punk house together and started the band in the basement."

Right from the beginning, the Gossip felt they were on to something special. "Beth was doing this bluesy thing," Brace remembers. "It was more lo-fi. We never did sound checks. Everything was super-loud and distorted. I didn't know how to play my guitar at all. Then we got this new drummer...."

Once drummer Hannah Blilie came on-board, the Gossip line-up was in-place, ready to shake some action and kick down some walls. The young indie trio broke-through with 2006's Standing In The Way Of Control, which reached #1 on the UK indie chart and #22 on the UK album chart while the title track became widely associated with the popular UK teen drama, "Skins."

The success of "Standing In The Way Of Control" and the Gossip's incandescent performances rapidly established newcomer Beth Ditto as a cultural icon in the UK -- she was named the NME's Coolest Person In Rock (in one of her four cover appearances), took home the Glamour Awards' 2008 International Artist Of The Year, appeared on the cover of the premiere issue of Love magazine, and is a much-sought-after guest on UK television. Beth and the Gossip's music were becoming recognized in the UK and Europe as a major force.

In a surreal world where he's talked to Karl Lagerfeld about the Velvet Underground during French Fashion Week, Brace claims that "Our lives have -- hilariously -- not changed at all really. We live in the same town. "

And though the daily lives of the band's members remain unaffected by the Gossip's growing notoriety, the heat of their music and the adrenaline-rush of their live shows are an ongoing source of excitement.

Since the group's formation, the Gossip has opened for and/or toured with a wide variety of musicians including Le Tigre, Chromatics, Tracy and the Plastics, Sonic Youth, Pre, YYY, Sleetmute Nightmute, Glass Candy, the White Stripes, CSS, Pretty Girls Make Graves, Erase Errata, Stereo Total, and the Kills among others.

The summer of 2007 found the Gossip on-board the True Colors Tour -- as part of an eclectic bill including Cyndi Lauper, Debbie Harry, Erasure, Rufus Wainwright, the Dresden Dolls, the MisShapes, the Cliks and host Margaret Cho -- for a series of concerts benefitting the Human Rights Campaign.

That summer found the Gossip closing the Glastonbury Festival, with Beth Ditto paying homage to the late John Peel, the massively influential British DJ/journalist/television presenter, during the group's set exclaiming "JOHN PEEL IS RESPONSIBLE FOR THE UNDERGROUND!!!" The Gossip was invited back to Glastonbury the following year.

2008 saw the release of Gossip - Live In Liverpool, a deluxe live CD/DVD documenting the group's incendiary show from July 9, 2007, focusing on the deep raw power, energy and intensity of the Gossip's live performances. In April 2008, in support of their live release, Gossip set off on a mini-tour of select US venues which included SRO shows in New York and a career-defining performance on the "Late Show with David Letterman."

"We are always on tour," says the band. As popular on the festival circuit as they are in the world's post-punk clublands, Gossip is lined up to play Radio 1's Big Weekend in May 2009 as well as a series of UK summer festivals including Latitude, Leeds, and Reading.

When the band's off the road, Beth, Brace and Hannah get together to practice at least twice a week. There's a club in Portland called Dunes, where Brace sets up shows and DJs "a lot." The group plays host to local post-punk parties and including a mythic underground soiree (now in hiatus) called "Suicide Club" where Brace whispers, "we would play post-punk records and show Joy Division videos on the wall. Maybe 30 kids would come. It was a great club. There was no sign because it was illegal."

With "Music For Men," the Gossip bring together the vital elements of danger, thrills and passion to their sound and vision, partying like it's 2012!!!

On January 22, 2010, it was announced that Gossip will be performing at Lilith Fair 2010, which is back by popular demand. ABC is the official sponsor of this year's Lilith Fair. For more information on the tour schedule and artists visit the Lilith Fair official website.

Sites: gossipYouth.com
Genre not found
Artist not found
Album not found
Search results not found
Song not found