Keep Your Worries
Guru Lyrics
[Angie Stone]
Ooh-ooh (uh mm)
(mmm) Ooh-ooh (uh mm, keep your)
Yeah yeah, my brother Guru
And Angie Stone (ooooooh-oooooh)
And DJ Scratch (yeah mm mmm)
Uhh Guru, and Angie Stone
[Chorus: Angie Stone]
Keep your feet, out my shoes
A nigga like me done paid my dues
Keep my comb, out your hair
Unless you bout ready to take it there
Keep my name, out your mouth
Until you got somethin' worth talkin' bout
Keep your hands, to yourself
'Cause I belong to someone else
[Guru]
It's the, G-you-are-you, once again settin' it off
Lettin' it off my chest plus, bettin' it all
Record sales, awards, accolades I'm, gettin' it all
Mad chips, right above my grip I'm, lettin' 'em fall
Who said the G-O-D wasn't comin' to do his thing
Who said the industry, wasn't gonna bow to this king?
I paid dues stayed true so I, made it through
If you handle your B-I fly guy you can make it too
Your potential is infinite, be wise visualize witness it
Why waste your time focusin' your mind on limp shit?
Angie understands me, and Scratch got my back
So keep away from the fire, burnin' desire, yo we got that
[Chorus]
[Guru]
I've never been a,
Stranger to struggle gotta maintain my hustle
Used to let the anger bubble
These streets can bring mad danger and trouble
And I can do bad all by myself
Do me a favor - don't be concerned about my wealth
If you're one of my peeps, you're gonna know that
But if I ain't feelin' you player, huh
My face is gonna show that
So keep your eyes off my pockets
Don't be surprised if I cocked it
Can't outslick a can of oil, you never spoil my profits
See how I'm flippin' this here?
Things are different this year
Ain't got no time to listen to niggas
That be trippin' this year
'Cause and effect, I always get, applause and respect
When I rhyme, universal laws, truth and righteousness connect
[Angie Stone]
You see the knowledge that I'm kickin' is for you
And there is nothin' that another can do
Try to stop me but I make it through
Recruitin' angels as a warrior I'm true
People need people, it's true
True pride will sustain
In order to do what I do I can let you live
With me inside my brain
[Chorus]
[Guru]
I've been tellin' you, that there's war out here
And I've been tellin' you, that there's more out here
So stop limitin' your thoughts
Stop reconstructin' your plots
It's more than luck it's an art
No more, duckin' from NARC's
Haters stay at a distance, haters keep away from my fam
Haters stay in my business, haters still playin' this jam
Mad Wisdoms, reflect the light of this man
Some jealous rappers, tried to pick a fight with this man
But despite all the nonsense, and false pretense I bomb this
Peace to those I get along with, my real nigga I'm strong with
And never get me twisted with no wack shit
And all that foolishness you was kickin', hey
I know you want to take it back kid
[Chorus: x2]
[Angie Stone]
Uhh.. Guru.. check it
DJ.. Scratch and Angie
Uhh..
Uhh, ooh yeah yeah
Lyrics © Royalty Network, Kobalt Music Publishing Ltd.
Written by: GEORGE SPIVEY, ANGELA BROWN, KEITH ELAM

Lyrics Licensed & Provided by LyricFind
To comment on specific lyrics,
highlight them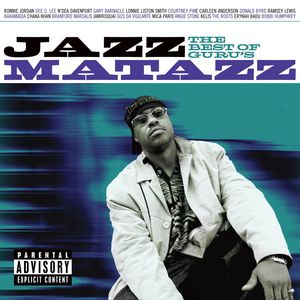 Keep Your Worries (Street Version)
There are two artists which use this name
1. A rapper from the United States and member of alternative hip-hop duo Gang Starr
2 A rapper from Ghana

1. (July 17, 1961 – April 19, 2010) was one half of the legendary hip hop duo Gang Starr and an accomplished solo artist. Guru, an acronym for Gifted Unlimited Rhymes Universal, originally began his hip hop career in Boston but due to lack of local support moved to New York where Gang Starr then blew up.
Read Full Bio
There are two artists which use this name
1. A rapper from the United States and member of alternative hip-hop duo Gang Starr
2 A rapper from Ghana

1. (July 17, 1961 – April 19, 2010) was one half of the legendary hip hop duo Gang Starr and an accomplished solo artist. Guru, an acronym for Gifted Unlimited Rhymes Universal, originally began his hip hop career in Boston but due to lack of local support moved to New York where Gang Starr then blew up. Guru was well known for his smooth voice; socially conscious and hardcore lyrics; and an effortless, confident delivery.

Founded in 1987, Gang Starr built a sizable following in the early 90's, releasing classic albums like Step in the Arena (1991) and Daily Operation (1992). Guru's lyrical style was based on battle rhymes delivered smoothly, modestly, and with sly wit; he typically avoided using overwhelming charisma, focusing instead on his rhyming ability. Over the years he even took on younger rappers, including Jeru the Damaja, as proteges. He is credited, along with DJ Premier, for the executive production of Jeru's debut, The Sun Rises in the East (1994).

In 1993, he released his first solo album, Jazzmatazz, Vol. 1. The album featured collaborations with Donald Byrd, N'Dea Davenport, Dee C. Lee, and Roy Ayers, whilst his second LP, Jazzmatazz, Vol. 2: The New Reality, featured Ramsey Lewis, Branford Marsalis, and Jamiroquai. The Jazzmatazz albums have been met with mixed reviews, Guru continued with Jazzmatazz, Vol. 3: Streetsoul (2000) and Baldhead Slick & Da Click (2001).

Moreover, recent Gang Starr albums have continued to garner Guru critical acclaim. Prominent Boston underground rapper Mr. Lif frequently cites Guru as a major stylistic influence; he appears as a guest with Lif on the Perceptionists' debut album, Black Dialogue (2005).

Besides Gang Starr, his Jazzmatazz and solo albums, Guru collaborated with countless artists since the early 90s. Not only in Hip-Hop, but also with artists from various genres such as pop, electronica/dance, acid jazz, and even brass bands.

His "first proper solo album", in his own words, was Version 7.0: The Street Scriptures (2005), released with the help of producer and new backup MC/producer Solar. The album reached #1 on the college hip-hop charts, but was a failure with both fans and critics. It still managed to sell relatively well for an independent release.

Guru's latest project is the fourth installment in the Jazzmatazz series, entirely produced by Solar. It was released in early June 2007 and received good reviews and comments from fans.

In 2007 Guru was ranked at 45 for the Top 50 MCs of our time: 1987-2007

On February 28th 2010, Guru suffered a severe heart attack and was in a coma. He passed away on April 19, 2010 at the age of 49 after a long battle with cancer.

2. Guru also refers to a Ghanaian hip-hop artist known for his single "LaPaz Toyota" and the song "Akayida" - basis for a azonto dance craze
Genre not found
Artist not found
Album not found
Search results not found
Song not found