It ain't that easy
It ain't that easy
It ain't that easy
But it ain't so hard
It ain't that easy
It ain't that easy
It ain't that easy
But it ain't so hard
Hoppin out that Maserati
All I see is paparazzi
For the front cover of a magazine
I pose in everything I wear
Lots of makeup, people stare
Always center of attention
Lookin' so bootylicious
And I don't care
That I keep pissin' people off
Ima let 'em talk
I don't give a damn what they say
It isn't fair
That I wear diamonds for breakfast
And I know this isn't helping
They say I'm superficial
Some call me a bitch
They just mad cause I'm sexy, famous, and I'm rich
I brought the latest fashions and I set the latest trends
They all say I'm conceited cause they really wanna be me
So they say I'm superficial
Cause I got money
They say I'm superficial
But they really don't know me
They say I'm superficial
Cause I got money
They say I'm superficial
But they really don't know me
I'm addicted to the glitz and glamour
Maybe I need Betty Ford
A rehab for my shopping habit
If I see it, I gotta have it
Cause Daddy never says no
Mama get what she wants
I keep it new, new
Like I'm supposed to
And I don't care
That I keep pissin' people off
Ima let 'em talk
I don't give a damn what they say
It isn't fair
That I wear diamonds for breakfast
And I know this isn't helping
They say I'm superficial
Some call me a bitch
They just mad cause I'm sexy, famous, and I'm rich
I brought the latest fashions and I set the latest trends
http://www.elyricsworld.com/superficial_lyrics_heidi_montag.html
They all say I'm conceited cause they really wanna be me
So they say I'm superficial
Cause I got money
They say I'm superficial
But they really don't know me
They say I'm superficial
Cause I got money
They say I'm superficial
But they really don't know me
It ain't that easy
It ain't that easy
It ain't that easy
But it ain't so hard
It ain't that easy
It ain't that easy
It ain't that easy
But it ain't so hard
They say I'm superficial
Some call me a bitch
They just mad cause I'm sexy, famous, and I'm rich
I brought the latest fashions and I set the latest trends
They all say I'm conceited cause they really wanna be me
So they say I'm superficial
Cause I got money
They say I'm superficial
But they really don't know me
They say I'm superficial
Cause I got money
They say I'm superficial
But they really don't know me
Contributed by Zachary H. Suggest a correction in the comments below.
To comment on specific lyrics,
highlight them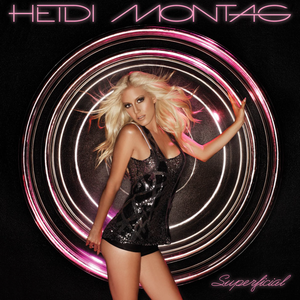 Heidi Montag (born September 15, 1986) is an American reality television personality and recording artist from Los Angeles, California, United States. Montag is known for appearing on the MTV reality series The Hills, which began airing in 2006. In February 2007, Montag started work on an album with producer David Foster. On August 16, 2007, Ryan Seacrest premiered Montag's song, "Body Language", featuring Pratt rapping, on his KIIS-FM radio show.
Read Full Bio
Heidi Montag (born September 15, 1986) is an American reality television personality and recording artist from Los Angeles, California, United States. Montag is known for appearing on the MTV reality series The Hills, which began airing in 2006. In February 2007, Montag started work on an album with producer David Foster. On August 16, 2007, Ryan Seacrest premiered Montag's song, "Body Language", featuring Pratt rapping, on his KIIS-FM radio show. Both Montag and Pratt denied the song was her intended first single, with Pratt telling Us Weekly the tune "was a song Heidi and I were doing for fun. Never would I rap on her first single!" In December 2007, another track by Montag and produced by David Foster entitled "Touch Me" was leaked online.

On February 5, 2008, Montag's first song, "Higher" received an onli-ne-only release on iTunes. The song and the video received a negative response from websites and readers across the internet, to which Montag responded, "I appreciate people taking the time to write any comment." The following month, Montag released her second song, "No More", through iTunes. In June 2008, Montag released two songs, "Fashion" and "One More Drink". Montag also revealed interest in releasing a Christian music album. On August 18, 2008 Montag released a song titled "Overdosin'" and on April 1, 2009, she debuted her new song "Look How I'm Doing" on Ryan Seacrest's KIIS-FM show. In March 2009 Montag hired songwriter Cathy Dennis to work on her upcoming album.

Montag released "More Is More" on April, 2009, and it is the only Montag's song that managed to chart. On August 23, 2009 Montag performed "Body Language" during the Miss Universe 2009 pageant in the Bahamas in front of an expected worldwide audience of one billion. The song "Body Language" samples music from the hit "Situation" by Yazoo and it was performed by Montag during the presentation of all delegates in their swimming costumes. Montag's single, "Superficial" was released on November 22, 2009, and also failed to chart.

Montag's debut album, Superficial was digitally released on January 11, 2010. The album sold less 1,000 copies in its first day, and just over 1,000 copies its first week.

On February 15, 2010, Montag released songs "Sex Ed" and "Trash Me".

Discography:

Albums:
Superficial (2010)

EPs:
Where Ever I Am (2009)
Here She Is... (2009)

Singles:
Overdosin (2008)
No More (2008)
Higher (2008)
More Is More (2009)
Your Love Found Me (2009)
Look How I'm Doing (2009)
Blackout (2009)
Body Language (2009)
Superficial (2009)
Sex Ed (2009)
Trash Me (2010)
Genre not found
Artist not found
Album not found
Search results not found
Song not found