(Muad'Dib)
Trap-jaw tap (snap)
Raw rap track, leave your cracked maw jacked on the floor, take a nap
Black, white, red, said all over, got slapped with the newspaper-type
Flavor (whap!)
To the back of the headline, needle teeters on the redline
No thread binds me to keeping decent bedtime
Double ended candle burner, grab a bit of fluid, turn it into a museum
Wanna see me make a being out of wax?
Breathe and relax
I'll drop it on the page, let me see if it'll freeze in its tracks
I need this, in fact if I quit, I'm a be dead
Sick of being neck-deep n scrubs like an aggravated pre-med
(Felix)
From jump been dedicated,
Talking that rhyme junk
Born out of records, boxes in car trunks
Bred to rap, born to rock like Bruce Springsteen
Louder than Friday the 13th when the blonde screams
Breathing harder, growing stronger
Your girl oughta know, that we can last longer
It's like a condom when it gets broken
You either test yourself
Or for the best shit you keep hopin'
Keep holding heat
And as a matter of speech
This heat could make this to a scene from Normandy beach
That ain't to say that dope girls stay tannin'
Its last man standin'
Reckless abandon
Battle cats spitting battle raps to shatter saps
Ladder game playing
Saying rhymes as laughable acts
Unravel the raps and find some insight or a fuck you
Wordplay so thick that a mack couldn't truck through
Back, back, back, we go
Quarterback style backpedaling
Champion like, always meddling
We always moving forward seeking out the dope shit
You act like a pilgrim for the weak shit your settling
Novice or a veteran it's how you represent YOU
Any way you do it, single or a crew
We always hit hard, got rhyme and reason
Breaking new ground while you pray to break even.
What brain, heads full of trivial pursuit cards.
But alphabetizing and color-coding them is too hard
So just load'em up and throw'em as they come
'Til they blowing back the sun, never holding back the tongue
Like the perfect romantic moment during a slow dance
Or a bisexual oral festival with no hands
Oh man, programmed for jams
Grown too big for these britches, but she can keep it in those pants
Damn, I'm a be in trouble with that double bubble popping like a pair
Of twins split a pack of Hubba-Bubba
Slither, wiggle, shimmy, glide, ride to the fly vibe
It's all right, giggle and jiggle them thighs
Kids with the gift have arrived to provide the soul stirring, no
Slurring, closed current electric flow serving delectable technical
Blows to nose, throat, and sternum
Encourage over the coal burning of slow vermin
Lyrics © OBO APRA/AMCOS

Lyrics Licensed & Provided by LyricFind
To comment on specific lyrics,
highlight them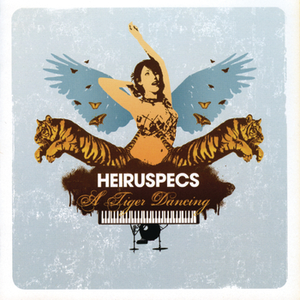 "We started out playing in high school in St. Paul to a crowd of hip-hop kids, thug kids, nerd kids and honor students," Heiruspecs bassist Twinkie Jiggles says. "Eventually, the school paper wrote about us and said we were the best band out of Central High since Mint Condition. Then we played our first gig in Minneapolis when I was 15 and my dad showed up and smelled weed."

Not many bands lock into their sound in high school or manage to hang together for seven years
Read Full Bio
"We started out playing in high school in St. Paul to a crowd of hip-hop kids, thug kids, nerd kids and honor students," Heiruspecs bassist Twinkie Jiggles says. "Eventually, the school paper wrote about us and said we were the best band out of Central High since Mint Condition. Then we played our first gig in Minneapolis when I was 15 and my dad showed up and smelled weed."

Not many bands lock into their sound in high school or manage to hang together for seven years, but Heiruspecs has and now the young 20-somethings are seasoned vets. With more than 100,000 revolutions on the band's odometer from a touring schedule that keeps them on the road 150 days a year, Heiruspecs has steadily broken down preconceived notions of live hip-hop by refusing to regurgitate the same old sounds you've heard before, and knock you upside the head with their impressive array of funk, soul and hard-hitting beats. And the band doesn't cop samples to get to where they want to take you, instead opting to deliver it all live, all original.

All this has culminated in the band's latest, A Tiger Dancing (Razor & Tie) released September 28, 2004. With lead MC Felix's fast-lane but steady and assured handle on the mic and the powerful rhythmic backing of the band, Heiruspecs has brought live hip-hop into a new arena. From the countdown of a daily routine that makes up "5ves" to the mid-song break between old-school and new school in the title track, the soul strains of "Heartsprings," and the frantic anthem of "Fist," Heiruspecs cast a net that encompasses everything from the Roots and DJ Shadow to Run D.M.C. and Digable Planets.

"We're influenced by sampler-based production, old-school rhyming and real life," says lead MC Felix. "But we do everything live, nothing is sampled and we like to keep it song-oriented, to give equal space to the lyrics and the music."

"When we started touring, a lot of people seemed surprised there are bands who play this kind of music live," Felix adds. "They're even more puzzled when we tell them we're from St. Paul, because no one has ever heard of St. Paul. Ever. That's why we tell most people we're from Minneapolis."

As part of the burgeoning Midwestern hip-hop scene, Heiruspecs first made inroads with their self-released 2002 album, Small Steps, which earned them critical praise in national and regional outlets ("Exceptional ... the rhythm that rocks the spot" - URB), and set them off on their never-ending touring schedule. In their down time, Heiruspecs has been tapped to perform as the backing band for such acts as Atmosphere, Oddjobs, Aesop Rock, Sage Francis and others, allowing the band to cement themselves as one of the premiere live hip-hop bands in the nation.

"The Twin Cities is a very nurturing scene," Twinkie says. "There's a lot of clubs, a lot of musicians, and a lot of open minds here. It's allowed us to be ourselves while also being able to develop our live act and take it out of town to the rest of the country."
Genre not found
Artist not found
Album not found
Search results not found
Song not found