Hear the sound of masses, their isolated pains
No longer is the wisdom innocence betrays
Sleeping still I may not, visions that we share
Pace along this dark road, wetted by their tears
A prelude to all thoughts that last
Pass on to me all things long past
Watch their dancing silhouettes
Their sad song of what once was
Hear the sound of masses, I surely will prevail
Progressing into nothing, deafened by own will
A prelude to all thoughts they last
Pass on to me all things long past
Watch their dancing silhouettes
Their sad song of what once was
Help if you will, try to fill up my dreams
Please, all I have, hollow sounds, hollow schemes
Form me!
Shocked surprise, the plans you've drawn
Created me, an absurd form
Awakening in time to see
Your icy hands all over me
You're losing me, I will abort
A final scream, a last resort
I'll refuse, you'll stand astound
A your tears stain on the ground
A prelude to all thoughts they last
Pass on to me all things long past
Watch their dancing silhouettes
Their sad song of what once was
Writer(s): Glenn Raymond Tipton, Kenneth Downing, Robert Halford Copyright: Ebonytree Ltd., Geargate Ltd., Emi April Music Inc., Crewglen Ltd.

Contributed by Colin L. Suggest a correction in the comments below.
To comment on specific lyrics,
highlight them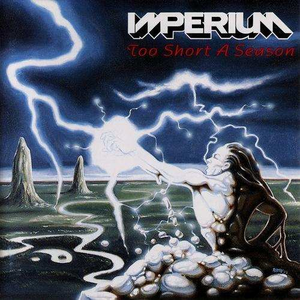 There are 7 bands named Imperium: 1. IMPERIUM were a Techno Metal/ Thrash Metal band from Hengelo (The Netherlands). The band were: André Vuurboom - Vocals Michel Cerrone - Guitars Rob Cerrone - Guitars Remco Nijkamp - Bass Patrick Gerritzen - Drums Singer André Vuurboom would later appear in SUN CAGED and has now a new band SPHERE OF SOULS. Imperium only recorded one album "Too Short A Season", on the Mascot records label (1993) 2. Imperium were also Rock/Metal band from Newcastle, Australia active from 2002 - 2006 They are now known as Privateers 3. Imperium is an instrumental
Read Full Bio
There are 7 bands named Imperium:


1. IMPERIUM were a Techno Metal/ Thrash Metal band from Hengelo (The Netherlands).

The band were:
André Vuurboom - Vocals
Michel Cerrone - Guitars
Rob Cerrone - Guitars
Remco Nijkamp - Bass
Patrick Gerritzen - Drums

Singer André Vuurboom would later appear in SUN CAGED and has now a new band SPHERE OF SOULS. Imperium only recorded one album "Too Short A Season", on the Mascot records label (1993)

2. Imperium were also Rock/Metal band from Newcastle, Australia active from 2002 - 2006 They are now known as Privateers

3. Imperium is an instrumental solo project by Adarsh Rangayyan from Calgary, Canada. Imperium's self-titled debut was released in 2009, followed by the second full-length album "MMX" in 2010. The music features thrash metal rhythms, melodic guitar leads, and progressive song structures. Influences include Metallica, Iron Maiden and Tool. The album was recorded by Jeff Muller at Alchemy Studio in Calgary, Canada.

4. Imperium are also a melodic death metal/thrash metal band from Santa Cruz, California. They are currently signed to Pitch Black Records and have an EP and a single out.

5. Imperium are also a Blackened-Thrash Metal band from Meknes, Morocco.

6. Imperium is czech NS-Metal and R.A.C. band. Lyrical themes are neo-nazi and hatred against African Americans and other races.

7. Imperium is patriotic rock band from Italy.

8. Imperium is a rising talent in the electronic music scene, developing an unique trait of heavy mechanized dubstep. Deep Dark Industrial. Hailing from Southern California. Several releases are planned for 2013/2014.
https://soundcloud.com/imperiumaudio
9.Imperium was a Black Metal band from Stavanger,Norway.They released one demo in 1996
Genre not found
Artist not found
Album not found
Search results not found
Song not found