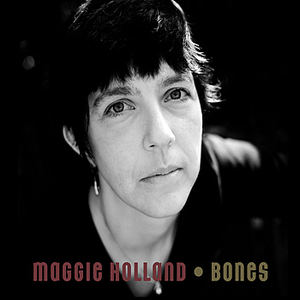 If I Had A Rocket Launcher
Maggie Holland (born in Alton, Hampshire) is an English singer and songwriter. As well as her solo work, she is known for her time with Hot Vultures, The English Country Blues Band, Tiger Moth, and Orchestre Super Moth. In recent years, she has been a member of Maggie's Farm, and has collaborated with Robb Johnson and with Derroll Adams.

Holland was born and bred in Hampshire (southern England) and first became involved with music through the local folk club scene in the late sixties.
Read Full Bio
Maggie Holland (born in Alton, Hampshire) is an English singer and songwriter. As well as her solo work, she is known for her time with Hot Vultures, The English Country Blues Band, Tiger Moth, and Orchestre Super Moth. In recent years, she has been a member of Maggie's Farm, and has collaborated with Robb Johnson and with Derroll Adams.

Holland was born and bred in Hampshire (southern England) and first became involved with music through the local folk club scene in the late sixties. Her first professional musical work was as bass guitarist and eventually, singer in the blues/goodtime duo Hot Vultures with Ian A. Anderson. The Vultures toured in Britain, Belgium, Germany and the Netherlands, covering approximately 30,000 miles per year during 1973-79; Maggie was also the sole driver. The duo expanded into The English Country Blues Band in the late seventies, with Rod Stradling and Sue Harris (later Chris Coe).

By 1980, Holland had started to work occasionally as a soloist, accompanying her voice on guitar and 5-string banjo on a mixture of modern and traditional British/American songs. It was in 1983 that she recorded her first solo album Still Pause. She worked in an occasional duo with Chris Coe, including a tour of the Far East for the British Council in 1985. In the meantime, ECBB had further evolved into a country dance band called Tiger Moth which was not only quite popular, but also quite LOUD!

In 1985 Holland was called on at short notice to be the female singer in a three month run of the National Theatres production of Tony Harrison's stunning Mysteries trilogy. Around this time she did some work with Oxford-based melodeon player Dave Parry, and continued to play in The Vacant Lot, a small country dance band based in NE Hampshire, in spite of her move to Oxford in 86. In 1987 she started to write some songs herself, initially encouraged/goaded into it by her Tiger Moth colleague Jon Moore, with whom she had recorded the EP A Short Cut. With Moore, and Kevin Mason on keyboards, she formed Maggies Farm which was able to develop the arrangements of the songs considerably. Maggies Farm did a memorable tour of Bangladesh in 1988. The following year she started playing bass in songwriter Robb Johnson's occasional band, with fellow old Moth John Maxwell on drums.

By the beginning of the 90s the various band line-ups had lived out their natural spans for one reason or another, and in 1992 Holland recorded her second solo album Down to the Bone. It received great acclaim (although inversely proportional sales figures). She emigrated to Scotland in 1993 and now lives in Leith. Since the beginning of 1996, Maggie started to work regularly in Belgium again after a long and regrettable gap since the last Hot Vultures tour in 1978.

In the winter of 98/99 Holland recorded Getting There, on Irregular Records (IRR 035). Her current repertoire includes songs by Robb Johnson, Bob Dylan, Billy Bragg and Bruce Cockburn alongside her own original songs and some traditional material. Her songs have been recorded by several other artistes, including Martin Carthy and June Tabor. In February 2000 Maggie received the BBC Radio 2 Folk Awards Best Song of 1999 for her song A Place Called England.

Circle of Light was recorded in the summer of 2003 and released in late autumn. Maggie's own voice and instrumentation were augmented by Wendy Wetherby on cello and Malcom Ross on guitar. It features songs by Leon Rosselson, Billy Bragg, Dave Evans and Al Stewart, including no less than 5 from Robb Johnson. The two Holland originals, No 4071, Private Bennett and Cold Night On Bernard Street have attracted critical acclaim - and the latter is established in June Tabor's live repertoire.

In 2007 Holland's released a maxi-length 24 track CD compilation from Still Pause, A Short Cut, Down To The Bone and previously unissued tracks from the same era, plus a bonus 2007 re-recording of A Place Called England. Bones – attractively Digi-packed with extensive notes by journalist/author Colin Irwin and Maggie herself – includes eight of her best-known original songs and two traditionals plus others by Billy Bragg, Bruce Cockburn, Tymon Dogg, Bob Dylan, Dave Evans, Robb Johnson, Peter Rowan, Chris Smither, John Tams, Richard Thompson and many more. The majority are on CD for the first time.

In recent years, Holland has been a member of Maggie's Farm, and has collaborated with Robb Johnson and with Derroll Adams.

"The proof that outstanding contemporary songs are still being written" Colin Irwin, fRoots
Genre not found
Artist not found
Album not found
Search results not found
Song not found