Maxo, Bussdown
Maxo, Bussdown
Set it up
Break it down
Wrap it up
Wear it up
Bust it down
Open up
Vacuum seal
Trappin' in the vaco it's a bussdown (that what we do)
Got it in a ho name, she's a bussdown (she a)
We don't even serve here, we just bust down (uh uh)
Got my shooters on the roof, gon' make them bussdown
Trap out the bag, that's a bussdown
Run through the grass like a touchdown
Plain Jane with it, no bussdown
Try and take my chain, I'ma bussdown
Bussdown (set it up)
Bussdown (break it down)
Bussdown (wrap it up)
Bussdown (wear it up)
Thirty rounds (bust it down)
Fifty rounds (open up)
Hundred rounds (vacuum seal)
Gun 'em down
Stay ten toes I'm down (ten toes)
Jenny Craig with them pounds (get 'em off)
Diamonds dance like Chris Brown (Chris Breezy)
Look at my water, don't drown (Fiji)
Neck wet like baptized (church)
MJ with the 4-5 (fadeaway)
Trap house strapped, no bugee (say what?)
Wrappin' up a pack like a mummy (uh huh)
Two for the Aces server junkies (trap)
Serve purp' fake to a dummy (rookie)
Got a lot of young crash dummies (uh huh)
[?] rap with your tummy
Trap out the vaco apartment
I move the dope in abundance (bussdown)
Bussdown the quarters and onions
I split the pot like circumference
Trappin' in the vaco it's a bussdown (that what we do)
Got it in a ho name, she's a bussdown (she a)
We don't even serve here, we just bussdown (uh uh)
Got my shooters on the roof, gon' make them bussdown
Trap out the bag, that's a bussdown
Run through the grass like a touchdown
Plain Jane with it, no bussdown
Try and take my chain, I'ma bussdown
Bussdown (set it up)
Bussdown (break it down)
Bussdown (wrap it up)
Bussdown (wear it up)
Thirty rounds (bust it down)
Fifty rounds (open up)
Hundred rounds (vacuum seal)
Gun 'em down
Hide the pile fakin'
Trust my decoratin' (what else?)
Joysticks like PlayStation
Sellin' gas like station (unleaded)
Can't keep my clients waitin' (woah)
My patients impatient (wo-woah)
Karo marinated (remix)
Pounds in the basement (big tips)
Chickens in the den
Pigeons in the kitchen
Quarter birds in hand
Clip holds three times ten
Hurricane chopper [ey bab-ay]
Guns got weave like shanaynay
Servin' them clucks, no rooster (ay)
Throwin' them 'bows like Luda' (woah)
Chop Backwoods like timber (ay)
I mow the grass like a gardener (uh huh)
I pass the gas like I farted (excuse me)
Handicap Crippin' retarded (retarded)
My shooter he dumb, he retarded (Cuh-rip)
Cole with the Tommy like Martin (uh huh)
Break it down
Pick it up
Set it up
Bring it back
Trappin' in the vaco it's a bussdown (that what we do)
Got it in a ho name, she's a bussdown (she a)
We don't even serve here, we just bust down (uh uh)
Got my shooters on the roof, gon' make them bussdown
Trap out the bag, that's a bussdown
Run through the grass like a touchdown
Plain Jane with it, no bussdown
Try and take my chain, I'ma bussdown
Bussdown (set it up)
Bussdown (break it down)
Bussdown (wrap it up)
Bussdown (wear it up)
Thirty rounds (bust it down)
Fifty rounds (open up)
Hundred rounds (vacuum seal)
Gun 'em down
Contributed by Christopher E. Suggest a correction in the comments below.
To comment on specific lyrics,
highlight them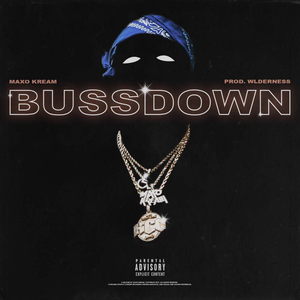 Emekwanem Ogugua Biosah Jr. (born March 29, 1990), better known by his stage name Maxo Kream, is an American rapper and record producer from Alief, Texas. He has released four mixtapes, Retro Card (2012), Quicc Strikes (2013), #Maxo187 (2015), and The Persona Tape (2016). His debut album "Punken" was released in early 2018.
Genre not found
Artist not found
Album not found
Search results not found
Song not found