Eh-ah, eh-ah, eh-ah, eh-oh
Eh-ah, eh-ah, oh
Eh-ah, eh-ah, eh-ah, eh-oh
Eh-ah, eh-ah, oh
I know that you must feel like facing with ruin, facing with ruin
I messed it up as always, I'm afraid of losing, I'm afraid of losing
I made you thinking oh, so wrong
I made you feeling the worst
And I don't know how to get along
With myself when I'm weakened, when I'm weakened
So let's go back to our cocoon
On the blackened afternoon
I see your heart is bleeding too
Let me bleed instead of you
So let's go back to our cocoon
On the blackened afternoon
I see your heart is bleeding too
Let me bleed instead of you, let me bleed, let me bleed
Eh-ah, eh-ah, let me bleed, let me bleed
Eh-ah, eh-ah, instead of you
I've been always playing
Solid as I'm waving, solid as I'm waving
So I became a liar, I've been underrating, overestimated
I made it really hard for you, hard for you to love me
But there's so many things we could do
And all we need is escaping, escaping
So let's go back to our cocoon
On the blackened afternoon
I see your heart is bleeding too
Let me bleed instead of you
So let's go back to our cocoon
On the blackened afternoon
I see your heart is bleeding too
Let me bleed instead of you, let me bleed, let me bleed
Eh-ah, eh-ah, let me bleed, let me bleed
Eh-ah, eh-ah, instead of you
Eh-ah, eh-ah, oh
Eh-ah, eh-ah
So let's go back to our cocoon
On the blackened afternoon
I see your heart is bleeding too
Let me bleed instead of you
So let's go back to our cocoon
On the blackened afternoon
I see your heart is bleeding too
Let me bleed instead of you, let me bleed, let me bleed
Let me bleed, let me bleed
Let me bleed, now I will bleed instead of you
Lyrics © Sony/ATV Music Publishing LLC
Written by: CLEMENS REHBEIN, PHILIPP MAXIMILIAN DAUSCH

Lyrics Licensed & Provided by LyricFind
To comment on specific lyrics,
highlight them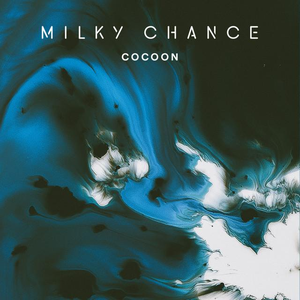 "Cocoon" is Milky Chance's first song since their 2013 debut album, Sadnecessary. Guitarist Antonio Greger joined the group last year, as well.

According to a press release, the title "Cocoon" is intended to let fans know the duo— lead vocalist and guitarist Clemens Rehbein and DJ and producer Philipp Dausch—have used the last three years off from music to return to a "place of serenity" for their next album.
Genre not found
Artist not found
Album not found
Search results not found
Song not found