It's summer and I am on an avenue
A street you can still walk at night
It's summer and not cold at all, but strangely I still quiver
Anonymous yet satisfied they walk past each other
It's a cold dark night tonight
A night like every other
It's cold, can't be closed with anything
It's the cold that surrounds us
It's a cold dark night tonight
A night like every other
It's cold, can't be closed with anything
It's the cold that surrounds us daily
I'm on my way to the party by Jacky
It's what's up tonight
"Great, you came" - It's all as usual
"How you doing?" - but no one cares
And everyone's drinking, cracking, having a blast
So they don't feel the deadly cold around them
He's on a corner of the seventh avenue
Eddi, the nomad of the town
He's just filling his tank with a bottle of wine
Having a good old time - with a tear in his eye
Days gone by and hard times brought him here
And every bottle sheds a new tear in his eye
I say: "Hey Ed, it's a cold dark night tonight!"
He laughs, a warm laugh, honest no fake or slight
It warmed me, it follows me through the cold night
It's so easy, it's pleasant to warm the cold night
Contributed by Maria F. Suggest a correction in the comments below.
To comment on specific lyrics,
highlight them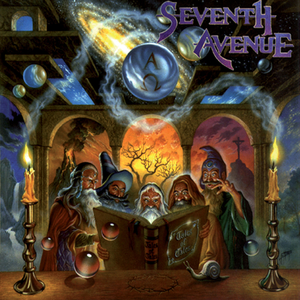 There is more than one band named Seventh Avenue.

1) British producer Ian Levine was behind one of the first boy bands in history, Seventh Avenue, formed in 1979. Signing to one of the leading US disco labels, AVI Records, Seventh Avenue released the album Midnight in Manhattan, a love story in five acts - the back cover with two young boys stripped to the waist more than suggested it was a gay love story - starting with "Midnight in Manhattan", "New York's on Fire"
Read Full Bio
There is more than one band named Seventh Avenue.

1) British producer Ian Levine was behind one of the first boy bands in history, Seventh Avenue, formed in 1979. Signing to one of the leading US disco labels, AVI Records, Seventh Avenue released the album Midnight in Manhattan, a love story in five acts - the back cover with two young boys stripped to the waist more than suggested it was a gay love story - starting with "Midnight in Manhattan", "New York's on Fire", then experiencing "Miami Heatwave" (a popular disco 12"), going "From Chicago to the Sky" to "L.A. at the End of the Day".

With the demise of disco, it seemed Seventh Avenue would be a one-off project before Levine decided to assemble a new line-up of the group in 1984 when he was working for Record Shack Records. The Northern Soul-flavoured "I Hear Thunder" became a hit on the UK Hi-NRG scene and was followed by "Ending up on a High", but it was "Love's Gone Mad" (1986) which caused a lot of buzz and it looked as if the group was about to cross over to the pop chart. Unfortunately, Record Shack proved unable to press enough copies of the single, thus preventing it from being able to enter the charts. Levine left the label in rage that they'd wasted this opportunity.

By the end of the year, Levine had formed his own label, Nightmare Records, which released four more Seventh Avenue singles over subsequent years, the line-up varying between three to four members on each release. In 1988, the LP The Love I Lost was released, assembling all their tracks recorded in the past four years. Hot Productions released Seventh Avenue's two albums as well as a compilation CD in the mid-90s.


2) Seventh Avenue is a Band From Germany who got their influences from Stryper and Iron Maiden. Music could best be defined as Melodic Power Metal. Band officially split up in 2012. Vocalist Herbie Langhans joined Band called Neoshine but because of legal reason band had to changed name to Sin Breed
Genre not found
Artist not found
Album not found
Search results not found
Song not found