Now lemme tell you a story
The devil he has a plan
A bag a' bones in his pocket
Got anything you want
No dust and no rocks
The whole thing is over
All these beauties in solid motion
All those beauties, gonna swallow you up
Hi hi hi hi hi,
One time too many
Too far to go
I-We come to take you home
And when they split those atoms
It's hotter than the sun
Blood is a special substance
They gonna pray for that man
So wake up young lovers
The whole thing is over
Watch but touch monkeys
All that blood, gonna swallow you whole
Hi hi hi hi hi
What's that? Who's driving?
Where we goin'? Who knows?
I-We come to take you home
How many people do you think I am
Pretend I am somebody else
You can pretend I'm and old millionaire
A millionaire washing his hands
Rattle the bones, dreams that stick out
A medical chart on the wall
Soft violence and hands touch your throat
Ev'ryone wants to explode
And when your hands get dirty
Nobody knows you at all
Don't have a window to slip out of
Lights on, nobody home
Click click- see ya later
Beta beta- no time to rest
Pika pika- risky business
All that blood, will never cover that mess.
Hi hi hi hi hi
So soft hard feelings
What's that, who's driving
No tricks lets go
I-We come to take you home
I-We come to take you home
Hi hi hi hi hi
Etc.
Lyrics © WARNER CHAPPELL MUSIC INC, Warner Chappell Music, Inc.
Written by: CHRIS FRANTZ, CHRISTOPHER FRANTZ, DAVID BYRNE, JERRY HARRISON, TINA WEYMOUTH

Lyrics Licensed & Provided by LyricFind
To comment on specific lyrics,
highlight them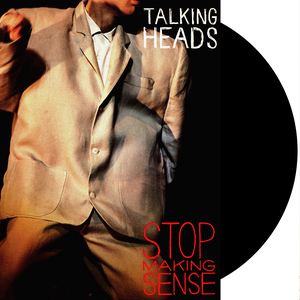 Talking Heads were a new wave band which formed in 1974 in New York City, New York, United States. The band originally consisted of David Byrne (vocals, guitar), Tina Weymouth (bass) and Chris Frantz (drums), who had met while attending the Rhode Island School of Design. The band added Jerry Harrison (keyboards & guitar) in early 1977. The band released eight studio albums before disbanding in 1991. Talking Heads were inducted into the Rock and Roll Hall of Fame in 2002.
Read Full Bio
Talking Heads were a new wave band which formed in 1974 in New York City, New York, United States. The band originally consisted of David Byrne (vocals, guitar), Tina Weymouth (bass) and Chris Frantz (drums), who had met while attending the Rhode Island School of Design. The band added Jerry Harrison (keyboards & guitar) in early 1977. The band released eight studio albums before disbanding in 1991. Talking Heads were inducted into the Rock and Roll Hall of Fame in 2002.

Talking Heads first appeared on the New York music scene as a trio in 1974. At the time, the band consisted only of Byrne, Frantz and Weymouth and was initially called The Artistics. By 1975, the band had recorded a demo album for CBS Records and landed a gig opening for the Ramones at CBGB in June 1975, which was the first time the band used the name Talking Heads. The band was signed to Sire Records in late 1976 and the group released their first single, "Love → Building on Fire" in February 1977. In March 1977, the band added Jerry Harrison, formerly of Jonathan Richman's band The Modern Lovers.

Their first album, Talking Heads: 77 was released soon afterward and did not contain the earlier single, although it did include the underground singles Psycho Killer and Uh-Oh, Love Comes To Town. Despite being regulars at New York's legendary CBGB, the band only began to break through further with the landmark Brian Eno-produced, 1978 album More Songs About Buildings And Food, an album which continued in the same vein, but with a more accessible style, wittier lyrics, and ultimately better songs. It was a great critical hit with subject matter ranging from home movies to the art world. It also included their cover of Take Me To The River. On the following year's Fear Of Music the band started to dabble in African rhythms, notably on I Zimbra, and more straightforward pop styles, on Life During Wartime and Cities.

1980 brought the band's fourth and most innovative effort Remain In Light. Notable for the single Once In A Lifetime, which became an early MTV staple, Remain In Light saw the band experiment with ambient sounds, fugal structures, polyrhythms, and about everything under the sun to make the body groove. Following this, the group split with Brian Eno, enjoying greater commercial success with 1983's Speaking In Tongues. It took the musical innovations of its predecessor and refined them into pop songs, most notably Burning Down The House, Girlfriend Is Better and This Must Be The Place. This period was topped off with a live album, from Jonathan Demme's documentary, Stop Making Sense. The documentary, with its name taken from a line in Girlfriend Is Better, was a great success, and took their inimitable style to a wider audience.

1985's Little Creatures was an even bigger hit, and exhibited another stylistic shift for the band. It saw the punk styles of '77 almost completely abandoned for simple, three or four chord pop songs. The album produced the singles And She Was, and Road To Nowhere. The following two albums, True Stories and Naked, were both moderate successes, the former producing their biggest radio hits, Love For Sale and Wild Wild Life, and the latter focusing more on Latin influences with hits like (Nothing But) Flowers. After this, a long quiet period followed, with the band eventually officially announcing their break up in 1991. Since the split, Byrne continued his solo career and Weymoth and Frantz continued to record and tour as Tom Tom Club. Weymouth, Harrison and Frantz reunited for an album, "No Talking, Just Head", recorded under the name The Heads in 1996.

The band was inducted into the Rock and Roll Hall of Fame in 2002. The band reunited for a three song performance at the ceremony. Due to personality conflicts between Byrne and the other members, further reunions are unlikely.

www.talking-heads.net
Genre not found
Artist not found
Album not found
Search results not found
Song not found