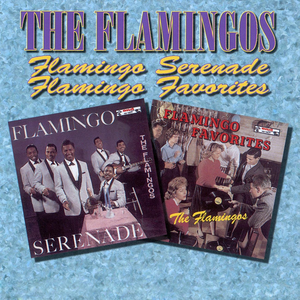 The Flamingos are a Rock and Roll Hall of Fame inducted doo wop group from the United States, most popular in the mid to late 1950s and best known for their 1959 cover version of "I Only Have Eyes for You". Billboard magazine wrote The Flamingos are universally hailed as one of the finest and most influential vocal groups in pop music history; their music being defined as elegant and sophisticated.
Jacob Carey (Jake) and Ezekial Carey (Zeke), bass and 2nd tenor
Read Full Bio
The Flamingos are a Rock and Roll Hall of Fame inducted doo wop group from the United States, most popular in the mid to late 1950s and best known for their 1959 cover version of "I Only Have Eyes for You". Billboard magazine wrote The Flamingos are universally hailed as one of the finest and most influential vocal groups in pop music history; their music being defined as elegant and sophisticated.
Jacob Carey (Jake) and Ezekial Carey (Zeke), bass and 2nd tenor, respectively, formed the group in Chicago, Illinois, after meeting cousins baritone Paul Wilson and first tenor John E. "Johnny" Carter at a Hebrew Israelite congregation. Earl Lewis (not the Channels lead) soon joined, and after a series of name changes, (The Swallows, El Flamingos, The Five Flamingos), wound up being known as The Flamingos. Sollie McElroy soon replaced Lewis (who joined The Five Echoes). The Flamingos' first single (for Chance Records), "If I Can't Have You", was a moderate local success, as was the follow-up "That's My Desire", but it was Johnny Carter's composition of "Golden Teardrops," with its complex vocal harmonies and Carter's soaring falsetto, that cemented their reputation as a top regional act of the day.
The Flamingos left Chance Records sometime after their December 1953 session and signed with DJ Al Benson's Parrot Records. Sollie McElroy was on their first Parrot session, but left the group in December 1954, to be replaced by tenor Nate Nelson (who was on their second Parrot session; he's lead on "I'm Yours," released in January 1955). In early 1955, the Flamingos signed with Chess Records, to record for their Checker Records subsidiary. At Chess/Checker, the Flamingos achieved their first national chart hit with "I'll Be Home", which went to #5 on Billboard's R&B chart (Pat Boone's cover version, complete with incorrect lyrics, was a hit on the pop charts).[citation needed] The group also had moderate success for the label with other chestnuts like "A Kiss From Your Lips," "The Vow," and "Would I Be Crying". The Flamingos also appeared in the 1956 Alan Freed movie, Rock, Rock Rock. Both Zeke Carey and Carter were drafted that year (Carter was drafted in September).
Nate Nelson, Jake Carey, and Paul Wilson continued the group with new member Tommy Hunt (added in October 1956). Another new member, tenor/lead, guitarist, and arranger Terry "Buzzy" Johnson, joined in late December of that year. This group (Nate Nelson, Tommy Hunt, Terry Johnson, Paul Wilson, and Jake Carey) began recording for Decca Records in April 1957. Their most notable single was Johnson's arrangement of "The Ladder of Love", but legal entanglements between Checker and Nate Nelson ruined any chance of commercial success.[citation needed] Zeke Carey returned to the Flamingos in 1958, making the group a sextet. (When Johnny Carter was discharged from the service, he joined The Dells, performing with them for almost 50 years until his death in 2009.)
Zeke and Jake Carey were not blood-related, but were considered cousins, because of Zeke being adopted by Jake's aunt and uncle.

That year, the Flamingos began recording for George Goldner's End Records in New York City, where they had several national hits. Almost immediately, the group had their first pop chart hit with "Lovers Never Say Goodbye", written by Terry Johnson, who shared lead chores on the song with Paul Wilson. The formula was a winner as Terry and Paul also led three of the 12 songs selected for their first album Flamingo Serenade - George Gershwin's "Love Walked In", "But Not For Me" and "Time Was". The Flamingos would have their biggest seller in 1959 with another old standard from that LP, on which Nate Nelson handled lead chores. "I Only Have Eyes for You" (written in 1934 by composer Harry Warren and lyricist Al Dubin for the film Dames) became their biggest seller, and has been featured in dozens of movies and TV shows. A long series of hits followed, including the Johnson-penned "Mio Amore", Doc Pomus' composition "Your Other Love", "Nobody Loves Me Like You" (written for the group by Sam Cooke), and "I Was Such a Fool". LP cuts "Love Walked In" and "Time Was" were also issued as singles.[citation needed] That same year, they appeared in the Alan Freed movie, Go, Johnny, Go, singing a frenetic version of "Jump Children" (originally recorded for Chance Records in the early days). The group became known almost as much for their stage show and choreography as for their harmonies. Groups including The Temptations and The Tavares would later credit the group as major influences.

The group began to come apart at the turn of the decade. Tommy Hunt left for a solo career in 1960. Nate Nelson and Terry Johnson split to form the "Modern Flamingos" in 1961, and went on to record as The Starglows on Atco Records in 1963. (The Modern Flamingos name was used later; the group would include members of the defunct Del-Knights in the late 1960s). New members were brought in, making the group Zeke Carey (tenor), Jake Carey (bass), Paul Wilson (baritone), Billy Clarke[disambiguation needed] (tenor), Eddie Williams (tenor), Alan Fontaine (guitar), and Julien Vaught (saxophone). Also Johnny Carter left in 1961 to join The Dells. Clarke and Williams took duties on most new lead vocals.
A sixth vocalist, Doug McClure, was added in 1962. Shortly afterwards, Clarke and Williams left the group. Founding member Paul Wilson left in 1964, new member Sidney Hall joined in 1966, and Jacob Carey's son J.C. Carey joined in 1969. They recorded several uptempo songs through the 1960s, peaking at #26 in the UK Singles Chart with "The Boogaloo Party". Around this time, the Flamingos formed their own label, Ronze, and produced many of their own recordings.
The group continued recording into the 1970s. A new album was released in 1972 on Ronze, entitled The Flamingos Today. By this time, the group was the Careys, McClure, Fontaine, the returning Billy Clarke, and former Limelite Clarence Bassett, Jr.[8][9] New member Frank "Mingo" Ayers joined soon after. More mildly successful recordings came in this decade, including the uptempo "Heavy Hips", and "Buffalo Soldier".
By 1980 the group was Jake Carey, Zeke Carey, Frank Ayers, and Jerome Wilson. Ayers left around this time, joining the Del Vikings. In 1984, two new members joined: Bennie Cherry and Archie Satterfield. In 1988, the group was featured at the 1988 Grammy Awards.
By the early 1990s, the group was the Careys, Satterfield, Ron Reace, and Kenny Davis. Later, it was the Careys, Reace, and King Raymond Green. Jake Carey died in 1997. The group recorded a new album, Unspoken Emotions, under the Ronze label in 1999. It featuring re-recordings of "Ain't Nothing But A Party" and "I'll Be Home", led by Zeke Carey. The group appeared on the PBS television special Doo Wop 50 that same year. The lineup was Zeke Carey, J.C. Carey, Ron Reace, King Raymond Green, and Larry Jordan. Zeke Carey died in 2001. King Raymond Green and Ron Reace left around that time and were replaced by Earnest "Just Mike" Gilbert and former Dynamic Superior George Spann. James Faison entered shortly thereafter. Tommy Hunt has flown in from England (where he has lived since 1970) to perform with this group twice since 2001.
The group split up in late 2005 due to money disputes. Spann, Jordan, Gilbert, and Faison grouped together to reform Spann's old group, The Dynamic Superiors. Carey brought in new members, and toured with Tommy Hunt starting in April 2007.
Terry Johnson is the owner of "The Flamingos" federal trademark and leads the current incarnation of the group. The current lineup is Johnson, Starling Newsome, Stan Prinston and musical director Theresa Trigg. The Flamingos featuring Terry Johnson appeared on two PBS specials: Rock and Roll at Fifty (in which they were the only group to have more than two songs featured) and Doo Wop Cavalcade: The Definitive Anthology. In 2013, The Flamingos released the Diamond Anniversary Tour CD. They continue to perform in concerts across the country.

J.C. Carey Jr., Terry Johnson, Tommy Hunt, and descendants of Nate Nelson and Paul Wilson, sued PepsiCo for having used "I Only Have Eyes For You" in a 1998 television commercial, allegedly without having consulted the group. The group was awarded $250,000.

The Flamingos received the Rhythm & Blues Foundation Pioneer Award in 1996 (where Terry Johnson, Jake Carey, Zeke Carey, Tommy Hunt and Johnny Carter performed) and were inducted into the Vocal Group Hall of Fame in 2000, the Rock and Roll Hall of Fame in 2001, and the Doo-Wopp Hall of Fame in 2004. The group that performed at the Rock Hall ceremony included Terry Johnson on lead, Tommy Hunt and Johnny Carter. In 2003, The Flamingos recording of "I Only Have Eyes For You" (co-written by Walle (Walter) Dillard) was inducted into the Grammy Award Hall of Fame.
Genre not found
Artist not found
Album not found
Search results not found
Song not found
We have lyrics for 'Yours' by these artists:



...And The Hangnails When we start to fight and you play your stupid…
6.14 - Ella Henderson I didn't do anything last year Except for dream of doing…
A m p ~ You're too far away for me to run to A million…
Alina Baraz Your-yours Follow Love me like I'm your-yours Getting l…
Ames Brothers Your cheatin' heart will make you weep You'll cry and cry…
Amy Correia Yours for the taking Take me in your arms I want to…
Astrid van der Veen So here I am, but I can't explain I think I…
Benny Goodman & his Orchestra; vocal by Helen Forrest We leave home expecting to find a blue bird, Hoping ev'ry…
Benny Goodman and Helen Forrest Yours is my heart alone And without you, life holds no…
Benny Goodman and His Orchestra We leave home expecting to find a blue bird, Hoping ev'ry…
berita You're something like a unicorn I've discovered you Travelle…
Big L feat. O.C. Yeah, dedicated to you and yours OC phenomenon Chorus: Here…
Bing Crosby I could dance nightly Just holding you tightly My sweet I co…
Black Dan Now you know I know, head in a hole By saying…
Blues Traveler You, with your hand outstretched Finger on the key This lo…
Bob Eberly & Helen O'connel Yours till the stars lose their glory Yours till the birds…
Brian McKnight Sir, I'm a bit nervous 'bout being here today Still not…
Calum Scott I'll wear your winter coat the one you love to wear So…
Caterina Valente I see that worried look upon your face You've got your…
Che Ecru Yeah girl I flick ya I splits it Call you in…
Chief Keef What you talking for, keep your mouth closed Keep your mouth…
Dan Black Now you know I know, head in a hole By saying…
David J. Roch I'll be your chauffeur Drive you to a distant shore Fill t…
Dead Can Dance I am stretched on your grave And will lie there forever With…
Delicious Feat. Tiger lilly You were seventeen, pretty in the head Sent in some photogr…
dianne Round like the circle in a spiral Like a wheel within…
Dionne Warwick They told me love don't last forever Now I understand To t…
Diverse City Every time I turn my back I get the feeling…
Dizmas Feels like the sky has never been so blue But that's…
e.MU Don't wanna lose yourself. Let's get keep on tryn' Everybod…
Edmundo Ros and His Orchestra I want to see your face in every kind of…
Elevation Worship It all revolves Around Your throne Who can know Your glory…
Ella Henderson I wear your winter coat, the one you love to…
Engelbert Humperdinck Yours till the stars have no glory Yours till the birds…
Evann McIntosh You don't know what you do to me Walk into…
Fay Wolf When I go to sleep and I pray to be…
Frankie Lymon and The Teenagers Flip it wicked when I kick it, yes I can,…
Helen O'connell Yours till the stars lose their glory Yours till the birds…
Henderson Ella I wear your winter coat The one you love to wear So…
I Am The Ocean I've got hopes, I've got failures. You hold Everything I am …
J.Lately Your mother wants to know, If you're coming home, For the …
Jake Scott Is it ever really over If you leave a door open With…
Jason Parris & My Buddy Mike Tell me if you feel it 'Cause I know you do Tell…
Jerry Vale Quiereme mucho Dulce amor mi­o Que amante siempre Te ado…
Jim Reeves I have filled up my pockets with money Big trophies, I've…
Jimmy Dorsey Yours till the stars have no glory Yours till the birds…
Jimmy Dorsey & His Orchestra Yours till the stars lose their glory Yours till the birds…
Jimmy Dorsey & His Orchestra featuring vocals by Bob Eberly & Helen O'Connell Yours till the stars have no glory Yours till the birds…
Jimmy Dorsey Orchestra/ Bob Eberly/ helen o'conell Yours till the stars lose their glory Yours till the birds…
Julio Iglesias Quiereme mucho, dulce amor mio Que amante siempre te adorar…
K.C. Simonsen I'm your boogie man that's what I am I'm here to…
Kei Ikegami もう隠れてないで 伸ばされた手を握ってごらん 固く閉ざしている 胸のドアを開いて 自分だけじゃ 拭えない涙も きっとある…
Kids And the picture frames are facing down I'm running from the…
Lo Lo Pull the string and I'll wink at you, I'm your…
Lovex Looking down at the ground to hide the sorrow drawn on…
Lucia Sometimes I get cold No words to fix it You get so…
Lucy Diakovska Share the night my admired best friend The creator of my…
Lynn Vera Yours 'til the stars lose their glory Yours 'til the birds…
M.I ft Milli Do what you want to do. Tell ya, Who to sock…
M.I. Abaga There are things you should know The distance between us se…
Manuel & The Music Of The Mountains Round like a circle in a spiral, like a wheel…
Mariah Carey You brighten up the moon and stars at night You keep…
Marty Robbins Your still the stars lose their glory Your still the birds…
Men Of Standard Yours Verse 1: Here I am again, Knocking at Your door, I kno…
Ming I get lost in your eyes And I feel my spirits…
Myg And Rose Let's ride It's a felling deep inside It's like a burnin' …
National Health Singers Erse 1: If you love the NHS, Want your health care at…
Night Verses You collapse the sky beneath the ground And the dead start…
No Love For The Middle Child You say you wanna leave Then how 'bout you just go? You…
Norman Luboff The shadow of your smile When you have gone Will color all…
Pamela Means The moon in Sagittarius Early January what is to be with…
PrizmaX Te amo, no puedes hacerlo Siento que estás cerca de mí. La…
R.M.F.C. I wore the clothes you wanted I took your name If there…
Reclinerland Burying me deep in the sand, seeing shopping carts rusting…
Relient K vs. Tobymac Every time I turn my back I get the feeling…
Rides Again Another night of senless drinking Hates the way he hates ev…
Robert Shirey Kelly Sparks Everytime I see you Stars When you walk in the room N…
Russell Dickerson I was a boat stuck in a bottle That never got…
Sailors Soldiers & Airmen of Her Majesty's Forces Yours 'til the stars lose their glory Yours 'til the birds…
Sara Gazarek You push, You shove You do all that you can And time, it…
Seven Places Echoes the sound of a rusty box, around it goes…
SG Lewis Got 20 pound note, rolled up Rolled up a lil, squashed…
Shai [Acapello:] Bay I'm yours... if you want me. (And if you w…
Shai - Yours (Acapella) Understand girl that my heart is in your hands. And I'm…
Staynd Glass Her hair, let down into her eyes Hating the tears that…
Steffi feat. Virginia Change your mind Say that you're mine again Change your mind…
Steven Curtis Chapman I walk the streets of London And notice in the faces…
The All-About Behind me, a caravan weighed down With bad dreams and ghost…
The City Harmonic I give my heart up in my empty hands And as…
The Duprees I'm yours Heart and soul I am yours Can't you see it…
The George Shearing Quintet When there's a shine on your shoes There's a melody in…
The Intruders I wanna know your name Ooh, you look so good I wanna…
tim. I've come across the desert To greet you with a smile My…
Toby Mac Every time I turn my back I get the feeling…
Tommy Dorsey It was winter in Manhattan Falling snow flakes filled the ai…
Tommy Dorsey & Jimmy Dorsey Yours till the stars have no glory Yours till the birds…
Vale Jerry The shadow of your smile When you have gone Will color all…
VALSHE juusokusarenai mainichi mata okizari nano wakatteru tatoeba…
Various Artists This land is your land This land is my land From…
Venus' Comb (music :s_geravini lyrics :p_patruno) Throughout people …
Vera Lynn Yours 'til the stars lose their glory Yours 'til the birds…
Vera Lynn Yours 'til the stars lose their glory Yours 'til the birds…
Vera Lynn with Mantovani and His Orchestra Yours till the stars have no glory Yours till the birds…
vivid undress あることないこと取り繕って並べた嘘を どれから使っていこうかって考えてた うまくやっていこうとすればするほどに 僕が僕じ…
Waldorf-Astoria Orchestra Love me a lot Sweet love of mine How loving you are I…
Yours - Ella Henderson I wear your winter coat The one you love to wear So…
ZODIVK Paradise in your eyes But I'm not yours and you're not…
Steven Curtis Chapman I walk the streets of London And notice in the faces…



We have lyrics for these tracks by The Flamingos:



A Kiss from Your Lips A kiss, from your lips, changed my whole life around A…
As Time Goes By You must remember this A kiss is still a kiss A sigh…
Begin the Beguine When they begin the beguine It brings back the sound of…
Beside You Within a minute I was all packed up I've got a…
But Not For Me Old man sunshine listen you Never tell me dreams come true …
Danny Boy Oh, Danny boy, the pipes, the pipes are calling From glen…
Dream of a Lifetime You're the dream of a lifetime Too sweet to tell it…
Golden Teardrops Golden teardrops I remember when You fell from the eyes of …
Goodnight Sweetheart Good night sweetheart, till we meet tomorrow Good night sw…
I Only Have Eyes for You My love must be a kind of blind love I can't…
I Was Such A Fool (To Fall In Love With You) I was such a fool To fall in love with you I…
I'll Be Home I'll be home, my darling Please wait there for me We'll stro…
I'm In The Mood For Love I'm in the mood for love Simply because you're near me. Funn…
If I Can't Have You I still can't believe it, I can't see it I should…
In The Still Of The Night In the still of the night As I gaze out of…
Jump Children For in this world they have no voice They have no…
Kiss From Your Lips A kiss, from your lips, changed my whole life around A…
Love Walked In Love walked right in and drove the shadows away Love walked…
Lovers Never Say Goodbye Please wait for me; for I shall return; My love for…
Macarena Dale a tu cuerpo alegria Macarena Que tu cuerpo es pa'…
Mio Amore Mio amore Take my lips and a kiss them Take my love Take…
My Foolish Heart The night is like a lovely tune Beware my foolish heart How…
Since I Don How many arms have held you And hated to let you…
Sweet & Lovely Sweet and lovely Sweeter than the roses in May Sweet and l…
That To spend one night with you in our old rendezvous, And…
That's My Desire To spend one night with you in our old rendezvous, And…
That's Why I Love You I do love you l-o-v-e l-o-v-e l-o-v-e l-o-v-e ahh You taugh…
The Nearness Of You Its not the pale moon that excites me That thrills and…
The Vow We made a vow we could never ever keep. Still somehow…
Time Was Oooh... Time was, time was Time was when we had fun On…
Where Or When It seems we stood and talked like this before We looked…
You Ain't Ready Some is, Some ain't Some can and some can't Well, you can't…
Your Other Love Your other love may be handsome and when he smiles He's…

The lyrics can frequently be found in the comments below, by filtering for lyric videos or browsing the comments in the different videos below.