Come inside the funhouse
We're gonna have a ball
It aint like no other place
You've ever been at all
Killer clowns with shiny steel waiting for you there
A demon barber straight from hell
To cut more then your hair
Roll up roll up roll up
For the funhouse now.
don't listen to your daddy
We could have some fun
The walls are nice and sticky
They've never seen the sun
Plenty of surprises to make you jump and scream
A fucked up circus nightmare
It's the only way to dream
Roll up roll up roll up
For the funhouse now
(chorus)
You know you want to
You know you have to
You know you cant resist the mutant bouncer on the door
Knows your names on the list
You know you really have to
You gotta get inside
Even though you really know it could be suicide
All the floors are moving
Pulling towards the spikes
That will hold you here forever
While we do what we like
You can jump and wriggle
But you cant go nowhere
Now your part of the attraction
You can do your share
Roll up roll up roll up
For the funhouse now
Are doors are always open
They only go one way
Step a little closer
And you'll never get away
Wont you come and join us
It could be a gas
Step over the thresh hold
Kiss goodbye to your ass
Roll up rollup roll up for the funhouse now
Contributed by Kaitlyn G. Suggest a correction in the comments below.
To comment on specific lyrics,
highlight them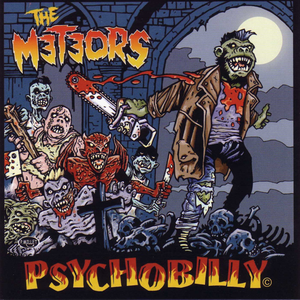 There are at least 2 bands called The Meteors, one from the UK, one from the Netherlands:

The Meteors are a psychobilly band from the United Kingdom, who are often credited with giving the genre its distinctive sound. Although the origins of psychobilly are debatable, the Meteors consider themselves the first and only psychobilly band. Fans of the band are known to use the slogan "Only the Meteors are pure psychobilly" (often shortened to just "OTMAPP") as a rallying cry.
Read Full Bio
There are at least 2 bands called The Meteors, one from the UK, one from the Netherlands:

The Meteors are a psychobilly band from the United Kingdom, who are often credited with giving the genre its distinctive sound. Although the origins of psychobilly are debatable, the Meteors consider themselves the first and only psychobilly band. Fans of the band are known to use the slogan "Only the Meteors are pure psychobilly" (often shortened to just "OTMAPP") as a rallying cry.

The Meteors were started in 1980 by P. Paul Fenech (guitar and vocals), Nigel Lewis (upright bass), and Mark Robertson (drums). Fenech and Lewis had played in rockabilly bands before, but left their former band, Raw Deal, in order to experiment with a new sound that mixed horror and science fiction lyrics with a punk rock-rockabilly crossover. This sound would later be called psychobilly.

The Meteors played their first show during Rockabilly Night at The Sparrow Hawk in north London, but after being heckled due to their punk fashion, decided to begin playing shows beyond just rockabilly clubs. They developed a loyal following known as "the Crazies," who invented their own dance style called "going mental," a cross between dancing and moshing. This would later be renamed "wrecking," and is still a staple of the psychobilly scene to this day. Coupled with Fenech's ritual of spitting blood during performances, many clubs believed they were dangerous and refused to book them. The band began playing at punk rock clubs alongside other UK punk bands such as the Anti-Nowhere League and the UK Subs. However, unlike punk bands, the Meteors would insist that their shows be "a politics and religion free zone" in order to focus on having a good time instead of allowing disputes between fans to break out. Because of their example, there are nearly no political themes in psychobilly today.

Due to their cult following, the Meteors made a film in late 1980 with comedian Keith Allen called Meteor Madness. It was released as a double feature with two-tone ska film Dance Craze in March 1981. The movie featured four songs, which made it onto the band's first vinyl single. In August 1981, the band were signed to Island Records and recorded their first full-length, In Heaven.

The Meteors have gone through numerous line-up changes since, with Fenech being the only original member today. The current line-up includes Mark Burnett on bass and Wolfgang Hordemann on drums. They have 17 official albums, countless singles, and numerous reissues and compilation appearances. They continue to record using their own recording studio, In Heaven, and have extensively toured Japan, America, Europe, and Scandinavia.

P. Paul Fenech has also released many solo albums and plays in a rockabilly side-project, the Legendary Raw Deal, named after his first band. Nigel Lewis and Mark Robertson went on to first play together in the Escalators, a psychedelic rock band, then the Tallboys, a rockabilly band best known for recording the song "Take a Walk" for the Return of the Living Dead soundtrack.

--

There's also a dutch band called The Meteors. One of the most wayward Dutch rock groups in the period between the late '70s and early '80s. The Meteors release three records which feature a futuristic sort of 'art' rock which is influenced by Roxy Music and David Bowie. The band formed in 1977 and disbanded in 1982.
Source: www.hollandrocks.com
Genre not found
Artist not found
Album not found
Search results not found
Song not found