tilt back my head as it came down
million drops laying on the ground.
watch the light stretch cross the land
i held the day there in my hand
in my hand ya
now i know the way to go
when you get this high it's such a
long way down. x4
Wishing you were by my side
I watch the lights hung in the night sky
at least today starts with the sun
wishin you might be my only one
my only one, ya
Now i know the way to go
When you get this high.
Long way down x4
Contributed by Lucas V. Suggest a correction in the comments below.
To comment on specific lyrics,
highlight them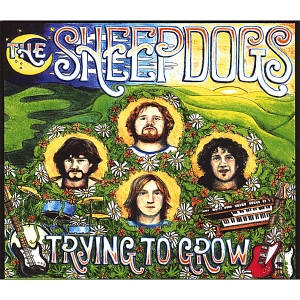 The Sheepdogs is a Canadian rock and roll band formed in Saskatoon, Saskatchewan in 2006. The group consists of lead singer and guitarist Ewan Currie, bass guitarist Ryan Gullen, drummer Sam Corbett, guitarist Jimmy Bowskill, and Shamus Currie (brother of lead singer Ewan Currie) playing trombone, keyboards, and tambourine. The Sheepdogs became the first unsigned band to make the cover of Rolling Stone in 2011 by winning this contest. They have since grown to popularity in Canada and the United States.
Read Full Bio
The Sheepdogs is a Canadian rock and roll band formed in Saskatoon, Saskatchewan in 2006. The group consists of lead singer and guitarist Ewan Currie, bass guitarist Ryan Gullen, drummer Sam Corbett, guitarist Jimmy Bowskill, and Shamus Currie (brother of lead singer Ewan Currie) playing trombone, keyboards, and tambourine. The Sheepdogs became the first unsigned band to make the cover of Rolling Stone in 2011 by winning this contest. They have since grown to popularity in Canada and the United States.

"From the prairie city of Saskatoon, Canada come the Sheepdogs, 4 young gentlemen who revel in the joy of rock n roll so wholeheartedly, it's downright contagious. Sporting the long-haired looks of their musical forefathers, the lads make the most of their 2 guitars, bass and drums combo. Soulful vocalizations, everybody harmonizing, old-school guitar chops winding, riffing and chiming, and a grooving rhythm section that keeps it all going. Having already cemented their reputation as dynamic performers in their hometown, the Sheepdogs now turn their attention to spreading their affection for rock n roll cross-country. They have spent the last year covering the great white north, playing from Vancouver island to Montreal. They have played festivals, headlined a bill during 2007's Junofest, opened for the likes of Matt Mays and el Torpedo, and performed before thousands at 2006's Saskatoon Centennial Celebration. In January 2007 they released their debut LP Trying to Grow, a collection of guitar-driven originals that recall classic rockers like the Stones, CCR, and the Kinks. The album's title-track was featured in a province-wide campaign in their native Saskatchewan. Early 2008 has already seen the completion of their follow-up album, which mixes elements of southern rock and moody soul with gleeful straight-forward rockers. Once again, the boys are hitting the road, spreading their rock n roll revival to the rest of Canada."
-Bill Shakespeare, August 2007

Band Lineup:
Ewan Currie - lead vocals, guitar
Leot Hanson - backing vocals, guitar
Ryan Gullen - backing vocals, bass
Sam Corbett - backing vocals, drums

http://www.thesheepdogs.com/
Genre not found
Artist not found
Album not found
Search results not found
Song not found