Choveu Sorvete
Timbalada Lyrics
Na gandaia com sol solista
Viajar nesse adoçar
Nas cantigas das coisas belas
Da minha terra natal
Abará louro bolo molho
Hoje quero saborear
Os beijús da timbaleira
No cantinho lá dendo bar
Choveu sorvete
Na minha origem
Choveu sorvete (BIS)
Adeus princesa
Nas barracas dos santos lírios
Haverá sempre uma cor
Ressaindo das ruas velhas
Servindo a vida de amor
Santa Bárbara São Gerônimo
E a Nanã Borocô
Oxassi Ogum de Ronda
Oxalá e Pai Xangô
Choveu sorvete...
Na gandaia com sol solista
Haverá sempre uma cor
Ressaindo das ruas velhas
Servindo a vida de amor
Santa Bárbara São Gerônimo
E a Nanã Borocô Oxassi
Ogum de Ronda
Oxalá e Pai Xangô
Choveu sorvete...
Embala baila baleira
E vamos na procissão
A água de cheiro cheira
Bomfim quer ver Conceição
Contributed by Liam A. Suggest a correction in the comments below.
To comment on specific lyrics,
highlight them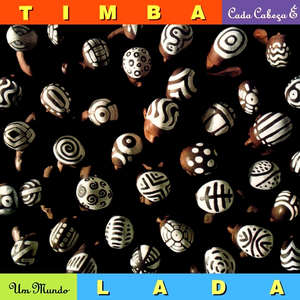 In the early 90's, the effervescent musical scene of Bahia generated a new phenomenon: Timbalada - a huge group of percussionist with tribal paintings on their bodies and a female singer that performed topless. they all played timbaus, a tall drum that hangs from the shoulder of the percussionist and is held between the legs.

A product of the brilliant imagination of singer, songwriter and virtuoso percussionist Carlinhos Brown, Timbalada does justice to Bahia's rhythmic tradition and, at the same time, introduces modernity and boldness to it.
Read Full Bio
In the early 90's, the effervescent musical scene of Bahia generated a new phenomenon: Timbalada - a huge group of percussionist with tribal paintings on their bodies and a female singer that performed topless. they all played timbaus, a tall drum that hangs from the shoulder of the percussionist and is held between the legs.

A product of the brilliant imagination of singer, songwriter and virtuoso percussionist Carlinhos Brown, Timbalada does justice to Bahia's rhythmic tradition and, at the same time, introduces modernity and boldness to it. The main singer's hoarse voice, the non-sense of the lyrics, the tribal painting an the collective use of sunglasses helped to place Timbalada among the most original and ceative bands to appear in the last years.

Timbalada is an Afro-Brazilian musician group from Candeal, Salvador, Brazil. It was founded by drummer Carlinhos Brown. The musical style is between samba reggae and axé, with strong influences from African music. They are a highly popular group that regularly plays sold-out shows throughout Brazil.

The group is mostly known for its active participation to the carnival each year in the streets of Salvador de Bahia. It also engages in social activism by working with needy children, providing education and drum courses to help them in social integration.

Musically, Timbalada is credited with two major innovations in the instrumentation of Afro-Brazilian music: the revival of the timbal (a tall, high-pitched hand drum), and the development of a rack of 3 surdos (bass drums) that can be played by a single player. The timbal, which had been nearly extinct before Timbalada began featuring it, has since become widespread in many Afro-Brazilian genres, including axé and samba-reggae. The rack of surdos, also called a bateria-de-surdo (surdo drumset) is now widely used by many groups for stage performances when not parading. Because the bateria-de-surdo can only hold 3 surdos within arm's reach of a single player, the traditional 4-surdo arrangements of many samba-reggae rhythms is often trimmed down to a 3-surdo arrangement
Genre not found
Artist not found
Album not found
Search results not found
Song not found