Well you only need the light when it's burning low
Only miss the sun when it starts to snow
Only know you love her when you let her go
Only know you've been high when you're feeling low
Only hate the road when you're missin' home
Only know you love her when you let her go
And you let her go
Staring at the bottom of your glass
Hoping one day you'll make a dream last
But dreams come slow and they go so fast
You see her when you close your eyes
Maybe one day you'll understand why
Everything you touch surely dies
But you only need the light when it's burning low
Only miss the sun when it starts to snow
Only know you love her when you let her go
Only know you've been high when you're feeling low
Only hate the road when you're missin' home
Only know you love her when you let her go
Staring at the ceiling in the dark
Same old empty feeling in your heart
'Cause love comes slow and it goes so fast
Well you see her when you fall asleep
But never to touch and never to keep
'Cause you loved her too much and you dive too deep
Well you only need the light when it's burning low
Only miss the sun when it starts to snow
Only know you love her when you let her go
Only know you've been high when you're feeling low
Only hate the road when you're missin' home
Only know you love her when you let her go
And you let her go
And you let her go
Well you let her go
'Cause you only need the light when it's burning low
Only miss the sun when it starts to snow
Only know you love her when you let her go
Only know you've been high when you're feeling low
Only hate the road when you're missin' home
Only know you love her when you let her go
'Cause you only need the light when it's burning low
Only miss the sun when it starts to snow
Only know you love her when you let her go
Only know you've been high when you're feeling low
Only hate the road when you're missin' home
Only know you love her when you let her go
And you let her go
Lyrics © DistroKid, Universal Music Publishing Group
Written by: Michael David Rosenberg

Lyrics Licensed & Provided by LyricFind
To comment on specific lyrics,
highlight them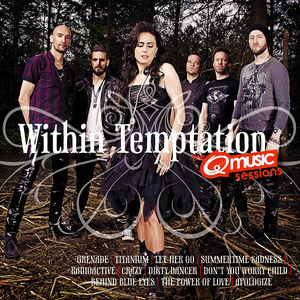 Within Temptation is a Dutch symphonic metal band formed in 1996 in Waddinxveen, Netherlands. The group consists of Sharon den Adel (vocals), Robert Westerholt (guitars), Jeroen van Veen (bass), Martijn Spierenburg (keyboards), Ruud Adrianus Jolie (guitars), Mike Coolen (drums) and Stefan Helleblad (guitars). Despite being labeled by the media as a Gothic metal band, Within Temptation consider themselves "more a symphonic rock/metal band".

In 1996 the vocalist Sharon den Adel and guitarist Robert Westerholt founded Within Temptation.
Read Full Bio
Within Temptation is a Dutch symphonic metal band formed in 1996 in Waddinxveen, Netherlands. The group consists of Sharon den Adel (vocals), Robert Westerholt (guitars), Jeroen van Veen (bass), Martijn Spierenburg (keyboards), Ruud Adrianus Jolie (guitars), Mike Coolen (drums) and Stefan Helleblad (guitars). Despite being labeled by the media as a Gothic metal band, Within Temptation consider themselves "more a symphonic rock/metal band".

In 1996 the vocalist Sharon den Adel and guitarist Robert Westerholt founded Within Temptation. After the release of their first album Enter in 1997, the band became prominent in the Dutch underground scene, playing their fourth gig at the legendary Dynamo Festival. In 1998, they followed up with an EP, The Dance, and progressed to the main stage at Dynamo.

It was not until 2001 that they became known to the general public, with the single "Ice Queen" from the album Mother Earth, which reached #2 on the Dutch charts. Since then, the band has enjoyed success throughout Europe, winning the Conamus Exportprijs four years in a row as well as several Edison Awards. Their next albums The Silent Force and The Heart of Everything debuted at #1 on the Dutch charts.

In 2008, the band played to a sold-out Ahoy with the Metrople Orchestra and the Pa'dam Choir. This concert was released on the Black Symphony live DVD/CD. In 2009, the band released An Acoustic Night At The Theatre, which featured live tracks from their successful acoustic theatre tour. The album also contains the single "Utopia", a duet with English vocalist Chris Jones.

After a short hiatus, the band returned in 2011 with The Unforgiving, a concept album. The album was released on March 29 and debuted at #2 on the Dutch charts. In addition to the album, the band are releasing a forthcoming comic book series and several short films. The first short film, "Mother Maiden", was released on January 31, and the second, "Sinéad", was released on March 21. Two issues of the six comic books have also been released.

Former members:
- Ivar de Graaf (Drums)
- Martijn Westerholt (Keyboards)
- Michiel Papenhove (Guitar)
- Jelle Bakker (Guitars)
- Ciro Palma (Drums)
- Dennis Leeflang (Drums)
- Richard Willemse (Drums)
- Stephen van Haestregt (Drums)


Official site: http://www.within-temptation.com
Genre not found
Artist not found
Album not found
Search results not found
Song not found