I ain't going outside today
Pour me up
DREX, I make it too grind
Tryna' hide from the cameras, I ain't going outside today
Couldn't find Hi-Tech, so I'm drinking on Act' today
I'ma pull up in style, we gon' do a drive by in the Wraith
I'ma take it to trial, pray to Lord I beat the case
That money be callin' I don't do no talkin' so get the fuck outta my face
Gotta tech and a chopper, with a hundred thousand dollars up in the Wraith
You know I ain't slippin' you know that I'm with it I'll shoot him right up in his face
Three say that I'm trippin' you know that I'm drippin'
I'm wrapped in Saran today
I just bought a brand new watch from God, I ain't put it on yet (I ain't put it on yet)
I don't care 'bout no bitch, I ain't giving her shit, spend it all on my homies
I go put on my son, from my car to my house, everything, I own it
When it come to that money you know I ain't stun, I be on it
I just got a pet monkey, cashed out on a tiger
But really don't want it, my son don't like him
He say that we beefin' you know I'll fight em'
My clip full of thunder you know I'll strike 'em
Wanna join NBA, go and catch you a body
Free Kevin Gates, it's a murder for hire
Double G gang on the front of my title
I ran up my Glock and I bought me a rifle
Tryna' hide from the cameras, I ain't going outside today (hide from the cameras)
Couldn't find Hi-Tech, so I'm drinking on Act' today (find Hi-Tec)
I'ma pull up in style, we gon' do a drive by in the Wraith
I'ma take it to trial, pray to Lord I beat the case
I jump out at your house I ain't shoot from the corner
Ben bought me a bitch but I really don't want her
I don't do no cappin' I keep it 100
Right now I'm recordin' with ten thousand on me
He say he want smoke but I know he don't want it
Shoot him and his bitch and I up one of his homies
You know how I'm feelin' I don't got to say it
Face every problem all by my lonely
Tryna' hide from the cameras, I ain't going outside today
Couldn't find Hi-Tech, so I'm drinking on Act' today
I'ma pull up in style, we gon' do a drive by in the Wraith
I'ma take it to trial, pray to Lord I beat the case
Lyrics © Kobalt Music Publishing Ltd.
Written by: Dyllan McKinney, Kentrell Gaulden

Lyrics Licensed & Provided by LyricFind
To comment on specific lyrics,
highlight them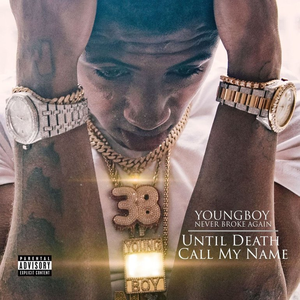 "Outside Today" is YoungBoy Never Broke Again's lead single for his debut album Until Death Call My Name. In the DMacTooBangin-produced song, NBA raps about his newfound problems with fame and being in the media.

On January 8, 2018, two days after the release of the song, YoungBoy released the official music video, which includes a cameo from Birdman.
Genre not found
Artist not found
Album not found
Search results not found
Song not found