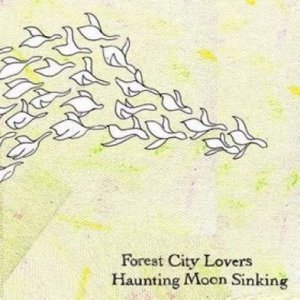 Forest City Lovers are nature-loving urban dwellers spinning lingering, lyrical melodies across the landscape of Canadian folk-pop.

Born a fledgling pseudo-solo project of young songwriter Kat Burns, Forest City Lovers took flight in 2006 with the independent release The Sun and the Wind. The band grew up into a fully-realized collaborative outfit and in 2008 launched their critically acclaimed sophmore album Haunting Moon Sinking (Out of This Spark)
Read Full Bio
Forest City Lovers are nature-loving urban dwellers spinning lingering, lyrical melodies across the landscape of Canadian folk-pop.

Born a fledgling pseudo-solo project of young songwriter Kat Burns, Forest City Lovers took flight in 2006 with the independent release The Sun and the Wind. The band grew up into a fully-realized collaborative outfit and in 2008 launched their critically acclaimed sophmore album Haunting Moon Sinking (Out of This Spark), a collection that bolsters FCL's signature tunefulness with talented musicianship, strong guitar lines, and swelling string arrangements.

Phodilus and Tyto, a 7" vinyl released at the end of 2009 paved the way for the full-length follow-up, Carriage, being released July 2010 on Out of This Spark. Carriage picks up where Haunting Moon Sinking left off, carrying forward with arrangements and melodies that go from accutely vulnerable to downright sinister. A collection that drifts sonically across decades, Carriage laces 1970s whimsy and elaborate string arragements (Mika Posen) into contemporary pop gems to keep your feet tapping as you go singing down the sunny street.

While Burns and the other Lovers make their home in Toronto, they tour frequently across Canada, the US, and Europe, drawing inspiration for their songs from these migratory ventures into foreign urban and rural environments. With their new album on the horizon, keep an eye out for this unique band of songsters in your hometown.
Genre not found
Artist not found
Album not found
Search results not found
Song not found
you took the land and changed it
you sang into the blackened sky
my own hands rearranged it
breathe some life into my lungs tonight
don't go
please don't go
now the rain's washed out the valley
and all the ships have sailed away
i think it's only you and me
and all the shadows we cast away
and you say we don't belong
well where do we belong?
now he's laying in the limelight
and he's wishing that he had it made
don't forget about your past dear
you only learn with the knowledge of mistakes made
don't go
please don't go
don't go
please don't go
and you say we don't belong
Contributed by Bella K. Suggest a correction in the comments below.
To comment on specific lyrics,
highlight them