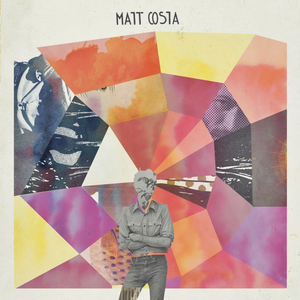 Matt Costa (born Matthew Albert Costa June 16, 1982) is an American singer-songwriter from Huntington Beach, California. He has a growing number of independent releases: a self-titled five-song EP in 2003, a six song EP titled The Elasmosaurus EP in 2005, a full-length CD entitled Songs We Sing in 2006, a digipak full length album Unfamilar Faces in 2007, and the albums Mobile Chateau (in 2010) and Matt Costa (in 2013).

In early 2003, Costa's homemade demo reached No Doubt guitarist Tom Dumont
Read Full Bio
Matt Costa (born Matthew Albert Costa June 16, 1982) is an American singer-songwriter from Huntington Beach, California. He has a growing number of independent releases: a self-titled five-song EP in 2003, a six song EP titled The Elasmosaurus EP in 2005, a full-length CD entitled Songs We Sing in 2006, a digipak full length album Unfamilar Faces in 2007, and the albums Mobile Chateau (in 2010) and Matt Costa (in 2013).

In early 2003, Costa's homemade demo reached No Doubt guitarist Tom Dumont, who offered to record more demos for Costa in his home studio. Those first recordings led to two EPs that Costa and Dumont distributed themselves. These were later combined and mixed by Phil Ek in order to form Costa's first full-length CD entitled Songs We Sing.

Costa spent the summer of 2005 opening on Jack Johnson's summer tour. He has since toured with Modest Mouse, Oasis, Ryan Adams & The Cardinals, G. Love & Special Sauce, and Death Cab for Cutie. Costa joined Jack Johnson for his 2006 European tour. He has also contributed to the Jack Johnson and Friends Curious George soundtrack; his track is entitled "Lullaby". This song was taken from his The Elasmosaurus EP. Costa has also toured extensively in Australia, New Zealand, Europe, Asia and South America.

The video for Costa's first single "Cold December" was released February 2, 2006. On July 31, 2007, he released a song titled "If You Took To Me" as part of the environmentally minded polar bear documentary Arctic Tale and its soundtrack.

On October 7, 2007, Costa released the first single, "Mr. Pitiful," from his record Unfamiliar Faces. The song "Mr. Pitiful" was used during a scene with Paul Rudd in the movie I Love You, Man, the redband trailer for the film Youth in Revolt starring Michael Cera, and the movie Marmaduke. The song is featured during the opening credits of The Answer Man (film). Apple also used an instrumental cut of this song for the worldwide iPhone 3GS ads.

Mobile Chateau, Costa's next album, was released on September 21, 2010, via Brushfire Records. His 2013 self-titled album was recorded at Pheasant Studios in Santa Ana, CA, as Costa's first solo production.
Genre not found
Artist not found
Album not found
Search results not found
Song not found
Comin' when I should stay away
I am callin', I should hang up and say
I say nothin', that's what I wish I was feeling for you
Waitin', now I'm waitin' on you to get somethin'
I know you want from me too and that's lovin'
That's what we both want to do
And if you asked me to turn away
Then I would've left
Go our separate ways and try to forget
Live and let live, call love a myth
But if you asked me to be your man
You know that I would at times
It slipped through our hands but
It's done us good, it's done us good
Waitin', now I'm waitin' on you to get somethin'
I know you want from me too and that's lovin'
That's what we both want to do
Contributed by Jayce A. Suggest a correction in the comments below.
To comment on specific lyrics,
highlight them