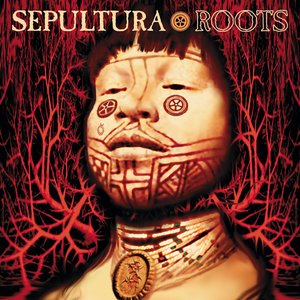 Roots are the sixth studio album by Brazilian heavy metal band Sepultura. Roadrunner Records released it in Europe on February 20, 1996 and in the U.S. three weeks later March 12. It is the band's last studio album to feature founding member and vocalist and rhythm guitarist Max Cavalera. Following the shift to slower tempos and Latin-tinged rhythms on the album Chaos, A.D. Roots delves even further into Brazilian musical textures and features significant contributions from Brazilian musician Carlinhos Brown. Who guided and arranged the sections throughout the album that feature ensemble percussion playing. The song "Lookaway" also features guest
Read Full Bio
Roots are the sixth studio album by Brazilian heavy metal band Sepultura. Roadrunner Records released it in Europe on February 20, 1996 and in the U.S. three weeks later March 12. It is the band's last studio album to feature founding member and vocalist and rhythm guitarist Max Cavalera. Following the shift to slower tempos and Latin-tinged rhythms on the album Chaos, A.D. Roots delves even further into Brazilian musical textures and features significant contributions from Brazilian musician Carlinhos Brown. Who guided and arranged the sections throughout the album that feature ensemble percussion playing. The song "Lookaway" also features guest appearances by Korn vocalist Jonathan Davis, former Korn drummer David Silveria, former Limp Bizkit turntablist DJ Lethal, and Faith No More/Mr. Bungle/Tomahawk/Fantômas vocalist Mike Patton. The album draws influence from the then-surging nu metal movement, specifically Korn (whose first two albums were also produced by Ross Robinson) and Deftones. (After leaving the band, Max Cavalera would continue to follow the nu metal and "world" stylings of Roots with his solo project Soulfly.) Since its release, Roots has sold over 2 million copies worldwide.

Production and lyrics:
Ross Robinson produced the album. Most of the themes presented on Roots are centered on Brazilian politics and culture. The film At Play in the Fields of the Lord inspired the idea for the album. The movie inspired Max Cavalera to travel to Mato Grosso, Brazil to visit the Xavante tribe. The album cover features an indigenous woman taken from a banknote of the discontinued Brazilian Cruzeiro, to which artist Michael Whelan added a locket with Sepultura's "tribal S" logo and a background of red roots.
The music on Roots reflects Brazil's history and culture. According to Max Cavalera, "Roots Bloody Roots" is "about believing in yourself, about being proud of your heritage, proud of where you come from, powerful but simple lyrics. So it's about just been down with your own roots and believes in your roots." "Cutthroat" is about Epic Records. "Ratamahatta" is "a celebration of life in Brazil's slums, sung all in Portuguese, which tells the stories of" people "like Ze Do Caixao (Coffin Joe) and Lampiao, the leader of an early 1900s outlaw gang from north Brazil, whose head was put on public display after he was captured." "Ambush" is "a tribute to murdered South American rain-forest activist Chico Mendes."

Musical style and influences:
The inspiration for Roots's new musical direction was two-fold. One was the desire to further experiment with the music of Brazil, especially the percussive type played by Salvador, Bahia samba reggae group Olodum. Another innovation Roots brought was the inspiration taken from the sound of Korn - especially their debut, with its heavily down-tuned guitars.
The music of Roots has sounds of world music, death metal, nu metal, thrash metal, tribal music, and Brazilian folk music. The band incorporated these elements into almost all songs in the album, and one of them ("Itsári") was recorded with members of the Xavante Indians at their ancestral home. Meeting the Xavante Indians meant a lot to Roots. Igor says the band identified a lot with the natives: "In a certain way, I think that we, as a band, had many things in common with the Xavante Indians. We also lived on the edge of society, and our music and lifestyle is a long way from being assimilated and respected by that society." A representative of the tribe declared: "We had seen pictures of Roots and we knew that they were different, with their long hair and many tattoos. We also knew that they had been discriminated, as if we were. Because of that, we were curious about them." Some songs also include participation ("Ratamahatta", "Dictatorshit" and "Endangered Species") and co-writing ("Ratamahatta") from Carlinhos Brown, a popular Brazilian musician. The political theme and influence of hardcore punk on the album are further reflected in the topic of "Dictatorshit", namely the 1964 Brazilian coup d'état. The lyrics to "Attitude" were co-written by Dana Wells, Max Cavalera's stepson, whose death (in part) led to the events which caused Max to leave the band. Dana also came up with the concept for the video for the song, featuring Brazilian Jiu-Jitsu experts the Gracie family.
In 2008, speaking to Kerrang, Max Cavalera remembered:
"Roots came from a blurry dream I had about going to the rainforest. Wine may have been involved. In the end, when we went into the forest to record, it was unbelievable. The whole album was a huge personal journey for me, and as a Brazilian, it felt as an incredible achievement. Everyone was inspired and Igor was at the top of his game. The percussion was crazy and we worked with so many great musicians, in the end coming out with a 15-minutes drum jam that someone likened to a crazy Brazilian Pink Floyd. When we took the album to Roadrunner, they loved it except for the title. They thought it would sound like a Bob Marley tribute album. We explained it to them, and thankfully they got it."
The last words in the song "Cut-Throat" are "Enslavement, Pathetic, Ignorant, Corporations". This spells EPIC, the record company with which Sepultura had some trouble during their previous album, Chaos A.D.

Critical reception:
American newspapers like The New Times, the Daily News and the Los Angeles Times reviewed the Brazilian band: "The mixture of the dense metal of Roots and the Brazilian music has an intoxicating effect," wrote a Los Angeles Times reviewer. The Daily News praised the album saying: "Sepultura reinvented the wheel. By mixing metal with native instruments, the band resuscitates the tired style, reminding of Led Zeppelin times. But while Zeppelin mixed English metal with African beats, it's still more moving to hear a band that uses elements of its own country. By extracting the sounds of the past, Sepultura determines the future direction of metal." Specialized heavy metal critics also reviewed the album positively. Martin Popoff, an author of the book The Collector's Guide to Heavy Metal, ranked Roots as the 11th best metal record of all-time. "This is a spectacular metal and futurist hardcore LP", wrote Popoff, "A masterpiece, accomplished by a band with an enormous heart and an even larger intellect." Kerrang! Magazine awarded Roots second place in the list of "100 records that you have to hear before dying"; just after In Utero from Nirvana. In 2001 Q magazine named Roots as one of the 50 Heaviest Albums Of All-Time. Rolling Stone Brasil named it the 57th best Brazilian music album. Rolling Stone (3/21/96, p. 98) Gave the album three stars out of five and said, "Sepultura play a violent game of sonic overload... the band uses its catharsis as a creative force, funneling torrents of noise into a tunnel of hate." Music critic Robert Christgau gave the album a negative "dud" rating. Looking back on the album 20 years later, PopMatters contributor Saby Reyes-Kulkarni referred to Roots as "inarguably one of the most radical departures from a convention in heavy metal history."
Genre not found
Artist not found
Album not found
Search results not found
Song not found
Roots Bloody Roots
Sepultura Lyrics
Roots, bloody roots
Roots, bloody roots
Roots, bloody roots
Roots, bloody roots
I believe in our fate
We don't need to fake
It's all we wanna be
Watch me freak
I say we're growing every day
Getting stronger in every way
I'll take you to a place
Where we shall find our
Roots, bloody roots
Roots, bloody roots
Roots, bloody roots
Roots, bloody roots
Rain, bring me the strength
To get to another day
And all I want to see
Set us free
Why can't you see?
Can't you feel this is real? Aaah
I pray, we don't need to change
Our ways to be saved
That all we wanna be
Watch us freak
Lyrics © Universal Music Publishing Group
Written by: Andreas Rudolf Kisser, Igor Cavalera, Massimiliano A. Cavalera, Paulo Xisto Jr. Pinto

Lyrics Licensed & Provided by LyricFind
To comment on specific lyrics,
highlight them