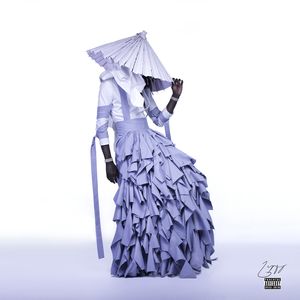 Jeffery (stylized in all caps and originally titled No, My Name is Jeffery) is a mixtape by American rapper Young Thug. It was released for retail purchase on August 26, 2016, by 300 Entertainment and Atlantic Records. The mixtape features guest appearances from Gucci Mane, Young Scooter, Travis Scott, Wyclef Jean, Gunna and Migos members Quavo and Offset, as well as an executive producer from TM88 and Wheezy. Jeffery charted at number eight on the US Billboard 200 and received acclaim from critics. Its artwork, which features Young Thug in a dress, went viral. The mixtape was named among the
Read Full Bio
Jeffery (stylized in all caps and originally titled No, My Name is Jeffery) is a mixtape by American rapper Young Thug. It was released for retail purchase on August 26, 2016, by 300 Entertainment and Atlantic Records. The mixtape features guest appearances from Gucci Mane, Young Scooter, Travis Scott, Wyclef Jean, Gunna and Migos members Quavo and Offset, as well as an executive producer from TM88 and Wheezy.

Jeffery charted at number eight on the US Billboard 200 and received acclaim from critics. Its artwork, which features Young Thug in a dress, went viral. The mixtape was named among the best releases of 2016 by several publications, including Pitchfork, Fact, Complex, and Rolling Stone.
Genre not found
Artist not found
Album not found
Search results not found
Song not found
Okay, my money way longer than a NASCAR race
I told her keep going on the gas fuck the brakes
Only here for one night lemme put it on your face
Let a nigga nut, only way I go to sleep
Boolin' rockin' nuder Frank Muller
I know some hoes with good head, fuck a tutor
So many hundreds I done added, I'mma lose 'em
Put me in the Jagy or the Wraith and now I'm coolin'
Play with my money I'mma let 'em niggas do you
Play with my money I'mma let 'em niggas do you
Play with my money I'mma let these niggas do you
Play with my money
Play with my, play with my money
Ride around with my cash
Put him in a body bag
In the store and then dash
Pull up, I'm not a cab
She know she got a nigga bad
She know she gotta keep it bad
She know I gotta keep me some cash
She know she gotta hop on top this dick
She know she gotta ride the motherfucker
Her mama done walked in, but it's too big
She can't hide the motherfucker
Even if she the baddest of motherfuker
Man even if she minus the motherfucker
Join in get the mileage motherfucker
I ain't gon' disguise it motherfucker
Shop at Saks Fifth, flow on datpiff
Yeah I'm that swift, ask her and him
Yeah add somethin', put a bone in them
Put a choker on, let 'em choke on em
All my jewelry small, yeah, they got it on
Daughter sexy and my son got the bra
Spit racks on my son and his squad
That a boy, never play with tards
Man I play with 'em boys
New AK with 'em boys
New feng shui for 'em boys
Drippin' all day for 'em boys
Bitch you ain't ready for the boys
How you not ready for 'em boys?
Have you ever played with the boys?
I'mma turn the blade on 'em boys
I do it my way, I do
I do it my way, I do
I do it my way, I do
I do it my way, I do
Okay, my money way longer than a NASCAR race
I told her keep going on the gas fuck the brakes
Only here for one night lemme put it on your face
Let a nigga nut, only way I go to sleep
Boolin' rockin' nuder Frank Muller
I know some hoes with good head, fuck a tutor
So many hundreds I done added, I'mma lose 'em
Put me in the Jagy or the Wraith and now I'm coolin'
Nigga watch that dog
Nigga plottin' on the boy, spot 'em
Quick, target on your head, dot 'em dot 'em dot 'em
And I'm good got a rabbits foot in my wallet
Baby bleed it up, been drivin' in traffic
Twos is seated up, damn shawty
Got her bent up, I just mixed the grams with molly
Her car dented up like she rent to everybody
I do it my way, I do
I do it my way, I do
I do it my way, I do
I do it my way, I do
My money way longer than a NASCAR race
I told her keep going on the gas fuck the brakes
Only here for one night lemme put it on your face
Let a nigga nut, only way I go to sleep
Boolin' rockin' nuder Frank Muller
I know some hoes with good head, fuck a tutor
So many hundreds I done added, I'mma lose 'em
Put me in the Jagy or the Wraith and now I'm coolin'
Lyrics © BMG Rights Management, Universal Music Publishing Group, Kobalt Music Publishing Ltd., RESERVOIR MEDIA MANAGEMENT INC, Warner Chappell Music, Inc.
Written by: Bryan Lamar Simmons, Christopher Alan Thornton, Diondria Elaine Thornton, Jeffery Lamar Williams, Jonathan Priester

Lyrics Licensed & Provided by LyricFind
To comment on specific lyrics,
highlight them