Wè mwen wè wap pase
M santi kè m kase
Ou fè mwen rete bouch be
Tout kò mwen paralize
M eseye pale, meseye bouje
Anpil kontròl, avan m rejwen la pawòl
Makomè kouman ou ye
Di mwen pouki m deregle
Pouki chak fwa wap pase
Lang mwen lou, m paka pale
Jodi a m di fò m vanse
Pou nou fè yon ti convèse
Ouve zorèy ou souple
M gen yon bann ti bwa pou m kase
Fè ke nou kontre pou nou ka voyage
Fè nanm nou kwaze
Fè lanmou san rete
Pou tout kò n pran dife
Jouk tan solèy leve
Jouk tan nou fatige
Jouk mwen tombe
M tonbe, m tonbe, m tonbe
M tonbe, bon tonbe
M tonbe, m tonbe tout bon, m tonbe
M tonbe, bon tonbe
Lò wap gade m manvi rele
Lò wap gade m manvi krye
Depi je ou tombe lan je m ti chou
Ou fè m boulvèse
Loloj mwen vire. m pa konn kote m ye
Mwen dekontrole manmie
M santi m pral tombe
M tonbe, m tonbe, m tonbe
M tonbe, bon tonbe
M tonbe, m tonbe tout bon, m tonbe
M tonbe, bon tonbe
Fanm sa se bonè mwenan se mirak lan vi mwen
Li chita nan kè m tout la jounen
Pa janm deplase, wo
Fanm sa se bonè m, se mirak lan vi mwen
Toujou nan lespri m, tout sa mwen fè, li pa janm
Deplase
Li anvayi mwen---eh
La anvayi mwen-- eh, eh
Chak fwa mwen wè l
Li fè ko mwen cho, fè san m tounen dlo
Li anvayi mwen--eh
Li anvayi---mwen- eh, eh
Depi m kote l, pye m paka pran tè, mwen santi m anlè
Fanm sa se bonè mwenan se mirak lan vi mwen
Li chita nan kè m tout la jounen Pa janm deplase,
Fanm sa se bonè m, se mirak lan vi mwen
Toujou nan lespri m, tout sa mwen fè, li pa janmDeplase
Li anvayi mwen--eh
Li anvayi---mwen- eh, eh
Depi m kote l, pye m paka pran tè, mwen santi m anlè
Li anvayi mwen---eh
La anvayi mwen-- eh, eh
Chak fwa mwen wè l
Li fè ko mwen cho, fè san m tounen dlo
M tonbe, m tonbe, m tonbe
M tonbe, bon tonbe
M tonbe, m tonbe tout bon, m tonbe
M tonbe, bon tonbe
Writer(s): Cave Georges Alan

Contributed by Madelyn K. Suggest a correction in the comments below.
To comment on specific lyrics,
highlight them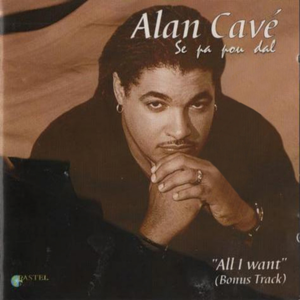 Georges Alan Cavé is a Haitian Kompa and Zouk singer and the lead of the group Zin. He was born on February 27, 1966 in New York City but spent most of his adolescent years in Haiti. He toured with his father, Syto Cavé, all over the French Antilles, France and Canada. In 1987, he met with Alex Abellard and Eddy Saint-Vil to audition for the group Zin. Alex thought that he could not have that voice against him, so he quickly signed him. They released their first album, O Pa, in 1988 and are still going strong after 20 years.
Read Full Bio
Georges Alan Cavé is a Haitian Kompa and Zouk singer and the lead of the group Zin. He was born on February 27, 1966 in New York City but spent most of his adolescent years in Haiti. He toured with his father, Syto Cavé, all over the French Antilles, France and Canada. In 1987, he met with Alex Abellard and Eddy Saint-Vil to audition for the group Zin. Alex thought that he could not have that voice against him, so he quickly signed him. They released their first album, O Pa, in 1988 and are still going strong after 20 years. Cavé has also had a very successful solo career and released 3 solo albums
Genre not found
Artist not found
Album not found
Search results not found
Song not found