How far is the world, in the end?
Is there a judge? Who decides,
What is wrong and what is right?
Who'll be there, in the end?
Who'll be with me, to be without me?
Is there semething, behind the final curtain?
Will there be anyone, any memories?
When my time has come,
to pass the gate to all eternity
Who'll wait for me
To guide me over, into the unknown?
When I die and leave the world behind
When I die
Day after day, I followed the words
That say, I shall be modest and brave
And I sometimes wonder
How I can be so strong
Now here I stand, who'll hold my hand
How here I stand and wait
Now when your day has come
And all life has passed through?
When memories fade away
And destiny becomes true
When judgement day has been reached
And it finally comes to an end
You'll come to your redemption
Or to pain that never ends!
Oh, I know there'll be no pain
'cause my soul is as white as snow
No one's there, to warm my hand
When it gets cold
An apparatus sound is reaching my ears
Bright neon light blinds my eyes
A dark veil setz slowly down on me
I go into the void
Lyrics © O/B/O APRA/AMCOS

Lyrics Licensed & Provided by LyricFind
To comment on specific lyrics,
highlight them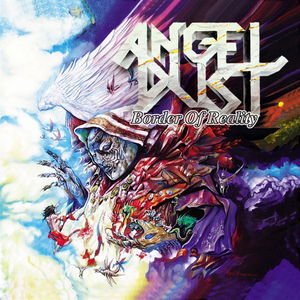 For the Baltimore punk/hardcore band, see Angel Du$t.

There are mutliple artists with this name:

1. Angel Dust (originally Angeldust, not to be confused with many other less successful/lasting bands of the same name) are a power metal/ Speed Thrash Metal band originating from Dortmund, Germany that started off as a typical garage band. Taking their name from a song title off the black metal band Venom's debut album Welcome To Hell, Angel Dust was founded in 1984.
Read Full Bio
For the Baltimore punk/hardcore band, see Angel Du$t.

There are mutliple artists with this name:

1. Angel Dust (originally Angeldust, not to be confused with many other less successful/lasting bands of the same name) are a power metal/ Speed Thrash Metal band originating from Dortmund, Germany that started off as a typical garage band. Taking their name from a song title off the black metal band Venom's debut album Welcome To Hell, Angel Dust was founded in 1984. Their style was initially heavily influenced by the NWOBHM metal scene and the Bay Area thrash metal scene. They soon found their niche in the speed and thrash metal styles which were widely popular at the time. The 1980s would see two releases from the band: 1986's Into the Dark Past and 1988's To Dust You Will Decay. They proceeded to disband in 1990 because of internal conflicts.

Although all members had gone their separate ways, founding member Frank Banx had no desire to let the Angel Dust name die. Around 1998 Banx, and original drummer Dirk Assmuth, gathered a completely new lineup (including Frank Banx' younger brother Steven Banx on keyboards) to start from scratch. This reincarnation would handle music very differently, shifting dramatically towards power metal, and would consequently gain a solid reputation in Europe.

After releasing a few succesful albums in the late 90s and early 2000s, a series of line-up changes siginificantly reduced the band's activities. They are however still active, and have "entered the studio (in March of 2006) to record the long awaited successor from Of Human Bondage."

The band's first two albums are now some of the rarest Metal collectibles in the world. They were reissued unofficially in very limited quantities in late 2002-2003. The reissues have no label or copyright info and have two bonus tracks each.

Dirk Assmuth's sister Anja plays drums in power metal band called Duke.

2. Angel Dust is Kenny Rakentine's Abstract Sound Art/Drone/Noise Project from Pittsburgh

3. Angel Dust was a Heavy metal band from Italy.

4. Angel Dust was a Power/ thrash band from Holland. They changed their name to Asgard]

5. Angel Dust was a French Heavy metal band in the mid 80's.

6. Angel Dust is a ambient electronic experimental drone sound artist from Pittsburgh
Genre not found
Artist not found
Album not found
Search results not found
Song not found