Isn't much that I feel I need
A solid soul and the blood I bleed
With a little girl, and by my spouse
I only want a proper house
There isn't much that I feel I need
A solid soul and the blood I bleed
With a little girl, and by my spouse
I only want a proper house
Isn't much that I feel I need
A solid soul and the blood I bleed
With a little girl, and by my spouse
I only want a proper house
There isn't much that I feel I need
A solid soul and the blood I bleed
With a little girl, and by my spouse
I only want a proper house
I don't care for fancy things
Or to take part in a precious race
And children cry for the one who has
A real big heart and a father's grave
I don't care for fancy things
Or to take part in a precious race
And children cry for the one who has
A real big heart and a father's grave
On my father's grave
On my father's grave
On my father's grave
On my father's grave
On my father's grave
On my father's grave
On my father's grave
On my father's grave
I don't mean to seem like I care about material things
Like a social status
I just want four walls and adobe slabs for my girls (ahoo)
I don't mean to seem like I care about material things
like a social status
I just want four walls and adobe slabs for my girls
There isn't much that I feel I need
A solid soul and the blood I bleed
With a little girl, and by my spouse
I only want a proper house
I don't care for fancy things
Or to take part in a precious race
And children cry for the one who has
A real big heart and a father's grave
On my father's grave
On my father's grave
On my father's grave
On my father's grave
On my father's grave
On my father's grave
On my father's grave
On my father's grave
I don't mean to seem like I care about material things
Like a social status
I just want four walls and adobe slabs for my girls (ahoo)
I don't mean to seem like I care about material things
like a social status
I just want four walls and adobe slabs for my girls (ahoo)
I don't mean to seem like I care about material things
Like a social status
I just want four walls and adobe slabs for my girls (ahoo)
I don't mean to seem like I care about material things
Like a social status
I just want four walls and adobe slabs for my girls (ahoo)
Lyrics © DOMINO PUBLISHING COMPANY, Sony/ATV Music Publishing LLC
Written by: Brian Weitz, David Michael Portner, Noah Benjamin Lennox

Lyrics Licensed & Provided by LyricFind
To comment on specific lyrics,
highlight them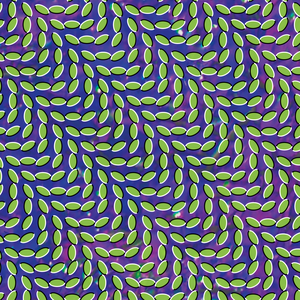 This is a personal song for Lennox as he talks about his focus on his family. The "girls" are his wife, and his daughter who was born in 2005. The song grows from a synth-speckled, half-speed intro into a booming electro-pop burner with handclaps and deep bass – a towering edifice of sound. It is Animal Collective's first single for their 2009 studio album Merriweather Post Pavilion .

Avey Tare: We definitely didn't expect it [the success of the song].
Read Full Bio
This is a personal song for Lennox as he talks about his focus on his family. The "girls" are his wife, and his daughter who was born in 2005. The song grows from a synth-speckled, half-speed intro into a booming electro-pop burner with handclaps and deep bass – a towering edifice of sound. It is Animal Collective's first single for their 2009 studio album Merriweather Post Pavilion .

Avey Tare: We definitely didn't expect it [the success of the song].

Geologist: We almost left it off the record.

Avey Tare: No, we didn't almost leave it off the record, but we had difficulty recording it in the studio.

Panda Bear: The first version just didn't feel great.

Avey Tare: I mean, when Noah sent us the demo, I instantly felt it was an incredible song that you just want to listen to over and over over again.

Geologist: It was undeniable.

Avey Tare: There was definitely an excitement about it, but there had been a lot of songs that Noah has written that we've been equally psyched on.

Geologist: When that song was coming out, I remember discussions with people at the BBC, where they were like, "Could you cut off the first minute?" because it just took too long to get going. So it still felt like a bit of an uphill thing for what people were calling our "biggest pop song." People were telling us it was too weird for the mainstream unless we altered it in some way.

- via Pitchfork
Genre not found
Artist not found
Album not found
Search results not found
Song not found