Roots Of My Hair
CocoRosie Lyrics
Wet is my whistle
Wandering wayward
Trouser is caught in a thorny bramble
Sun soon be slipping
Down spine of the meadow
Swamp candle flower
A watery fellow
The monarch my right hand
Left is the sparrow
Twilight blue my bone and marrow
The river's path is old and narrow
First evening star
To comfort the scarecrow
Pull me up by the roots of my hair
Into the rosy atmosphere
Pull me up by the roots of my hair
Into the rosy atmosphere
Marveling over dead branches
Wind in the grasses
Contributed by Aaron O. Suggest a correction in the comments below.
To comment on specific lyrics,
highlight them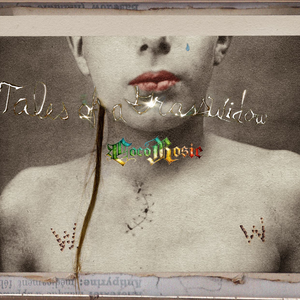 CocoRosie is an American duo formed in 2003 by sisters Bianca "Coco" and Sierra "Rosie" Casady. The sisters were born and raised in the United States (Sierra, the older of the two, was born in Iowa, and Bianca was born in Hawaii), but formed the band in Paris, France after meeting for the first time in years. Their mother nicknamed them Rosie and Coco, respectively, from which their musical act takes its name. Their music has been called freak folk, and incorporates elements of pop, blues, opera, electronica, and hip hop.
Read Full Bio
CocoRosie is an American duo formed in 2003 by sisters Bianca "Coco" and Sierra "Rosie" Casady. The sisters were born and raised in the United States (Sierra, the older of the two, was born in Iowa, and Bianca was born in Hawaii), but formed the band in Paris, France after meeting for the first time in years. Their mother nicknamed them Rosie and Coco, respectively, from which their musical act takes its name. Their music has been called freak folk, and incorporates elements of pop, blues, opera, electronica, and hip hop.
CocoRosie began as a duo, with Sierra singing, playing the guitar, piano and harp, and Bianca singing and manipulating various children's toys, electronic and percussion instruments, as well as other exotic noisemakers. They subsequently added various backing musicians, usually a bassist, keyboardist, and beatboxer. They have been a very active touring group, playing across Europe, the United States, and elsewhere.
They have released seven full-length albums: La maison de mon rêve (2004), Noah's Ark (2005), The Adventures of Ghosthorse and Stillborn (2007), Grey Oceans (2010), Tales of a GrassWidow (2013), Heartache City (2015) and Put the Shine On (2020).

In 2003, Bianca was growing restless and decided it was time for a change. Leaving her apartment in Brooklyn to travel the world, she ended up at Sierra's apartment in Paris. Over the course of the next two months, the women spent nearly every waking hour in Sierra's bathroom, chosen as the most acoustic and isolated room in the apartment. Soon, they had completed both a hip-hop recording (never released) called "word to the crow" and their proper debut album La Maison de Mon Rêve.

Originally, La Maison de Mon Rêve was only intended to be distributed within a close circle of friends. However, by 2004 the lo-fi album had been released on independent label Touch and Go Records, who had obtained a copy of the CD and had uncharacteristically pursued signing the artists. Since the creation of their first album, the Casady sisters have been virtually inseparable.

Stylistically they may be assigned to the indie rock, psychedelic folk, folktronica genres, and are sometimes associated with the New Weird America movement. Sierra, who studied operatic vocal techniques, takes the lead vocals and also plays guitar, harp and flute. Bianca is a percussionist and also beatboxes. The group also uses various objects such as toys to construct their unique sound. Popular indie bands such as The xx name them as a major influence.

They were actively touring during most of 2004, playing across the U.S. and throughout Europe with artists such as TV on the Radio, Bright Eyes, Battles, Devendra Banhart, and Busdriver among others.

Official website: http://www.cocorosiemusic.com
Genre not found
Artist not found
Album not found
Search results not found
Song not found