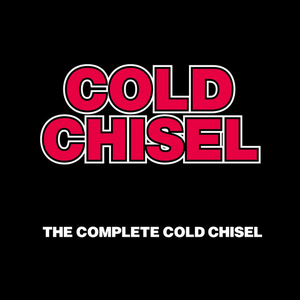 Cold Chisel produced the canonical example of Australian pub rock, with a string…
Read Full Bio ↴
Cold Chisel produced the canonical example of Australian pub rock, with a string of hits throughout the 1970s and 1980s, and they are acknowledged as one of the most popular and successful Australian groups of the period, although this success and acclaim was almost completely restricted to Australia.

The band formed in Adelaide in 1973 as a heavy metal band called Orange around keyboard player Don Walker and original bassist Les Kascmarek and while hard rock remained at the core of their sound Cold Chisel displayed a remarkable versatility. When Kascmarek left in 1975, Walker became the major creative force of the band. Built around Walker's superb songwriting, the group also featured the dazzling guitar and vocal talents of Ian Moss and the enormously powerful lead vocals of Scottish immigrant Jimmy Barnes.

While typically classified as a hard-driving rock and roll band, the Chisel repertoire included such Australian anthems as the landmark Vietnam War song "Khe Sanh", "Bow River", "Flame Trees" and "Saturday Night", but also included thoughtful ballads like "Choir Girl" (written about the subject of abortion), pop-flavoured love songs like "My Baby" and caustic political statements like "Star Hotel", an attack on the late-70s government of Malcolm Fraser and inspired by a riot at a Newcastle pub. The music was not political in context, however Walker's songs were observations of everyday life within the Australian society and culture. One song from this period, "Misfits", which featured on the b-side to "My Baby", was written in the same vein as Chuck Berry, and was about homeless kids in the suburbs surrounding Sydney.

Cold Chisel weren't just a band, they were a lifestyle for many of their followers, who were known as some of the roughest in the land. This gave Chisel their hard living approach to their music and made them a tough live band as well. More than 30 years after they originally played together, they attract generation after generation of new listeners. This is also evidence of Chisel's dominance of the pub rock era. They are the only Australian band to have sold more records after breakup than before and are among other bands that have become transgenerational. "Khe Sanh" consistently ranks highly in lists of Australia's most popular songs and their music remains a staple of rock station playlists. The Ian Moss song "Never Before" (from the East LP) was chosen by FM rock station 2JJJ (Triple Jay) as the first record played on-air when the station made its transition from AM to FM in 1980.

By 1983 the band had reached the zenith of their career in Australia and with overseas markets reluctant to accept them, Cold Chisel began to disintegrate. Their abortive US sojourn was commemorated in Barnes' excoriating rocker "You Got Nothing I Want" from the Circus Animals album, an emotional volume created from the frustration of the band's experiences overseas.

Increasing internal tensions and the pressures of touring took their toll and Steve Prestwich -- who was often in conflict with Barnes -- left the band, to be replaced by veteran Australian drummer Ray Arnott (ex Spectrum). Shortly afterward, in 1984, Cold Chisel announced their split and a series of farewell concerts, for which Prestwich re-joined. That tour became a legend in itself and was not without incident when Barnes lost his voice before the Sydney shows, which then had to be rescheduled. The band's final performance was filmed for the documentary concert film The Last Stand, which remains to this day the best-selling concert film of any single Australian act.

In mid 2011 the group announced a series of upcoming concerts.
Jump to: Overall Meaning ↴ Interesting Facts ↴ Line by Line Meaning ↴
Every night when I get home
I settle down to prime time limbo
When all the boys are gathered around
Shouting Ita'a on TV
And though the roaches are thick on the ground
Somebody goes to close my window
Keep the noise of the city down
Get a dose of integrity
Every week, in every home
She got wholesome news for the family
I believe, I believe, in what she says
Yes I do
I believe, I believe, at the end of the day
Her magazine'll get me through
Ita's tongue never touches her lips
She could always be my godmother
And though the desk-top hides her hips
My imagination's strong
She's the sweetest thing I've ever seen
I'd like to take her out to dinner
But when I think about the places I've been
I'd probably hold my fork all wrong
Every day and every night
She's the only one we can depend upon
I believe, I believe, in what she says
Yes I do
I believe, I believe, at the end of the day
Her magazine'll get me through
To every housewife through the land
There is no-one else they can depend upon
How could I not believe, when Ita tells me too
Overall Meaning
The song "Ita" by Cold Chisel pays tribute to Ita Buttrose, an influential Australian journalist and media personality. The lyrics speak of the singer's admiration for Ita and her work, particularly her news reporting and her magazine, which he believes will get him through at the end of the day. The singer's admiration for Ita is portrayed in the first verse when he says that every night when he gets home, he settles down to watch "prime time limbo." He describes the boys gathered around with the noise of the city kept down to hear "Ita on TV," who brings integrity to the news.
In the second verse, the singer admires Ita's wholesome news, which she delivers to every home in the country. He believes in what she says, and he relies on her magazine to get him through. The lyrics then turn to the singer's infatuation with Ita, describing her as the "sweetest thing I've ever seen," and someone he'd like to take out to dinner. However, his self-doubt sets in, and he's afraid he'd hold his fork all wrong.
Overall, the song celebrates Ita's career, her influence in Australian media, her journalistic integrity, and her role in informing and empowering Australian women. Ita's name has become synonymous with quality journalism, and her career has inspired generations of women to pursue media and journalism careers.
Interesting Facts
Note: This section uses generative AI, which can be inaccurate.


Line by Line Meaning
Every night when I get home
Upon arriving home every night
I settle down to prime time limbo
I sit down to watch TV to unwind after a long day
When all the boys are gathered around
When all my friends are with me
Shouting Ita'a on TV
Cheering on Ita on television
And though the roaches are thick on the ground
And although there are insects all around
Somebody goes to close my window
Someone closes my window to keep the noise out
Keep the noise of the city down
Minimizing the sound of the city
Get a dose of integrity
Receiving a sense of honesty and truthfulness
Every week, in every home
Every week, in every household
She got wholesome news for the family
She has positive news for families
I believe, I believe, in what she says
I trust in what she reports
Yes I do
Indeed, I do
I believe, I believe, at the end of the day
I trust, in the end
Her magazine'll get me through
Reading her publication will help me endure
Ita's tongue never touches her lips
Ita speaks perfectly
She could always be my godmother
Ita is respectable and endearing
And though the desk-top hides her hips
Even though her desk obscures her figure
My imagination's strong
I have a vivid imagination
She's the sweetest thing I've ever seen
Ita is the most endearing person I've ever encountered
I'd like to take her out to dinner
I would love to have dinner with her
But when I think about the places I've been
When I reflect on my past experiences
I'd probably hold my fork all wrong
I might make a social faux pas
Every day and every night
All day and all night
She's the only one we can depend upon
We can rely solely on her
To every housewife through the land
To every female homemaker
There is no-one else they can depend upon
No other person can be relied upon
How could I not believe, when Ita tells me too
It would be impossible not to trust what Ita tells me
Lyrics © Universal Music Publishing Group
Written by: DONALD WALKER, DONALD HUGH WALKER

Lyrics Licensed & Provided by LyricFind
To comment on or correct specific content,
highlight it
Genre not found
Artist not found
Album not found
Search results not found
Song not found