Maybe You Should Drive
Craig Cardiff Lyrics
Sounded less like don mclean and more like lenny bruce.
I've been wrapping my head around your idea of the truth.
The truth brought out in fear, the truth put on display,
The truth borne from people leaving, going away.
Maybe you should drive.
Shut your eyes closed, read between the lines.
Everyone who stood by you
Are the same ones who just left.
Your cavalry's gone, gone.
Don't hold your breath dear.
Bets laid so low I thought you'd never clue in.
Be careful who you keep as friends these days.
Don't beat yourself up black and blue.
There was nothing to say
This was coming, no rehearsal we could've sat through.
I love you so much it breaks my heart,
I love you beyond words.
You got cold when you started buying the news.
You got cold, you got scared.
Contributed by Grace T. Suggest a correction in the comments below.
To comment on specific lyrics,
highlight them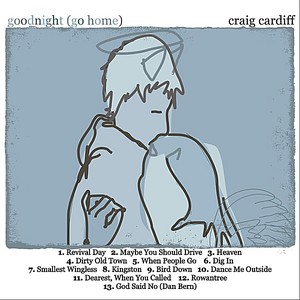 Craig Cardiff (born 9 July 1976 in Waterloo, Ontario) is a Canadian folk singer who is known for his soft voice and digital vocal and guitar loops and for the connections he makes with his fans. In 2012, he was nominated for a Juno Award for "Roots and Traditional Album of the Year: Solo" and for a Canadian Folk Music Award as "Contemporary Singer of the Year". His first release was in 1997.

With guitar in hand, Craig can turn any setting into an intimate affair
Read Full Bio
Craig Cardiff (born 9 July 1976 in Waterloo, Ontario) is a Canadian folk singer who is known for his soft voice and digital vocal and guitar loops and for the connections he makes with his fans. In 2012, he was nominated for a Juno Award for "Roots and Traditional Album of the Year: Solo" and for a Canadian Folk Music Award as "Contemporary Singer of the Year". His first release was in 1997.

With guitar in hand, Craig can turn any setting into an intimate affair, infusing his music and lyrics with an uncompromising humanism rarely seen in today's production-heavy climate.

Craig makes it a point to keep the relationship with his fans personal, inviting and accepting any opportunity to make his audience as much a part of the performance as he is. Don't be surprised if one day you find yourself enjoying one of Craig's renowned shows in the comfort of your own living room.

In 2012, Cardiff was nominated for a Juno Award for Roots and Traditional Album of the Year: Solo, and for a Canadian Folk Music Award as Contemporary Singer of the Year.

For more information, tour dates, and music, please visit the official Craig Cardiff site.


Partick Artists

Craig Cardiff's Bandcamp page
Genre not found
Artist not found
Album not found
Search results not found
Song not found