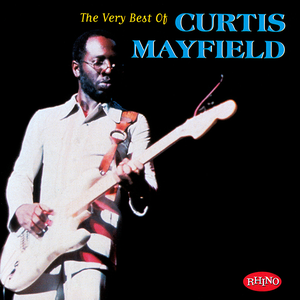 Move on Up is a song by Curtis Mayfield from his 1970 debut album Curtis. In 197…
Read Full Bio ↴
Move on Up is a song by Curtis Mayfield from his 1970 debut album Curtis. In 1971, the song spent ten weeks in the top 50 of the UK Singles Chart.
Jump to: Overall Meaning ↴ Line by Line Meaning ↴
Hush now, child, and don't you cry
Your folks might understand you, by and by
Move on up, toward your destination
You may find from time to time
Complication
Bite your lip, and take a trip
Though there may be wet road ahead
And you cannot slip
So move on up for peace will find
Into the steeple of beautiful people
Where there's only one kind
So hush now, child, and don't you cry
Your folks might understand you, by and by
Move on up, and keep on wishing
Remember your dream is your only scheme
So keep on pushing
Take nothing less, than the supreme best
Do not obey rumors people say
'Cause you can pass the test
Just move on up, to a greater day
With just a little faith
If you put your mind to it you can surely do it
Just move on up
Move on up
But move on up
Oh, child, but just move on up
But move on up
Move on up
Overall Meaning
In Curtis Mayfield's song "Move On Up," the lyrics are mostly addressed to a child, offering advice and encouragement for their future. The first stanza tells the child to be patient with their parents, as eventually they will understand them. The chorus then urges the child to move forward towards their goals, despite any complications they might face along the way. The second verse advises the child to keep moving towards their dreams, and not be swayed by negativity or rumors, for they have the ability to succeed through faith and determination. The song repeats the chorus several times, each time emphasizing the importance of moving on up and not giving up on one's dreams.
One possible interpretation of the lyrics is as a message of hope and perseverance in the face of adversity. The song encourages the listener to keep striving for success, and to not let setbacks or negative opinions hold them back. The repeated refrain of "Move on up" seems to suggest that progress and upward movement are keys to achieving one's goals. The steeple of beautiful people referenced in the song may represent a metaphorical peak of success or achievement.

Line by Line Meaning
Hush now, child, and don't you cry
Be quiet and stop crying
Your folks might understand you, by and by
Your parents will come to understand you eventually
Move on up, toward your destination
Move forward towards your goal or objective
You may find from time to time
Occasionally, you may experience
Complication
Complications or difficulties
Bite your lip, and take a trip
Endure pain or discomfort and persevere
Though there may be wet road ahead
Although there may be obstacles
And you cannot slip
You cannot afford to fail
So move on up for peace will find
Keep moving forward and you will find peace
Into the steeple of beautiful people
Join society's elite, successful people
Where there's only one kind
Where everyone is equal
Move on up, and keep on wishing
Keep striving towards your goal
Remember your dream is your only scheme
Your dream is your only plan
So keep on pushing
Don't give up, keep trying
Take nothing less, than the supreme best
Settle for nothing less than the best
Do not obey rumors people say
Do not be influenced by rumors or gossip
'Cause you can pass the test
Believe in yourself and you can succeed
Just move on up, to a greater day
Continue to move forward and a better day awaits
With just a little faith
With just a small amount of belief
If you put your mind to it you can surely do it
If you focus and work towards your goal, you can achieve it
Move on up
Keep moving forward
But move on up
Again, keep moving forward
Oh, child, but just move on up
Keep moving forward, child
Move on up
One last time: keep moving forward
Lyrics © Kanjian Music, BMG Rights Management, Universal Music Publishing Group, Capitol CMG Publishing, Warner Chappell Music, Inc.
Written by: Curtis L. Mayfield

Lyrics Licensed & Provided by LyricFind
To comment on or correct specific content,
highlight it
Genre not found
Artist not found
Album not found
Search results not found
Song not found