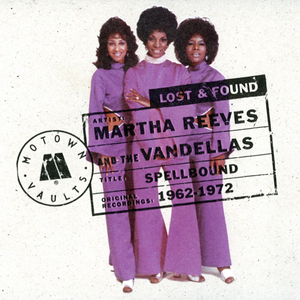 Let Me Fall In Love With You
Martha Reeves & The Vandellas were one of the most successful groups in the Moto…
Read Full Bio ↴
Martha Reeves & The Vandellas were one of the most successful groups in the Motown roster during the 1960s and fully active from 1960 to present, performing at various times doo-wop, pop, rock and roll and soul.

The label's second most-successful all-female singing group after The Supremes, Martha Reeves & The Vandellas were known for a churchier, more southern-styled soul than the Supremes, as typified in Motown hits such as "(Love Is Like A) Heat Wave", "Jimmy Mack", "I'm Ready For Love", "My Baby Loves Me", "Nowhere to Run", and, their signature song, "Dancing in the Street".

The group had its origins in Detroit, Michigan in 1957, and had initially gone by the name The Del-Phis. It originally was a quartet comprising childhood friends Martha Reeves, Rosalind Ashford, Annette Beard, and original lead singer Gloria Williams. Williams left after a failed single on the Checkmate label, leaving the quartet as a trio. They changed their name to The Vells signing a deal with Motown's Mel-o-dy label, and singing background for established Motown performers such as Mary Wells and Marvin Gaye before signing a new deal with Motown's Gordy label on September 21, 1962, after which the group changed its name to Martha and the Vandellas.

In 1964, the Vandellas' lineup changed with Betty Kelley replacing Sterling. In 1967, Kelley was fired and was replaced by Martha's younger sister, Sandra "Lois" Reeves. In 1969, Ashford was also fired and replaced by Sandra Tilley. The lineup of the Reeves sisters and Tilley continued after Martha's return from an institution after suffering a nervous breakdown. The group disbanded following a farewell concert, held at Detroit's Cobo Hall on December 21, 1972., however, Reeves still performs with sister Lois and another Reeves sister, Delphine.
It's easy to fall in love with a guy like you
Someone I know will be true
Someone I can put my trust in and never doubt
I couldn't live without your tender charm
Once I was in your arms
It's easy to fall in love with a guy like you
You make grey sky seems blue
Suddenly I realize how much I miss
Cause with just one kiss
My hands start thrilling my heart caused I'm willing
(willing to) Willing to love all the way
And I'll encounter what may
I'll follow you wherever you go
I want you so
Don't make me wait for another day
Just take me in your arms and baby
time has come…my love
(easy) You've put a smile on my face
(easy) Even sadness can't erase
(easy) Time seems to stand still
(easy) Whenever you're near me
(easy) You're heaven in disguise
(easy) You're so real and that's why
It's easy to fallin love with a guy like you
You touched me all the way trough
You exposed the colors of me
I didn't know it exists till then if I'm missin'
There's a music in the air
So glad you near
Cause….
It's easy to fall in love with a guy like you
Someone I know will be true
Someone I can put my trust in and never doubt
I couldn't live without your tender charm
Once I was in your arms
(it's easy…) It's easy to fall in love with a guy like you…
Lyrics © O/B/O APRA AMCOS

Lyrics Licensed & Provided by LyricFind
To comment on or correct specific content,
highlight it
Genre not found
Artist not found
Album not found
Search results not found
Song not found