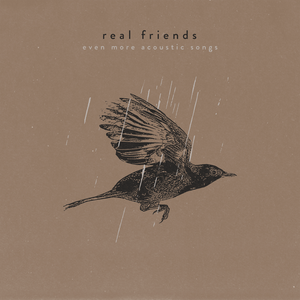 Produced by Mike Green, From The Outside explores Real Friends' frontman, Dan Lambton, struggling to decide right from wrong, and not being able to communicate those feelings to friends and family.

'This song in particular addresses uncertainties pertaining to not knowing what may be good for you or in your best interest," explains Lambton. "Whether it be medication, drugs, alcohol, psychiatric treatment, etc. and generally not being able to navigate the inner workings of your mind to know what is going on with your mental state.'
Read Full Bio
Produced by Mike Green, From The Outside explores Real Friends' frontman, Dan Lambton, struggling to decide right from wrong, and not being able to communicate those feelings to friends and family.

'This song in particular addresses uncertainties pertaining to not knowing what may be good for you or in your best interest," explains Lambton. "Whether it be medication, drugs, alcohol, psychiatric treatment, etc. and generally not being able to navigate the inner workings of your mind to know what is going on with your mental state.'

Beginning June 21 at the Pomona Fairplex Grounds in Pomona, CA, the band will be heading the final Vans Warped Tour across the country.

It's been two years since the band released their third studio LP, The Home Inside My Head, which earned a Billboard Top 200 chart placement. Since then, the band has sold out shows across the country and has been actively writing/recording in the studio.
Genre not found
Artist not found
Album not found
Search results not found
Song not found
We have lyrics for 'From The Outside' by these artists:



All That Remains As the days pass and replaced by memories What do you…
Blood Has Been Shed Who are you now? I can't see past the mask…
Deepspace 5 [Fred B] From the outside, certified, gold and classic Dee…
Demon Another hand has turned Across the face of time Reaching…
Editors What a time to go When he needs you so Things are…
Floorpunch You said you're all right But you are losing touch I'm watch…
Naomi Hall Today I woke up Wasn't enough to satisfy Hunger for…
Teddy JME & Wiley I've been in the wrong system, the wrong territory, for…
Wiley I've been in the wrong system, the wrong territory, for…
Wiley & JME I've been in the wrong system, the wrong territory, for…
Wiley feat. Teddy & JME I've been in the wrong system, the wrong territory, for…



We have lyrics for these tracks by Real Friends:



...And We're Just Changing When I heard my parents cry I realized that we're all…
A Little Too Nice I can never keep my mouth shut But I can sure…
Alexander Supertramp Growing up is giving up I'll sleep sideways on the bed…
Anchor Down I don't really think that I'm ready for another Chicago…
Cheap Talk and Eager Lies If my name falls past your tongue and teeth, make…
Colder Quicker I've got more complaints More than pleasantries to say Eve…
Cover You Up It's worth those nights where I'm scared to walk to…
Dirty Water If you wore your personality on your skin, no one…
Everything I Never Want To Be Hope you're having fun away at college since you went…
Floorboards You said I didn't cry out to the clouds for…
Home for Fall So much has changed back home since you left without…
I Don I can't believe you've got the nerve to say you…
I Had a Heart I walk on this frozen lake, Hoping to hit a spot…
I Think I When I get stopped by a train on my drive…
I've Given Up on You You used to make me feel like I could walk…
I've Never Been Home White knuckles and sleepy eyes That's how you and I grew…
Keep It Together You'll spend every Saturday night on the bathroom floor with…
Late Nights In My Car I've been up spending every late night in my car Listening…
Loose Ends As the night goes on I go from feeling out…
Maybe This Place Is the Same... Maybe this place is the same And we're just changing Maybe…
Old and All Alone When we grow up I hope that you end up…
Old Book I'm treated like an old book That was left on the…
Short Song I found myself in late night drives without a destination A…
Sixteen Just when I think I need someone They wrap their arms…
Skeletons I won't forget when I couldn't go to bed with…
Something's Keeping Me Here We're just kids stuck in this town Outside of a big…
Spread Me All Over Illinois Change holds me down to the places I don't want…
Stay In One Place So much for bad luck If I built a boat with…
Summer You were easy on my eyes You were heavy on my…
To My Old Self I spend my nights thinking the worst And telling myself tha…

The lyrics can frequently be found in the comments below, by filtering for lyric videos or browsing the comments in the different videos below.