Jump to: Overall Meaning | Line by Line Meaning
I listen back to the confines I set within myself
The words fell on deaf ears in their own little hell
I heard the loss reverb, all around your voice
The kind of space that holds the room, leaves me little choice
We'll say what we want
We'll say what we want
I'm learning to take a hint, stay convinced
We'll see the other side
We're willingly lost
We're willingly lost
I'm learning to take a hint, stay convinced
That we might see a sign
For what it is
We'll chalk it up to blind luck, metaphors, or doubt
After years of searching, it's almost working out
If you don't like the format you set the music to
You can change the rhythm you choose to feel it through
We'll say what we want
We'll say what we want
I'm learning to take a hint, stay convinced
We'll see the other side
We're willingly lost
We're willingly lost
I'm learning to take a hint, stay convinced
That we might see a sign
For what it is
I might be pointing too close to that flame
I'll dip the scales to push the water away
In between two different worlds, fall apart
We swim, cycling through the dark and carry on
We'll say what we want (we'll say what we want)
We'll say what we want (we'll say what we want)
I'm learning to take a hint, stay convinced
We'll see the other side
We're willingly lost (we're willingly lost)
We're willingly lost (we're willingly lost)
I'm learning to take a hint to stay convinced
That we might see a sign
Overall Meaning
The lyrics to Real Friends's song Take A Hint explore the themes of self-doubt, self-reflection, and the process of learning from mistakes. The opening lines speak to the idea of being trapped within one's own limitations, with the narrator reflecting on the ways in which they have set boundaries for themselves. The image of words falling on deaf ears in their own little hell suggests a sense of frustration or isolation, while the loss that reverberates around the speaker's voice speaks to the idea of grief and heartbreak.
Despite these obstacles, the song emphasizes the importance of perseverance and the willingness to take risks. The repeated refrain of "We'll say what we want" suggests a sense of defiance or self-confidence, with the narrator refusing to be held back by the doubts or expectations of others. The idea of "learning to take a hint" speaks to the process of internalizing feedback and using it to move forward, while the hope of "seeing a sign for what it is" suggests a desire to find clarity and direction in life.
Overall, Take A Hint is a powerful anthem of self-discovery and growth, reminding us that our mistakes are not failures but opportunities to learn and evolve.

Line by Line Meaning
I listen back to the confines I set within myself
I reflect on the limitations I put on myself
The words fell on deaf ears in their own little hell
My words went unheard in a negative environment
I heard the loss reverb, all around your voice
I sensed the echoes of pain in your voice
The kind of space that holds the room, leaves me little choice
The atmosphere is so strong that I have no option but to take notice
We'll say what we want
We'll speak our minds
I'm learning to take a hint, stay convinced
I'm learning to read between the lines and trust my instincts
We'll see the other side
We'll keep an open mind and explore new perspectives
We're willingly lost
We're embracing the unknown and uncertainty
That we might see a sign
In hopes of discovering a sign of direction
We'll chalk it up to blind luck, metaphors, or doubt
We'll attribute it to luck, figurative language, or uncertainty
After years of searching, it's almost working out
After a long time, things are gradually falling into place
If you don't like the format you set the music to
If you're displeased with the pattern you've established
You can change the rhythm you choose to feel it through
You have the power to switch things up and adjust to new beats
I might be pointing too close to that flame
I might be approaching something that could harm me
I'll dip the scales to push the water away
I'll make a sacrifice to avoid a conflict
In between two different worlds, fall apart
Caught between two separate realities, come undone
We swim, cycling through the dark and carry on
We keep moving forward through uncertain times
Lyrics © BMG Rights Management, CONCORD MUSIC PUBLISHING LLC
Written by: Daniel Lambton, David Knox, Brian Blake, Kyle Fasel, Eric Haines, Michael Joseph Green

Lyrics Licensed & Provided by LyricFind
To comment on or correct specific content,
highlight it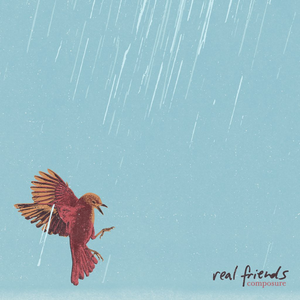 Real Friends are an American pop punk band from Tinley Park, Illinois. The band is currently made up of: Dave Knox (lead guitar, backing vocals), Kyle Fasel (bass), Eric Haines (rhythm guitar), Brian Blake (drums), and Cody Muraro (lead vocals), who was announced as replacement for longtime vocalist Dan Lambton on June 21, 2021. The band announced they signed to Pure Noise Records and released 2 new singles - Nervous Wreck and Storyteller - along with the announcement of their new singer.
Read Full Bio
Real Friends are an American pop punk band from Tinley Park, Illinois. The band is currently made up of: Dave Knox (lead guitar, backing vocals), Kyle Fasel (bass), Eric Haines (rhythm guitar), Brian Blake (drums), and Cody Muraro (lead vocals), who was announced as replacement for longtime vocalist Dan Lambton on June 21, 2021. The band announced they signed to Pure Noise Records and released 2 new singles - Nervous Wreck and Storyteller - along with the announcement of their new singer.

For as much as the world has changed since Real Friends first emerged in 2010, the band's mission hasn't. The Illinois quintet continue to bleed without apology and write songs that make it okay to feel everything: the ups, the downs, and anything else in between. Rather than shy away from emotion, the group run right towards it with distortion cranked and hearts opened, tightening their careful distillation of pop and punk on each subsequent release. When the band—Dave Knox (lead guitar), Kyle Fasel(bass), Eric Haines (rhythm guitar), and Brian Blake (drums) —welcomed vocalist Cody Muraro in 2020, the goal stayed the same as they crafted new music for Pure Noise Records.

Over the years, Real Friends have forged and strengthened a deep connection with fans. The group's 2014 full-length debut, Maybe This Place Is the Same and We're Just Changing, marked a turning point. Rock Sound named it one of the "Top 50 Albums of the Year." 2016's The Home Inside My Head maintained this momentum with further acclaim and sold out shows. In 2018, Composure incited applause from Music Connection, Alternative Press, Substream Magazine, New Noise, and Billboard who described it as "raw." To date, they've also amassed over 100 million streams and counting. In 2021, they turned the page on a new chapter with the singles "Nervous Wreck" and "Storyteller."

========================

In the fall of 2010 bassist Kyle Fasel "wasn't happy" with the music he was working on and wished to start over. Fasel called lead guitarist Dave Knox and the pair soon started talking about the goals they wished to achieve. Fasel didn't expect it to lead anywhere. Vocalist Dan Lambton, who was friends with Knox, received a call from Fasel, asking if he would like to join him and Knox. They were soon joined by drummer Aaron Schuck. The band recorded its debut EP, This Is Honesty, in the spring of 2011. Following the release of the EP, the band began playing shows around the Midwest. The group soon realized that it "didn't feel right, playing the songs they currently had. Almost forcing ourselves into sound." They had a meeting and came to the conclusion to start over. During this period of change, Fasel and Knox were playing in The Fastest Kid Alive. Shortly afterwards, Schuck was replaced by Brian Blake. Blake had emailed the band after he found out they needed a drummer.

Real Friends didn't have a permanent second guitarist, often having their friends to substitute. Eric Haines soon joined as a rhythm guitarist. Until Haines joined Fasel and Knox would typically write the songs and they didn't have "another guitarist's opinion", according to Fasel. Shortly after the release of the Everyone That Dragged You Here EP, the band's popularity increased and the audience at their shows also increased. The band later released the Put Yourself Back Together EP. Reviewing the EP for Rock Sound, Andy Biddulph said noted that he would not be "surprised" if the band was "mixing it with the big boys in a year's time". In November, the group supported The Wonder Years on their UK shows, included UK Warped Tour.

Fearless signed the band in December 2013. The band were initially hesitant to sign to a label but called Fearless "different. They made it feel more like a family." The group "still wanted full control of our band" while Fearless would help with marketing and distribution, according to Fasel. The band recorded their debut studio album in February with producer Seth Henderson. The band released its debut studio album, Maybe This Place Is the Same and We're Just Changing on July 22, 2014. The album sold over 10,300 copies, charting at number 24 on the Billboard 200. The band played on the 2014 Vans Warped Tour supporting the album's release, appearing on the Journey's Stage. More Acoustic Song EP was released for Record Store Day in April 2015. One of the tracks, an acoustic version of "Late Nights in My Car", features Kevin Jordan from This Wild Life.

Fearless Records announced that a new Real Friends record would be released on their label in 2016, through a post on their official Twitter account, which was made on December 22, 2015. Prior to the Fearless announcement, the band had made several references to the recording of a new album throughout 2015 on their Facebook and Twitter pages. Real Friends finished recording their second full-length album on the road, in February 2016. Prior to the album's announcement, the band began to play a new song entitled "Colder Quicker" during their live sets. On April 1, 2016, the band announced the title of their new album as being The Home Inside My Head, along with the album's release date, cover art and track listing. Additionally, on the same day the band released a music video for "Colder Quicker". The album was released on May 27, 2016.

On November 16, 2017 the band released a single entitled "Get By". On June 18, 2018 the band announced the new album 'Composure' set for release on July 13, 2018 to their home town fans during an RSVP Acoustic session. It was preceded two weeks prior by a single entitled "From the Outside", which was accompanied by a music video.

Style and influences
Real Friends has been described as pop punk and emo, as well as emo pop punk. Punknews reviewer said "If American Football went totally pop-punk, Real Friends would be the result." Vocalist Dan Lambton has been described as a cross between The Starting Line's Kenny Vasoli, The Wonder Years' Dan Campbell and The Dangerous Summer's AJ Perdomo. Bassist Kyle Fasel has cited American Football, Dashboard Confessional, The Early November, Jimmy Eat World, The Promise Ring, Saves the Day, The Starting Line, Spitalfield, Taking Back Sunday and Thursday as influences.


Bassist Kyle on the often used phrase "sleepy eyes and bony knees":

I think there's something that needs to be explained on our end here. We released a new EP on June 4th titled "Put Yourself Back Together." There are some references in the songs that mention sleepy eyes and bony knees. There have been some negative comments regarding the amount of times we mention those two things. I want to make this post to explain the detailed meanings of both of those subjects. I assure all of you out there that we would never put something in multiple songs that doesn't have a great amount of meaning. These songs are my life summed up into some verses and choruses. These songs are my therapy, and that goes for the four other dudes in my band too. So here we go….

Sleepy eyes refers to a time in my life in 2011. I was going through a very messy break up which then lead to a love triangle and that lead me to be depressed. The girl that I was in love with since I was eighteen had found someone else that she grew to love. She told me that she still loved me as well though. This lead to lots of sleepless nights and some weight loss as well. Thirty pounds of weight loss to be exact. Listen to our song "Floorboards" for more details on that whole situation. Well anyway, this situation and some other ones over the past few years have led me to not being able to sleep at night. I had resorted to sleeping pills in 2011 when I was depressed. I also consider myself a night owl in general. I haven't gone to bed before 2 am in years. But mainly sleepy eyes is something that I think we have all been through in life. It's about those nights when you're so overworked and have so much going on that you can't fall asleep, even if you are physically tired. Not only do I write these songs for my own therapy, but I would hope that some of you could find some peace in them. So of course I'm going to reference this subject multiple times. And that is sleepy eyes.

Bony knees is a subject that pops up in a lot of our songs as well. I will keep it general at first here. I in fact do physically have bony knees. But I will surely say that there is a way deeper meaning behind these bony knees. It kind of all dates back to my depression in 2011. Like I stated before there was some weight loss, which made these knees a little more bony than before. I also found myself physically and mentally down on my knees while going through depression. Even after 2011, after I started feeling better, I would still find myself down and out on my bony knees physically and mentally. We all go through dirt in life and lot of times it makes us fall on our knees for awhile. I can easily say that dirt has put me on my knees more than I want to say. But the beautiful part about falling on your knees is getting back up. And that's the main point of the bony knees reference. You have to get up in life and move on. We have all been there and we will all be there again. When I write bony knees in a song it reminds me of how I put all of the bullshit behind me and moved on. And that is bony knees.

I just wanted to clear this all up. I don't want anyone to ever think that we are using this as some sort of gimmick or something. We keep things real and it will always be that way. I hope you can all now find deeper meaning and connection with sleepy eyes and bony knees.
Genre not found
Artist not found
Album not found
Search results not found
Song not found