Complete with what they need
(They loved you, they loved you)
Behind your perfect smile
(They loved you, they loved you)
Afraid of what they'd see
(They loved you, they loved you)
Behind your perfect lie
(They loved you, they loved you)
Someday you're gonna wake up
Someday you're gonna realize
Someday you're gonna wake up
Someday you'll open your eyes
With your brand new whore
(They loved you, they loved you)
Alone with misery
(They loved you, they loved you)
Saw right through you
(They loved you, they loved you)
'Neath your skin of imagery
(They loved you, they loved you)
Maybe you won't
And I'll be laughing at you
Contributed by Matthew T. Suggest a correction in the comments below.
To comment on specific lyrics,
highlight them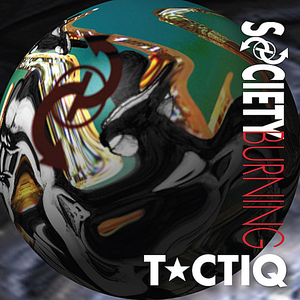 Society Burning is a coldwave industrial rock act composed of Daveoramma, Twitch, and Boom chr Paige. Originally founded in Las Cruces, New Mexico as a side project of Daveoramma's in 1991 by the moniker 'The Watchmen', a tribute to the Alan Moore graphic novel. Shortly before the release of project's first self produced work, Daveoramma brought on avant-garde guitarist Boom chr Paige. Both musicians dedicated themselves full time to the effort, quickly coming to the attention of Chase (of Re-Constriction fame) that same year.
Read Full Bio
Society Burning is a coldwave industrial rock act composed of Daveoramma, Twitch, and Boom chr Paige. Originally founded in Las Cruces, New Mexico as a side project of Daveoramma's in 1991 by the moniker 'The Watchmen', a tribute to the Alan Moore graphic novel. Shortly before the release of project's first self produced work, Daveoramma brought on avant-garde guitarist Boom chr Paige. Both musicians dedicated themselves full time to the effort, quickly coming to the attention of Chase (of Re-Constriction fame) that same year. The band also gained international recognition via (ab)use of newsgroups on the Internet, being one of the first acts to embrace the technology as a marketing vehicle.

The duo released another self produced work in 1992, gaining attention from Chase again, as well as German label Kugelblitz. Both released compilations featuring the band, but the realization that the band's name was already in use by another band forced the duo to change. The resulting name 'Society Burning' (ripped from a quote from a Denver, Colorado newscast) materialized in time to be changed on both compilation appearances. During this time the band enlisted the help of Michael Smith of Fiction 8 for assistance on the boards on-stage.

In 1993, the band met Steven Seibold of Hate Dept, who would go one to produce/re-engineer the song "Human Waste" for the Re-Constriction complation 'Thugs 'n' Kisses'. This would be the beginnings of an odd precedent set by Re-Con and the band for 'premixing', or releasing the remixed material before releasing the original versions.

In 1995, Society Burning signed to Re-Constriction. The following year, the label issued the premix cd Entropy Lingua. In 1997, Re-Constriction issued the actual full length album Tactiq.

Over the next two years, the musicians worked mostly independently: Daveoramma worked with a cast of voices to bridge songs for the parody/tribute album cyberPunk Fiction while Boom chr Paige worked as remixer for artists including Leæther Strip, Purr Machine, THD, Urania, Hexedene, and Battery. The band parted ways in 1999, following the closure of Re-Constriction. Daveoramma has since relocated to Los Angeles, California, Twitch remained in Denver, Colorado, and Boom chr Paige is currently relocated in Philadelphia, Pennsylvania.

The band has rejoined in 2007 by first re-releasing their older material, including the mysteriously absent 'State of Decay' CD. After a quick interview with Fabryka Magazine early in 2007, the band began working to streamline the technology between each of the members to be able to work together on new material. 2009 would prove the philosophy out, as remote desktop, video conferencing, and assorted file-sharing technologies would cater to the band's goal to finish 15 new tracks entitled "Internal Combustion".

By May of 2010, Daveoramma had returned to New Mexico and the band had just completed their first remix contest, with two winners emerging (New York's PRODUKT and Philadelphia's UCNX) to be featured on the CD. In classic SoBu style, with plenty of blood, sweat and comic books, the band released "Internal Combustion" on October 12, 2010. In 2011 they released the "Nausea ad Nauseam" EP, featuring remixes from "Internal Combustion" and an original track co-written with Eric Gottesman from Everything Goes Cold.

The next several years brought further refinements to the creative process allowing the band to branch into the visual arts with music videos and exploring interactive gaming. Musically, they continued their work on remixes for other bands while writing a new album, as well as releasing several original tracks. Most notably "I Am the Man", their contribution on Electronic Savior's II, a cancer benefit CD series that has brought together the entire Industrial music community.

They are currently recording and releasing new tracks on the 13th of every month on their Audiocomm International Publishing label.

Society Burning: www.societyburning.com
Daveoramma: www.prescient-thought.com
Boom chr Paige: www.boomchrpaige.com
Genre not found
Artist not found
Album not found
Search results not found
Song not found