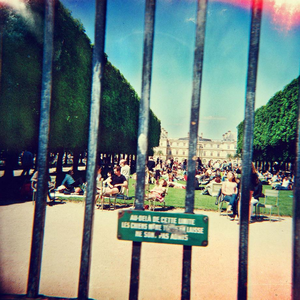 "Elephant" is a song by Australian psychedelic rock band Tame Impala, released o…
Read Full Bio ↴
"Elephant" is a song by Australian psychedelic rock band Tame Impala, released on 26 July 2012 as the lead single from their second album Lonerism. The single features artwork from Australian artist Leif Podhajsky, who also created the artwork for Innerspeaker and the follow-up Lonerism.

"Elephant" was covered by children's music group the Wiggles for Australian youth broadcaster Triple J's Like a Version segment on 5 March 2021, which won the station's Hottest 100 of 2021.

Kevin Parker explains that:

""Elephant is actually one of the oldest songs that I have, it's just been in the vaults this whole time. I'm not sure why we never recorded it before, but we were just playing it at a sound check one night and everyone in the band was like, 'We should just put this on the album', and so we did."

— Kevin Parker

"Elephant" features a bluesier side of Tame Impala, heard more frequently on their self-titled extended play, as the song was written around that stage. Because it was written around that time, "Elephant" is "an anomaly on Lonerism. There are no other songs that have that bluesy riffing".

Speaking about the track in a retrospective interview with Beats 1 in 2019, Parker spoke of his surprise at how successful the track became. "I always thought it was a bit shallow, a bit cringe. But now I appreciate "Elephant" because the character I'm singing about, from the loner's perspective... it's how I always envisioned big, egotistical people who would march around. It's kind of how a loner might see a jock - like an elephant." In this same interview, Parker added that his favorite Lonerism lyric is from "Elephant": "He pulled the mirrors off his Cadillac / 'Cause he doesn't like it looking like he looks back".

Alicia Dennis from Zimbio called "Elephant" "the best psych-rock song ever written about a pompous jerk", while Nick Patch of the Times Colonist described it as a "distortion-drenched garage-rocker". It is also viewed as a "glam-rock gem" by the webzine PlayGround. Joe Levy from Rolling Stone stated that the song was "Tame Impala's 2012 alt-rock hit", describing the guitar riff as "gong-banging glam". Ian Cohen of Pitchfork gave the song the "Best New Track" accolade, praising its production and stating that it "splits wide open during its midsection for an expansive and lyrical guitar jam that these guys are doing better than just about anyone else right now." Nathan Reese of Refinery29 described the song as the group's "meaner, more immediate take on its garage-psych sound". He also commented that the song "with dueling keyboard and guitar solos that arrive midway through" resembles Pink Floyd's "Lucifer Sam", "channeled through the Stooges".

- Appeared at No. 7 on Triple J's Hottest 100 for 2012.
- Won Best Song at the EG Music Awards
- Zane Lowe declared it the "Hottest Record in the World" on 26 July 2012.
- The song won Song of the Year at the APRA Music Awards in 2013.
- The video won Video of the Year at the 2013 West Australian Music Industry Awards
Jump to: Overall Meaning ↴ Interesting Facts ↴ Line by Line Meaning ↴
Well, he feels like an elephant
Shakin' his big grey trunk for the hell of it
He knows that you're dreamin' about being loved by him
Too bad your chances are slim
And it's not like Mister Shuck
To get shy when they ask him who is on top
There must be something deep down in the dark down there
He's not too easily scared
He's got friends but they got the fear
Wouldn't care too much if he just disappeared
Oh, look, hey, there he is now coming down the stairs
(Here he comes)
He pulled the mirrors off his Cadillac (yeah)
'Cause he doesn't like it looking like he looks back
He talks like his opinion is a simple fact
Somebody grabbed his collar
He cried the whole way home
No one remembered a thing when they saw him again
That's how it is 'til the end
(Yeah)
Overall Meaning
The opening lines of Tame Impala's song "Elephant" portray an image of a proud and confident man strutting about, with all the charisma and swagger associated with a majestic elephant. The line "Shakin' his big grey trunk for the hell of it" is particularly evocative, as it conjures up the image of an elephant in the wild, swaying its trunk in a playful and carefree manner. The man in question knows that there are people who desire his love, but he seems unconcerned about their feelings, as he deems their chances of winning him over to be slim.
The subsequent lines of the song are more enigmatic, as they describe a character referred to as "Mister Shuck," who is apparently quite accomplished and well-regarded. However, there seems to be an air of mystery or unease surrounding him, as the lyrics suggest that there is "something deep down in the dark down there" that makes him fearless in certain situations. This is contrasted with the fear that his friends seem to feel, which is implied to stem from a sense of alienation or detachment from Mister Shuck. The song's chorus reinforces this theme of isolation and separation, as it depicts the man as being ultimately alone, despite his outward confidence and charm.
Overall, "Elephant" seems to tap into themes of ego, bravado, and the search for validation, with the elephant serving as a potent symbol of large and inescapable identity. The lyrics are open to interpretation, but they leave a lingering sense of sadness and longing, as they suggest that even the most powerful and charismatic figures can feel isolated and disconnected from those around them.
Interesting Facts about "Elephant":
Interesting Facts
Note: This section uses generative AI, which can be inaccurate.


Line by Line Meaning
Well, he feels like an elephant
He feels heavy, cumbersome and out of place.
Shakin' his big grey trunk for the hell of it
He is behaving in an exaggerated manner just for the fun of it.
He knows that you're dreamin' about being loved by him
He is aware that you have romantic feelings towards him.
Too bad your chances are slim
Unfortunately, the likelihood of him reciprocating your feelings is low.
And it's not like Mister Shuck
This is not typical behaviour for him.
To get shy when they ask him who is on top
He is not usually hesitant when asked about his achievements or status.
There must be something deep down in the dark down there
There may be hidden psychological or emotional issues contributing to his behaviour.
He's not too easily scared
He is quite brave and has a high tolerance for fear.
He's got friends but they got the fear
His acquaintances may be intimidated or fearful of him.
Wouldn't care too much if he just disappeared
They would not be overly concerned if he were to go missing or leave their lives.
Oh, look, hey, there he is now coming down the stairs
He has arrived on the scene.
(Here he comes)
He is approaching.
He pulled the mirrors off his Cadillac (yeah)
He removed the mirrors from his car, possibly indicating a lack of concern for vanity or self-image.
'Cause he doesn't like it looking like he looks back
He dislikes seeing his own reflection, either literally or figuratively.
He talks like his opinion is a simple fact
He expresses his beliefs as if they are indisputable truths.
Somebody grabbed his collar
An unspecified individual physically restrained him.
He cried the whole way home
He was emotionally affected by the incident and expressed his distress audibly.
No one remembered a thing when they saw him again
People did not recall or mention the previous altercation when they next encountered him.
That's how it is 'til the end
This is the pattern that will persist until the end of his life.
(Yeah)
This is an interjection expressing excitement or agreement.
Lyrics © Universal Music Publishing Group, Sony/ATV Music Publishing LLC
Written by: Jay Watson, Kevin Parker

Lyrics Licensed & Provided by LyricFind
To comment on or correct specific content,
highlight it
Genre not found
Artist not found
Album not found
Search results not found
Song not found