Hey¡ Subestimado (yo se)
Van 3 años y no se le cura el tajo
Yo enci por ahí mastican tanto e mi
Que deberían dividir con migo el poblichi
Tu lo coge a bacilon, pero es mas que claro
Veridico como el padre amaro
El pirea se lo un poco sin perder saoco
Ya to me conocen y me dan por loco esta va pa los bibol
Pa los grafiteros, pa mi confinada
Mi bandolero, mi incomprendido como maelo
Que vende con causa a los pionero, es que nadie los entiende
Los afueguembe, en su propio mundo nada
Los ofende me identifico por que soy igual
Solo tiene que mirar sin opinar
Sabe hacer mil cosas buenas con la vidas de los demás
Pero con la suya propia todavía no ha echo na
La gente alardea de lo que carece
Ellos mismos no tienen lo que te ofrecen
Otros te odian pero te elogian y quizás un día cobran
Yo soy bueno pero de lejos, vivo al moderno
Con mente de viejo, baricua nací, crecí
Un poco sufrí o tu piensa igual que yo no me confió
De cualquier malla sale sabandijas
Y en toda joyería venden baratijas dice que es lagarto
Pero es lagartija, malianton como el botija
Nunca liriqueo de lo que no echo, plante bandera
También tengo derecho, el heredero de este basurero
En clandestinaje esta se la dedico
A los sociales a los fiscales, que se creen
Pero no saben ni la mitad de lo que esta pasando
Que viaje, ya ni mi mama no sale, que habilitación a donde?
El uniforme sin certificado no hay chance ome
Como didia tito pero tu eres loco yo me busco uno
Y medio por coso, es un ejemplo pa' que comen
Ya pal tiempo que con mano dura esta perdiendo el tiempo
Dan alternativas, esperan resultado, el palo nació doblao
Y lo enderezamo, quienes son los buenos quienes
Son los malos depende del cric crac con que miramos
Sabe hacer mil cosas buenas con la vidas de los demás
Pero con la suya propia todavía no ha echo na
Oye
Llego tego calde el veterano dejandoselo en la mano
Pa que respeten, paque sepa, yo te di un chance
Pa que comiera y me quiere dejar afuera
Que pasa contigo, hey¡, te confundistes
Te confundistes y me heristes
Estamos saborioco el negro saoco, negro saoco
Lyrics © O/B/O APRA/AMCOS

Lyrics Licensed & Provided by LyricFind
To comment on specific lyrics,
highlight them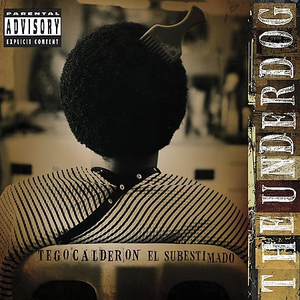 Tegui Calderon Rosario (Born 1972 in Santurce, Puerto Rico) - Better knonw as Tego Calderon. He is a reggaeton artist as well as a Latin Hip Hop artist. His album "El Abayarde" made him a major Latin star. His voice ended up on remixes of Usher's "Yeah", N.O.R.E.'s "Oye Mi Canto" and Fat Joe's "Lean Back". He's known for hits like "Pa' Que Retozen", "Metele Sazon", "Elegante De Boutique" and many more.
Genre not found
Artist not found
Album not found
Search results not found
Song not found